Column: Advice to Rising Seniors from a Graduate
Tips on how to make the most of your last year at BASH
The school year is coming to a close. For you juniors, this means you have only one year left here at BASH. This may cause you stress — while some have already picked what they plan to do after high school, others are still unsure — but it brings so many exciting things, too. Here are a few tips from a graduating senior about senior year.
By the time you get to senior year you either have a small group of friends,  or you'll be friends with everyone. Either way, cherish them all, because some of you might be going far away after high school. Senior year is when a lot of people find new people to be close with, especially upcoming juniors who you never realized existed because you were too busy hating them for being sophomores. Letting them go at the end of the year will hurt but it'll give you just another reason to want to visit often.
On another note, go to the football games — even if our team doesn't have a great season. They're just good experiences with our amazing Bear Den and interacting with the other seniors, because one day you'll attend, or play, your last Homecoming game. Go to as many school events as possible, in fact. Senior year was my first time going to the Homecoming dance, the Homecoming Carnival, and the Powder Puff games. This is your last chance to experience them and really see your school that you've gone to for the past three years come together. Go to prom if you can. It might not be the BEST night of your life, but it's a good one to remember and to rock out with your friends one more time.
As for academics, keep a few things in mind. First of all, you will all get senioritis. Most of you might even have it now, especially if you have friends graduating. Do not slack off your senior year; colleges can still look at your senior year grades. Once you do accept your offer for a college, and it becomes definite, high school becomes so much harder to get through because you just want to leave and know that you are leaving. If you do, at least wait until the second semester. Start applying to colleges as early as you can — preferably once you start senior year or the summer before, so you can hit those early-decision deadlines before those family get-together conversations about college come up. On the other hand, if you have absolutely no idea what you plan to do after June rolls around, don't totally stress out; you'll eventually figure out what you want to do. The same goes for AP tests. Try as hard as you can, but your score does not define you.
It's inevitable, high school is going to end. The best you can do is enjoy that one last year in the school that you've been in for so long. That entire year will fly by and if you don't slow down and enjoy it, you'll regret it. One of the happiest moments you will have that year is being able to walk across the stage. It's coincidentally one of the shortest. SO, class of 2018, embrace your senior year because it'll be one of the most bittersweet times in your life.
Love
A Senior
Leave a Comment
About the Writer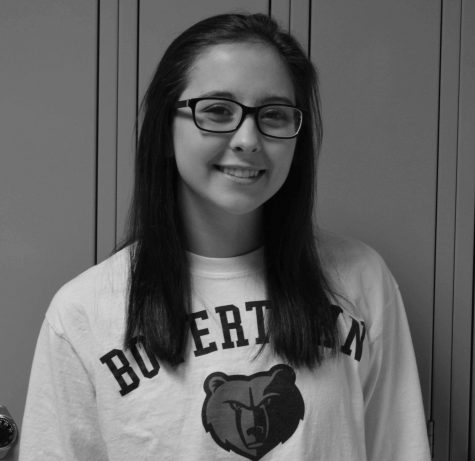 Meghan Wilhelm, Staff Writer
Senior Meghan Wilhelm interested in a future career in broadcast journalism. She is a member of BASH TV News and the cheerleading squad. She plans to attend....