Harry Styles Breaks from Boy Band Style on First Solo Album
When thinking of Harry Styles, some roll their eyes and think about his poppy old boy band, One Direction.
But those who did not like "One Direction Harry" might actually like "solo Harry". His debut solo album released May 12, simply titled "Harry Styles", has a mix of rock and roll and acoustic songs. The music has an older feel that is very different than the boy-band vibe.
The pop star's first solo album is getting good reviews from people like Gene Simmons from "Kiss", who showed his appreciation for Harry on Twitter, saying, "Outstanding @Harry_Styles. Way to bring back the rock."
Rolling Stone gave the album four out of five stars, saying, "Harry Styles Is a True Rockstar On Superb Solo Debut."
Music critic Jim McGuinn from the blog "The Current" said the album's first released song, "Sign of the Times" "sounds like it could have been produced in 1967 because it was produced with a rock band sound — big huge drums, slide guitar, piano, bass, mellotron and gospel choir" rather than the auto-tune and rap verses of a lot of today's music.
The other song Harry officially released was "Sweet Creature", which is an acoustic song about long-term love. Both of these songs are on his new album, which will fully be released on May 12th.  On Saturday Night Live, he performed "Ever Since New York", where Harry debuted his guitar skills with his background singer band.
A fan of One Direction, BASH Senior Brittany Deloach expressed her love for Style's' new sound, too.
"Harry's new music is amazing," she said. "I love his unique twist; he's bringing out a 'rock god' Harry that we have never had the opportunity to fully see before."
Senior Autumn Kendrick is a new fan of Harry.
"I wasn't really a fan of his stuff before, the boy-band sound was not my favorite," she said. "His solo stuff is kinda cool because I get a Rolling Stones vibe from it.
"It's alternative with a twist of rock so I really hope he paves the way for other artists. This is a good sound that's different from the same old one that I think everyone is tired of."
Harry will be going on a world tour. However, it is very exclusive and he is playing at smaller venues. This has caused a lot of drama and upset fans because people with a lot of money were buying the limited amount of tickets and selling them for outrageous prices.
Harry did take to Twitter, stating, "I apologize if you didn't get tickets this round, but I will be back again next year. I am available always."
Harry also is going in a new direction as an actor. Earlier this year, it was announced that Harry was cast in Dunkirk, a Christopher Nolan (The Dark Knight, Interstellar, Inception) movie set in World War II. Harry plays a soldier and is on the cover for the movie.
Leave a Comment
About the Writer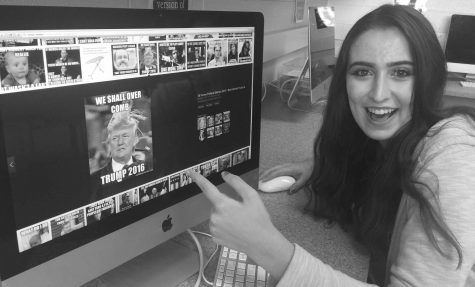 Rachel Hulswit, Staff Writer
Rachel Hulswit is a 12th grade student who joined journalism because she likes English-based classes, in addition to being around people and sharing her...