The Fate of the Furious Begins New Chapter in Franchise
Although The Fate of the Furious is the eighth installment of a franchise that began in 2001, it succeeds in entertaining viewers with a unique plot, intense action sequences, and a perfect balance of humor and conflict.
This latest installment is set not long after the events of Furious 7 (2015). The protagonist, Dominic Toretto (Vin Diesel) is mysteriously driven to work with a cyberterrorist named Cipher (Charlize Theron) and betrays his team, forcing them to find Toretto and take down Cipher.
The film was directed by F. Gary Gray, whose work includes the critically acclaimed Straight Outta Compton. Gary continues his success, even though this was his first Fast and Furious film.
A motto that Toretto follows is that people cannot give up on family. This saying is an important theme as the characters struggle with hunting down their former ally and discovering what made Toretto turn against them.
This film is the first in the series since Tokyo Drift not to feature Paul Walker, who portrayed Brian O'Conner. Walker died in single-vehicle crash in 2013 during the filming of Furious 7.
Although Walker's character was retired from the franchise, The Fate of the Furious pays tribute to the character, expressing to the viewers that Walker will forever be a part of the family in the series.
The film succeeds in the development of several characters, most notably Luke Hobbs (Dwayne "the Rock" Johnson), who has been involved in the series since Fast Five (2011), Ramsey (Nathalie Emmanuel), a computer hacker, Deckard Shaw (Jason Statham), a rogue special forces assassin, and Frank Petty/Mr. Nobody (Kurt Russel), an intelligence operative leader, with the previous three being introduced in Furious 7. A new character is introduced as Eric Reisner/Little Nobody (Scott Eastwood), a law enforcement agent working under Mr. Nobody.
The Fate of the Furious thrives with intense scenes involving hand-to-hand combat, and epic racing and vehicle chases. Fans will be satisfied with the peril they've come to known from the previous installments.
The supporting characters should be given the special thanks to a successful sequel. Johnson and Statham stole the show through great character chemistry and humor. Viewers will never get sick of seeing the two characters together on the big screen.
Theron, the first female antagonist of the series, gets the job done on displaying horrible acts and making the audience wish for her demise.
Many viewers will begin the movie thinking that it is the final film of the saga, but The Fate of the Furious marks the first of a new trilogy. The next installment, tentatively titled Fast and Furious 9, is scheduled to be released on April 19, 2019
Leave a Comment
About the Writer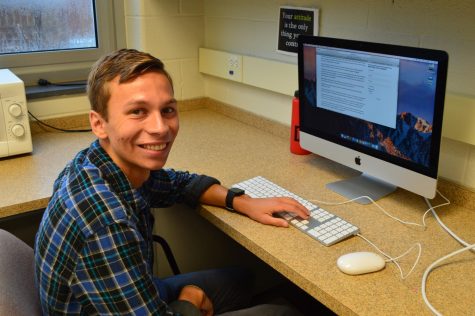 James Sahakian, Editor-in-Chief
James is a senior and Editor-in-Chief. This is his third year writing for the Cub. He is involved in journalism because he enjoys writing and reporting...