Art Expo Celebrates 25th Year
Students and teachers work together to organize popular event
The theme of this year's Arts Expo was comics.
In its 25th year, the Expo was on Thursday, May 25th at 6:00pm in the Art Wing at BASH.
The event was in the planning all year. Drawing Teacher Mr. Thomas Dareneau said he usually designs the shirts and handles advertising, but this year's t-shirts were designed by Senior Keegan McTamney. He came up with the slogan "Anyone can be a hero."  
Keegan's design is on the front of the shirts and on the back students listed their personal heroes.
"In addition to this, Keegan and Olivia Haber designed flatstock posters that will be for sale this year," Mr. Dareneau said.
While students irrefutably provide great help in preparing for Expo, teachers throughout the school are also a huge help.
"Mr. Crouse and I work together focusing on performances that happen throughout the exhibition," said AP Art and Ceramics Teacher Mr. Domenic Frunzi. "This year, Mrs. Green has taken on the responsibility of preparing food for the show with some of the students from her FCS classes."
During Arts Expo, students are given the opportunity to display their work from throughout the year. In addition to this, seniors at BASH are allowed to have their own "senior spotlight". These can include anything from photography to ceramics, and includes a student's work from his or her entire high school art experience.
Mr. Frunzi was in charge of organizing all of the spotlights this year.
"Students have to plan out their own personal display, which includes hanging their artwork, creating a name card and bio, and making their spotlight as unique as possible," Mr. Frunzi said.
The senior spotlights are considered a very important aspect of Expo, because they show the artistic growth of the students for one last time before they move on in their life.
However, a lot of behind-the-scenes work goes into Expo that is often overlooked.
During Flex, students work on preparing the decorations for Expo. The Flex students also help to develop the theme for Arts Expo each year, the décor and the Arts Expo t-shirt designs.
"Mr. Dareneau thought up this brilliant idea of having these creative and energetic students during Flex each day to help accomplish large scale projects," Mixed Media and Painting Teacher Mrs. Pamela Hendrix said, "and Arts Expo is certainly a large-scale undertaking."
View Comments(1)
About the Contributor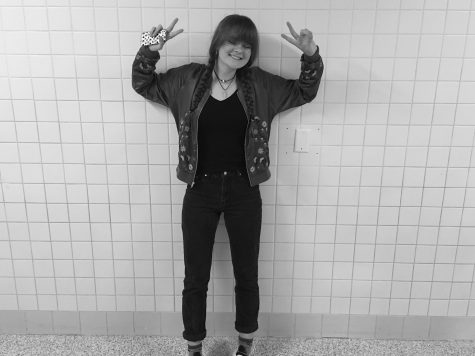 Kira Reigner, Staff Writer
Kira Reigner, a senior, wants to study meteorology at the University of Delaware and have a career on the news. She loves being outside and being adventurous,...