Student Scientists Take Part in Lantern Fly Study
The spotted lantern fly has been on Berks County residents' nerves since the beginning of last year — and science students here are trying to find a way to get rid of the pests.
Mr. James Knight's Concurrent Enrollment Environmental Science and Honors Biology classes are working with three Penn State professors and a professional landscaper to study the bugs, which can threaten fruit trees and ornamental plants, and are just a general nuisance to people.
"I'm taking [students] out to collect samples," said Mr. Knight. "It ties with the curriculum in bio science and environmental science — sampling methods and ecology in general."
The classes are working with landscaper Mr. Brian Walsh, who came to speak to BASH classes a few weeks ago. He showed the students trees that him and Penn State have worked with so far. He said that by 2019, it's predicted 33 trillion lantern flies will populate the U.S. Currently, Berks County has the worst infestation of any county in Pennsylvania.
So far, the main way the Department of Agriculture has tried to curb the population is by focusing on the Ailanthus tree, or "the Tree of Heaven", which is believed to be a prime part of the spotted lantern flies' life cycle. The main strategy has been to treat these trees with pesticides.
But Mr. Walsh and the Penn State professors don't believe that strategy is working — and the BASH students are helping him gather data to prove that.
"He wants to show they don't necessarily need that tree," said Sophomore Marlaina Garczynski, a CE Environmental Science student.
Mr. Walsh wants to show that a more effective way of controlling the population growth of lantern flies would be to focus on a bacteria in the females' stomachs, which makes a protective wax that covers the 30-50 eggs they lay so they don't freeze during the winter, a big reason the population is so huge.  
He wants to find a way "to neutralize the bacteria, because that would be more effective to control the population growth than whatever they're doing with the trees," Marlaina said.
One thing the students have been doing is counting the number of lantern flies on different trees around the school, including Trees of Heaven, that have been treated with pesticides. This will show whether the flies flock to trees other than Trees of Heaven. Also, if a lot of lantern flies are on the Trees of Heaven treated with pesticides, "it would prove that that's not working," Marlaina said.
"We have done 22 trees for this activity," Mr. Knight said.
The other thing that the students are doing is collecting female lantern flies that are ready to lay eggs and putting them in test tubes and preserving them with ethanol alcohol.
"[We are] are preserving them for now [in a freezer], which kills them immediately so [the lantern flies] aren't suffering, and freezes them so they are preserved and intact," Mr. Knight said.
Mr. Knight plans to give the lantern flies to Mr. Walsh, who will then hand them over to Penn State to conduct more research on them.  More data collections will be run in the winter and in Spring.
Marlaina admits it was a bit gross collecting the flies.
"You have to look up close at their stomachs to see if they're ready to lay eggs," she said.
Overall, though, Marlaina said, conducting the experiments "was pretty cool".
"It's great that he's doing this," she said, "because what they're doing now is obviously not working."
Leave a Comment
About the Contributor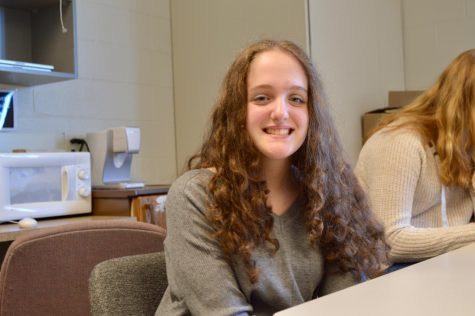 Samantha Hoffman, Staff Writer
Samantha Hoffman is a sophomore who loves to read and write, and she is a member of The Cub. She enjoys fiction writing and is involved in The Accent. Other...