Join BASH Cub Now – It's Not Too Late!
With course changes closing on May 15, students still have an opportunity to contact their counselor and add Cub to their schedules!
Cub is the club that runs this school news site, bashcub.com. We have many opportunities for anyone interested in writing, photography, or social media management! Everyone tends to do a little of everything, so if you don't know your preferred section you have plenty of space to figure it out!
What can time in Cub do for you? It's an awesome way to stay informed on topics, to learn about things you care about, and a great way to become comfortable with public speaking and making connections! It's an all-around enriching experience for anyone, regardless of interests.
"
Cub is the best choice I ever made!"
— Jocelyn Lear, editor-in-chief
Our news section covers events and news that affect students at BASH; we usually know what's happening before everyone else! Notable news articles have been about the Pine Forge closure, vaping searches, the lawsuit, club events, technology, stadium reconstruction, school closure, quarantine, prom, and school trips.
Sports, popular both in school and professionally, write about BASH wins, season wrap ups, and run the professional sports blog! If you're interested in sports and want to share your knowledge, Cub is the place for you! Some of our most notable sports coverage is the Girls' Soccer state win, the passing of Kobe Bryant, and spring sports being cancelled.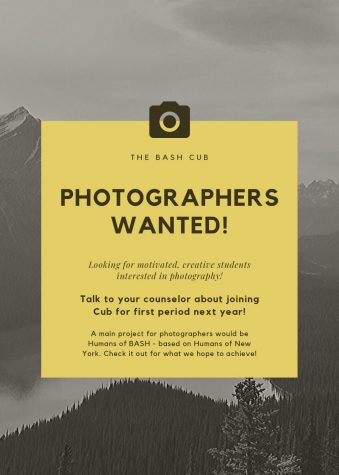 The features section covers anything and everything not covered by news, sports, or opinions! Trends, pop culture, profile pieces all go to the features section, and we even have a podcast about pop culture! Our best features articles have included interviews with a nurse and a psychologist, AP changes, reviews, student excellence, local history, teacher retirement, teachers' babies, and prom dresses.
Our eye-opening opinions section, newly revamped this year, covers topics from a national level as well as topics about school! Best of SNO Award-recognized ones include topics such as Disney, Greta Thunberg, Hollywood, Homecoming, College Board, protests, school debt, Thanksgiving, and racism.
Photographers are also welcome at Cub! We're actively looking for people who can bring refreshing new approaches to photojournalism. Students who have taken the photography classes and would like another way to build a portfolio are encouraged to join! Our photojournalism project, Humans of BASH, explores students and their personalities.
"
One of my favorite things about the club is how relaxed it is."
— Shannon Ludwig, news editor
Social Media Management is also welcome! There's many opportunities for students to grow our social media and show real results! We have Instagram, Facebook, Twitter, and YouTube accounts.
Multimedia options are available for students interested in broadcast journalism or podcasting! We encourage students from the telecom classes who are interested in broadcast journalism to join. If you would like to start a podcast with some friends, we have a very easy app for you to use and start that as well!
Overall, Cub provides many opportunities for students to learn and practice journalistic skills including interviewing, writing, and editing! We have a very fun time together, and even if you choose to not go into journalism after high school, the communication, writing, public speaking, and management skills will aid you in any part of your life, no matter what your plans are!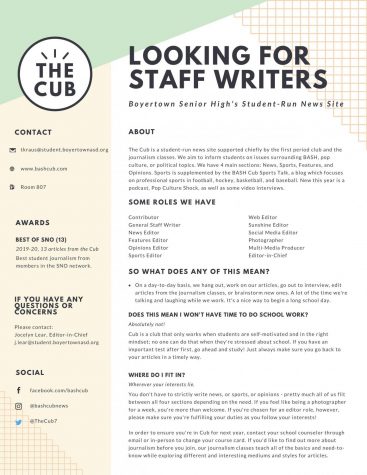 Here are some testimonials from students in the club! Please comment below with any questions you may have, or email [email protected]
Jocelyn Lear, editor-in-chief, senior: "Cub is the best choice I ever made! I've been writing for it for three years now, and it's the reason I was finally able to talk to anybody without worrying about being awkward. It helps so much with your confidence, especially if you're more shy like me. One of my favorite things was interviewing. The stories you hear from people are so interesting. I definitely wouldn't have been able to co-found Debate Club without my experiences in Cub. We're so close-knit and it's such a relaxed way to start the day! It's always fun to eat snacks with everyone too. I'm going to miss it so much."
"
Be open to new opportunities. Be willing to be a beginner. It pays off if you give it a shot."
— PJ Riddell, sports editor
Shannon Ludwig, news editor, senior: "In ninth grade, I packed my schedule with different clubs and I wanted to carry that into the high school, because that's what we're told to do from the time we're in seventh grade: get involved. I had selected Yearbook and Cub but my counselor told me I could only pick one. After going back and forth, I picked Cub because I wanted to try something new. Now after three years in Cub, it's become one of my favorite clubs. One of my favorite things about the club is how relaxed it is. Relaxed doesn't mean we don't do anything. It means timeliness is important and it's crucial we report on big events, and you are held accountable, but the advisor is really flexible with academics such as tutoring, making up tests, and homework. You also get to pick what you want to write about, which makes you want to do the work. Another thing was the environment. As new people joined, the club became more talkative, and we all became close friends. The last major thing I enjoyed was how it gave me a chance to talk to teachers outside of a classroom. By interviewing teachers, you get to know them differently, which was cool. Not only that, but my old advisor Ms. O'Brien and my new advisor Ms. Kraus both became a safe place for me because I knew I could trust them and talk to them about anything unrelated to school. Overall, it's a fun and new experience that has pushed me out of my comfort zone, teaching me to be more friendly and outgoing. I was able to create strong friendships with other members, and I encourage people to take it because it's first period so it's a really nice way to start your day."
"
I won over a dozen recognitions for the quality of my pieces, and gained some respect as a writer."
— Blaze Myers, opinions editor
PJ Riddell, sports editor, senior: "I joined Cub by the recommendation of a friend who knew I enjoyed writing sports articles and talking about Philly teams at the end of my sophomore year. The Cub presented me an opportunity to share my sports-writing abilities with others, not just for Philly teams, but for the school teams as well. Through my time with the Cub I've learned a ton about crafting professional-level articles, conducting interviews, and writing about things other than sports. I've won a statewide award for one of my non-sports articles, and I used my interview skills to get an article aired by KYW Newsradio in Philadelphia. The Cub opened up incredible opportunities for me beyond just writing about sports. Be open to new opportunities. Be willing to be a beginner. It pays off if you give it a shot."
Blaze Myers, opinions editor, senior: "I only just joined the Cub for my senior year, on insistence of the quality of my writing the previous year from when I wrote an edition of BASHing Heads for then advisor Ms. O'Brien. Being a member of the club, my first showing was through an average interview with some teachers, but it showcased my ability. However, what truly enriched my year were the countless opinion pieces I wrote when their times were relevant, attacking issues when they were hot, even hitting on COVID-19 in January (which has become hilariously outdated, but luckily I spoke again on the matter recently). I won over a dozen recognitions for the quality of my pieces, and gained some respect as a writer. I highly enjoyed my experience, and being a vital corner of the club when it was so small certainly gave me some idea of grandiosity in the world of student journalism. Though I only regret I couldn't attend the award ceremony for my second place winning columns due to the outbreak of COVID-19."
"
It was the best decision I've made, and now I will be pursuing it in college and as a possible career choice."
— Jessica Ahart, social media editor & features editor
Jessica Ahart, social media editor & features editor, junior: "I've been with Cub for my past three years and I'm taking it again for my senior year. I had taken journalism in middle school and loved it so I thought moving on to writing for the school newspaper was the next best step. I've always loved to write and be involved with things going on around me, and writing articles has both. It's just so cool because it puts you right into the equation and maybe even able to learn more about the event than anyone else. It's my favorite class I have all day, because not only am I choosing to take it and do what I love, but I get a lot of freedom in Cub to go after stories I choose. I went into the Cub not really knowing what to expect, but going on four years, it was the best decision I've made, and now I will be pursuing it in college and as a possible career choice."
Leave a Comment