Mr. Burton says farewell to Boyertown
On Friday, January 17th, technology education teacher Mr. Burton will officially be retiring from Boyertown after 24 years. He started his Boyertown career in 1996, but his career in teaching started before then.
"I've been teaching the better part of thirty years, I think it officially clocks in at about 26," he said. "I started my career at Southern Lehigh, and an opportunity opened up at Kutztown University, which I'd hoped would lead to a university teaching job."
After his first stint in teaching, Mr. Burton tried his hand in the publishing business with Rodale.
"I finished [at Kutztown], and ended up working for Rodale for several years, and got tired of just sitting behind a computer all day."
That's when an opportunity at Boyertown Area Senior High opened up.
"I started my in Boyertown in 1996, I've been here ever since," he said.
His time at Boyertown has been filled with memories, both inside and outside the classroom. Some of his fondest memories include school trips to Europe.
"Some of the best memories I have, outside of just day-to-day teaching, I was fortunate enough to chaperone three of the trips to Europe. I went to Germany once, I went to Italy, and I went on the first trip they did to Prague," he said. "Those were amazing. If you have a chance to go, you should go."
The interactions with students highlight his best memories.
"It's really fun when you get students outside the classroom," he said. "You just interact in a different way."
Mr. Burton says he'll miss his time interacting with students in the classroom the most.
"That's what it's all about," he said. "Trying to build relationships and get people excited about things."
In retirement, he'll continue to run his own business, Windy Ridge Woodworks, while also working with Woodcraft Magazine, a company he's worked with for the last 10 years. In departing from Boyertown, he offered some words of advice to teachers and students alike.
"Be kind to each other, it doesn't cost anything to be a kind person," he said.
"You don't have to know what you want to do for the rest of your life, you just need to know what you want to do next," he said. "Find something you're passionate about, and do that."
On behalf of all of Boyertown, we sincerely thank you and wish you good luck in retirement, Mr. Burton.
Leave a Comment
About the Contributor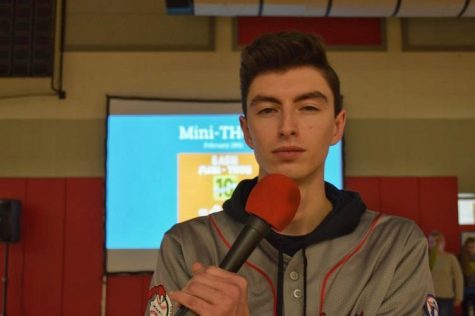 PJ Riddell, Sports Editor
PJ Riddell is a senior at BASH and a Sports Editor. He will be majoring in Broadcasting and Media Production at Messiah University beginning in fall 2020,...