Winter Sports Wrap Up: Moments Frozen in Fame
Boys Swimming 10-0
The boys swim team was nothing but historic as they dominated the PAC and advanced into the postseason.
"The past three years, our team knew that we had a shot of being PAC champs, but we always came up second in the PAC," senior Justin Morris said. "This year, our expectations for our season were to go 6-4 and not perform as well as we had in the past. This obviously changed when we started winning every single meet at the beginning of the season. We soon realized that this year could be our year to shine."
The Bears knew that the season wasn't going to be handed to them and they needed to fight together to be successful.
"The whole team morale shifted before our meet against Spring-Ford which was our biggest meet of the season," Morris said. "I have never seen our team so unified before and I believe that was one of the reasons were were able to be successful."
Senior Owen Miller described the meet against PAC rival, Spring-Ford, to be "the most electric meet [he's] ever been to."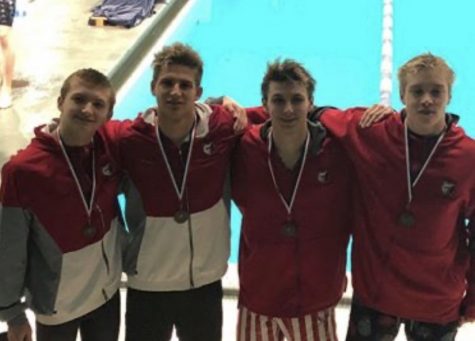 The team notched a perfect record in the regular season conference, placing first as a team overall in the PAC and several swimmers placed for their individual events. Morris, Miller, senior Nolan Benner, along with junior Noah Vivian won 1st place in the 200 Yard Medley Relay. Benner, Miller, Vivian and sophomore, Conner Stoudt also won 1st in the 400 Yard Freestyle Relay. Individually, Benner placed 1st in the 100 Yard Freestyle and 100 Yard Breaststroke, Miller won 1st in 100 Yard Butterfly and 3rd in 200 Yard Freestyle, Stoudt finished 3rd in the 100 Yard Breaststroke and freshman, Harry Tye, took 5th in the 500 Yard Freestyle. 
"This year we were able to create a culture of hard workers," Miller said. "We were able to dig to get a few extra points when we needed to."
As victorious as the Bears were in the regular season, they also found themselves to be successful in districts.
The District One meet highlights Benner and Miller individually who both placed 4th. Benner competed in the 100 Yard Freestyle and Miller swam in the 100 Yard Butterfly. Additionally, they placed 2nd in 200 Yard Medley Relay with teammates, Morris and Vivian, and 5th in the 400 Freestyle Relay with Vivian and Stoudt. 
To round out the 2019-2020 season for the Bears, they sent Benner and Miller for individual events along with relay teams composed of Benner, Miller, Stoudt, Vivian and senior Nate Zimmerman. Miller placed 21st in preliminaries and relay team Benner, Miller, Vivian and Zimmerman placed 26th in their event's preliminaries.
Although the team is losing significant leaders next year in their seniors, the underclassman are thrilled to rise to the challenge.
"The outlook on next season is exciting," sophomore Kyle Engler said. "We are getting a bunch of new swimmers so it should be a fun and new experience."
Girls Swimming 8-2
The Lady Bears swim team once again proves themselves to be among the most dominant in the PAC. The girls started their season off strong going on a 7 meet win streak.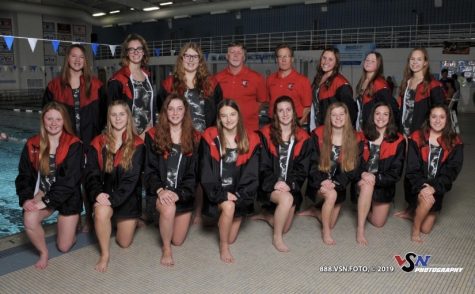 "Our team's biggest strength is definitely our unity and how we work together to push each other in order to get best times," senior Ashley Schmoll said. "We are successful because we all get along well and support one another. We have that win as a team and lose as a team mentality."
The girls ended their regular season with only 2 losses and sent several players to the PAC playoffs. Individually, junior, Gabrielle McKee, earned 2nd place in the 200 Yard IM, 3rd in 100 Yard Freestyle and 5th in 50 Yard Freestyle, senior, Hannah Shaner, placed 3rd in 200 Yard IM, and sophomore, Katherine Kummerer, took 4th in the 200 Yard Freestyle. Additionally, Kummerer, McKee, Shaner and junior, Angie Nelson, took home silver in both the 200 and 400 Year Freestyle Relay. 
"My favorite part of the season was  towards the end because that's when the team really started to work collectively," added Schmoll.
Multiple athletes also competed in the District One Championships including McKee who placed 5th in the 500 Yard Freestyle, Kummerer, Nelson, Shaner, as well as sophomore, Graiyson Schmidt, and senior, Maddy Tyson.
The Lady Bears rounded out the post season by sending McKee to the state tournament where she placed 11th in the 200 Yard IM.
Boys Basketball 17-8
The Bears made leaps and bounds compared to previous seasons as a nine-game win streak in the mid regular season marked the Bears' longest since 1976 and PAC playoff berth for the first time since 2014-15 and the second time in 10 years.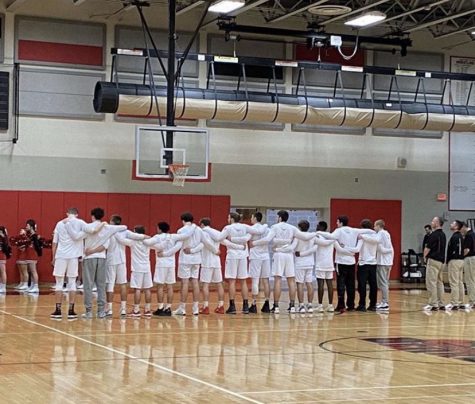 "Teams usually see Boyertown as an 'easy win' but after our win-streak, everything shifted," senior Alex Obarow said. "Instead of coming in to the game thinking it would be a cake-walk win, teams came at us and tried to knock off one of the top and hottest teams in the PAC."
The season started off shaky as the boys suffered tough losses against runner up state champions, Pennridge, and defending PAC champs, Methacton. But those games sparked a fire under the Bears and led them on their win streak which saw defeats against teams the program hasn't beaten in years.
"Personally, knocking off Springford at home was one of the greatest feelings," Obarow said. "It's always the best knocking off our top rival."
The boys had their struggles later in the season being unable to win crossover game against Pope John Paul or division competitor, Norristown.
However, the Bears seemed to pull everything together at the right time in order to clinch the 5th seed in the PAC and the 11th seed in the District One rankings due to their ability to stick together and fight as a team.
"We all played more as a true team and really bought in to what our coaches had been preaching for years," Obarow said. "We had a special bond that became more and more unbreakable as the season went on. All of us had been looking forward to this season for years and it didn't disappoint."
Teammate senior, Mason Marinello, agreed that the team was successful because they bought into the team concept.
"Our biggest strength was being able to work the ball multiple times around and finally getting the work in the paint with mismatches and then deadly step-in shooters to surround them," senior Mason Marinello said. 
Unfortunately, the boys fell in the first round of both playoffs, losing to 4th seed, Phoenixville, 41-45, in PAC's and ended their season to the 22nd seed and traditional state powerhouse, Plymouth Whitemarsh, at home in districts with a score of 53-59. 
Despite the Bears season ending in a way no one wanted, the future is as bright as ever.
"Next season is looking very promising," Obarow said. "Even though I won't be there myself along with Mason [Marinello], Kam [Metcalf], and Ryan [Barnes], we're returning some great players who will work relentlessly all spring, summer, and fall to improve individually and as a team for the season. The senior class is loaded with floor general Aarick [Salata], versatile David [Leh], sharpshooter Tre [Diguglielmo], and rim protector Chris [Kiefer]. It'll be a great shooting team, as Griffin [Hummel], Roman [Marinello], and Jake [Kapp] aren't just some of the best shooters on the team, but in the PAC. We have a ton of size with Ryan [Schaefer] and Eddie [Higgins], and JT [Butler] who will give his all every time he steps on the court. I have no doubt they'll pick up right where we left off last year and improve even more than we did this past year."
Girls Basketball 10-14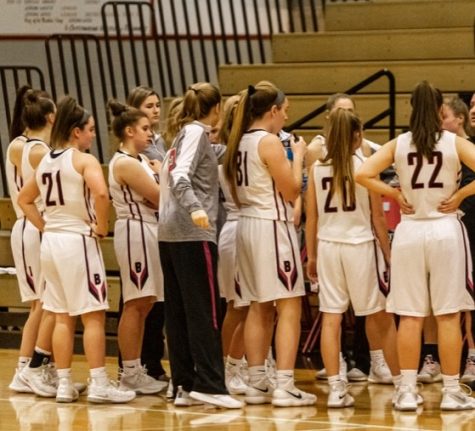 Coming off of the 2018-2019 season where the Lady Bears fell short of all postseason hopes, they were determined to fight harder in the upcoming to make the PAC and District One playoffs.
"Our team's biggest strength this year was our will to play, whether it was at games or in practice," senior Amber Marburger said. "Whenever we had snow days everyone would still be wishing that practice was not canceled since we knew it was what we needed to improve as a whole and prepare for the games ahead."
The Lady Bears started their season with significant wins against East Penn's Emmaus and PAC rival Owen J Roberts who were also in the chase for a deep playoff run. But small mistakes lead to significant losses in the match-ups against Methacton and Perk Valley. 
"Even though we struggled through some tough losses, we didn't give up on our end goal of the playoffs because we knew it was still achievable," senior Emily Hillegas said. 
The girls ended their regular season with a record of 10-12, sneaking into PAC playoffs as the 6th seed and the District One playoffs as the 23rd seed. Despite the team's strong efforts in the regular season, the girls fell short of a playoff run first losing 35-45  to 3rd seed Methacton in first round of PAC Final 6, then ending their season at North Penn in first round of the District One 6A tournament with a score of 53-64.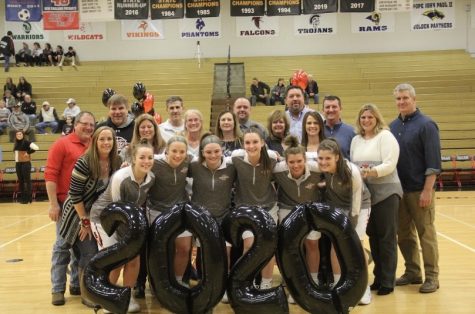 Although the outcome of the season was not what the seniors had hoped for, they are grateful for the last chance they got to play with each other. 
"What I'll miss most about the sport is cliche but true, the friends that I've made through basketball are irreplaceable," Marburger said. "My favorite part of this season was knowing and embracing the fact that it was not only my last chance to play basketball with my best friends, but also my last chance to be with them every day after school. Going through the highs and lows of sports creates a bond that's difficult to replicate or break, and seeing those girls every day will be hard to live without."
Girls Track
The 2019-2020 season proved to be an unforgettable experience for the Lady Bears winter track team as 5 athletes qualified for states and several school records were broken.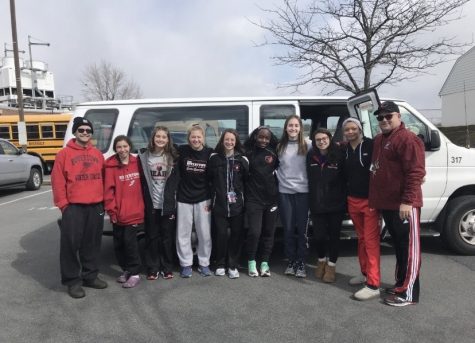 The Lady Bears started their historic season in their first meet when senior Elise Rota cleared 10' – 00" in her pole vault event. In their second meet, sophomore, DJ Egbe, senior Emma Elwell, and juniors Lilian Mauger & Renee Simmonds set a new record in the 2×400 Relay with a time of 01:49.23 and Simmonds threw a school record of 36′ 9″ in shot put. 
Multiple school records were broken in the first two meets, but the Lady Bears were just beginning.
The next few meets highlight senior, Emma Elwell, qualifying for states in the 60 Meter Dash and the 200 Meter Dash, as well as breaking a school record and qualifying for states in the 4×200 Relay with a time of 01:49.20 along with teammates Mauger, Simmonds & freshman Alona Hopkins. 
Later in the season, the Lady Bears took a trip to New York, which is arguably the toughest meet on their schedule.
"Winning an event in New York is huge," Coach Jon Zeller said.
Elwell, Mauger, Simmonds and Hopkins not only won their 4 x 200 Relay, the girls broke their previous record by nearly 4 seconds, ranking them 5th in the state. Additionally, Elwell and Mauger, along with Egbe and junior, Rachanee Tith, set a new school record in the 4×400 event with a time of 04:12.99.
"Our team's biggest strength that we have our differences, but we are able to join together as a team," Elwell said. "When it comes to the meets everyone is extremely supportive of each other no matter what."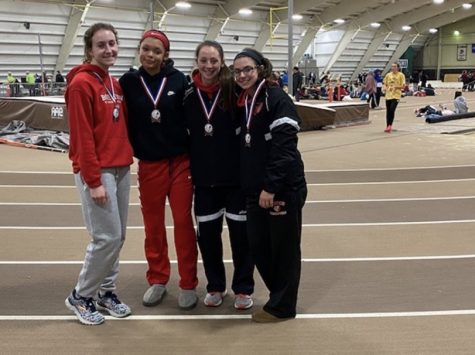 As the regular season comes to a close, the Lady Bears took on the Meet of Champs. There, Elwell took 5th in the 60 Meter Dash and placed 2nd in the 200 Meter Dash with a new school record time of 25.35 and senior, Mattie Gallagher, qualified for states and set a new school record of 37′-9.5″ in shot put. Also competing in the Meet of Champs was Mauger who hit provisional time to get into states. 
To end the winter track season, the team went to states and came home 20th as a team in the state along with 3 new school records, 6 medals and 1 national qualifier. Elwell rounded out her career with 7th place in the 60 Meter Dash and 2nd in the 200 Meter Dash with a time of 25.72 which broke the previous school record set by her at the Meet of Champs. Gallagher also broke her previous school record in shot put with 38′-6.25″ and finished 11th. Lastly, the 4×200 show stopping relay team proved their dominance once again by breaking their own school record in 01:45.10, placed 4th overall and qualified for nationals. 
The success that the Lady Bears track team had this season was undeniable, but they don't take all the credit.
"Throughout my years [of winter track], I've had the most amazing coaches," Elwell said. "I am blessed to have been coached by them because they got me to where I've only dreamed of being. They care about each and every athlete on their team and only want to see us succeed. They also always manage to bring laughter and joy to practice. Coaches like them are why I have the love for track that I do."
Boys Track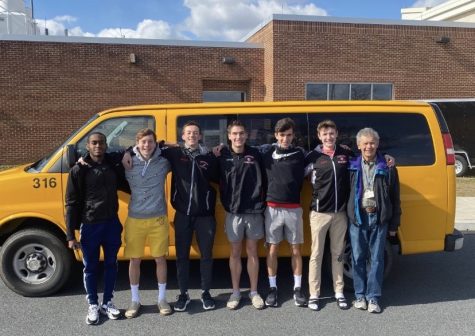 The Bears winter track team found success in their season, setting school records and an individually qualifying nationally.
Early on in their season, junior Julian Saunders placed 7th in the 55 Meter Dash and 2nd in the 200 Meter Dash which was in state qualifying time. 
At their trip to New York, Saunders improved his 200 Meter Dash time, placing 3rd, qualifying for states and set a new school record. He also finished 6th in the 60 Meter Dash, qualifying for states and nationals as well as setting a new school record of 07.04. Additionally, Saunders, as well as junior, Jacob Bardsley, and sophomores, Ryan Desmornes and Cole Kratz, set a new school record in the 4×200 Relay with 01:34.54.
"Throughout the season, my team was able to grow to be faster runners and became the best athlete they could be," Saunders said. "We could see what we were doing wrong and improves on that which is why we were successful."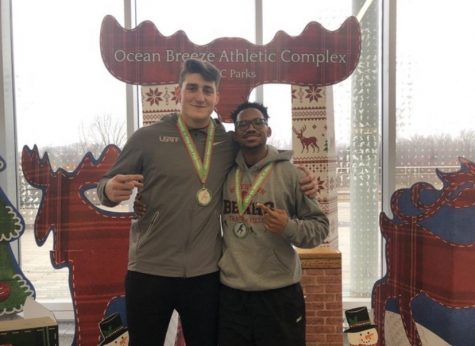 To finish off the season, the Bears sent 6 runners to states. Successes included Saunders who finished 22nd in the 60 Meter Dash and 16th in the 200 Meter Dash. Additionally, the distance medley relay team earned 7th with a time of 10:35.58.
Wrestling 4-3 (dual meets)
The Bears wrestling team kicked off the season strong under new head coach, Nik Christine, going 3-2 at Bear Duals and 2 wrestlers, junior, Julien Maldonado, and sophomore, Alan Alexander, placed at The King of the Mountain tournament at Central Mountain High School.
Over the regular season, the Bears placed 4th at Governor Mifflin Holiday Tournament and 5th at Vanguard Tournament at Sun Valley High School, as well as went 2-3 at Parkland Winter Duals.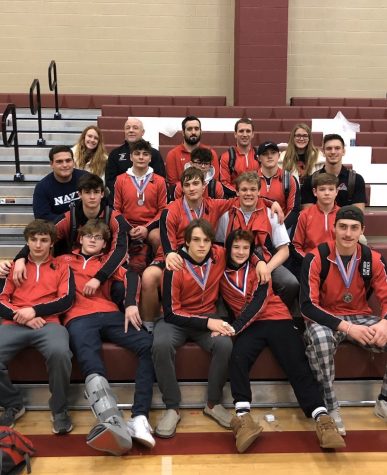 The Bears major success came at the end of the regular season as they took silver in the PAC Championship, defeating Owen J Roberts 191 points to 188.5. Individually, 5 wrestlers competed in the final: Maldonado placed 1st at 113, Chance Babb (126), Noah Fisher (152), Jimmy Sinclair (182), and Anthony Bauer (220) each placed second, Luke Heimbach (106), Alan Alexander (170), and Robert Terra (285) each placed third and finally, Dominic Sheridan (132) and Chris Goggin (160) each took fifth.
To start off the post season, the Bears took part in the District 1 AAA Section North tournament at Pottstown High School and qualified 7 wrestlers for the South East 3A regional. These wrestlers included Maldonado, Alexander, senior Noah Fisher, juniors Anthony Bauer and Jimmy Sinclair, sophomore Chance Babb, and freshman Luke Heimbach.
At regionals, Maldonado came on top with a perfect 4-0 to send him to his second state tournament. Joining him was Babb who earned his first trip to states with a pin in the consolation semi finals.
Although the duo failed to place, Maldonado finished his junior season 32-8 and Babb ended his sophomore year with a record of 25-12.
Despite the boys leaving Hershey with 2 losses, the wrestling team found success in senior, Sammi Retinour, who ended her wrestling career placing 3rd at her state tournament.
"My favorite part of the season was getting to make memories everyday with the guys and managers on the team," Retinour said. "I will miss the family like structure we built in the room throughout the season most."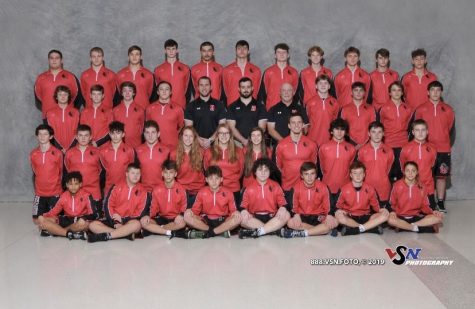 View Comments (2)
About the Contributors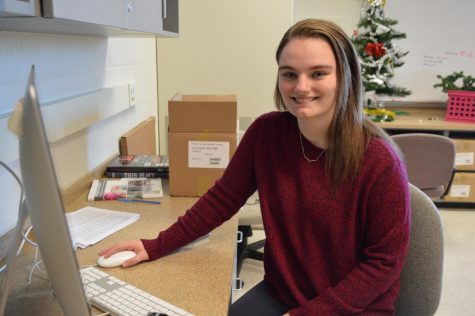 Shannon Ludwig, News Editor
Shannon is a senior who loves to write. This is her third year in CUB and she was a member of the East Observer. She also manages girls' volleyball, plays...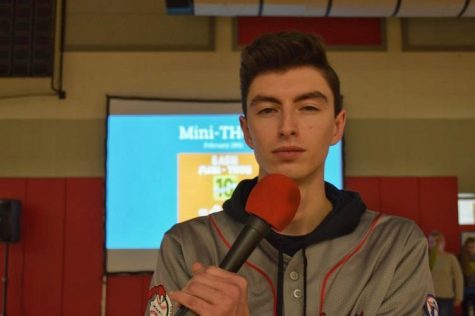 PJ Riddell, Sports Editor
PJ Riddell is a senior at BASH and a Sports Editor. He will be majoring in Broadcasting and Media Production at Messiah University beginning in fall 2020,...