Students Tour Costa Rica Over Spring Break
Sixty-eight Spanish students spent an exciting Spring Break exploring Costa Rica.
The nine-day trip was open to anyone who takes Spanish. It had six chaperones, including Interim Principal Dr. Wayne Foley, nurse Mrs. Debra Holauchock, and Spanish teacher Senora Jennifer Benning.
Mrs. Benning, who has been on the trip once before, said students learned so much that they could not from simply being in the classroom.
"Experiencing another culture is the thing that makes the trip special – the food, language," Mrs. Benning said.
Senior Haley Hukari said the trip was definitely out of the ordinary.
"It most certainly is not everyday when a sloth climbs the fence next to you eating dinner, monkeys steal people's bananas, or you get to hike up an active volcano with your teachers and classmates," she said.
The trip is organized through CHA (Cultural Heritage Alliance) Educational Tours.
"CHA has been easy to work with," Mrs. Benning said, "and our tour guide Carlos is very knowledgeable and fun."
Carlos, the tour guide that Boyertown specifically requested, spent much of his time imparting his historical and cultural knowledge on students, as well as teaching about different plants and animals. He organized everything from simple extra activities such as running to grocery stores to elaborate ones like zip lining.
Students had the opportunity to choose between snorkeling on a yacht and zip lining on the longest zip line in Central America (one mile) 300 feet over the rainforest. Zip liners were able to go upside on two lines, as well as go up to 40-55 mph on the last line. Snorkelers enjoyed music and food.
"My absolute favorite part of the trip was snorkeling," Senior Maci Weiss said. "Being able to see fish swimming in crystal clear water was truly an unforgettable experience."
Students got to experience many exotic animals and plants, which they needed to be careful around. Monkeys at Manuel Antonio National Park stole tissues and a banana from students. Students also were told to avoid a poisonous tree that makes anyone who lays under or near it sick.
"The monkeys have gotten into a few bags, but there really haven't been many issues," Mrs. Benning said.
Haley said taking in all of the beautiful sights and sounds of Costa Rica was the most enjoyable part of the trip, as well as how nice and polite the locals were. Macy agreed.
"One thing I noticed as I wandered the streets of Costa Rica was that all the locals were extremely friendly, and they were always willing to speak both English and Spanish with you, which made the trip even more enjoyable."
The full trip itinerary is outlined below:
     Day 1: Departure from USA, arrival in San Jose
Guided sightseeing of San Jose with visit to San Jose National Theater
Dinner at the San Jose Hotel
     Day 2: San Jose to Poas Volcano National Park, Coffee Plantation, Sarchi Village, back to San Jose
Guided tour of Poas Volcano National Park
Visit to Coffee Plantation with lunch
Visit to Ox-Cart factory in Sarchi Village
Dinner on own
     Day 3: San Jose to Zarcero to Arenal Volcano Area
Visit to Zarcero Park
Dinner at the Arenal Volcano Area Hotel
     Day 4: Arenal Volcano Area to Hot Springs, back to Arenal Volcano Area
Guided tour of Arenal National Park
Visit the Baldi Hot Springs with lunch
Dinner on own
     Day 5: Arenal Volcano Area to Crocodile Safari to Manuel Antonio Area
Crocodile Safari Tour
Buffet dinner at Manuel Antonio Area Hotel
     Day 6: Manuel Antonio National Park
Guided tour of Manuel Antonio National Park
Free time at the Beach
Buffet dinner at Manuel Antonio Area Hotel
     Day 7: Manuel Antonio Area
Free day to relax at resort or participate in resort activities
Buffet dinner at Manuel Antonio Area Hotel
     Day 8: Manuel Antonio to Carara National Park to San Jose
Guided tour of Carara National Park
Dinner at the San Jose Hotel
     Day 9: Departure for USA
Leave a Comment
About the Contributor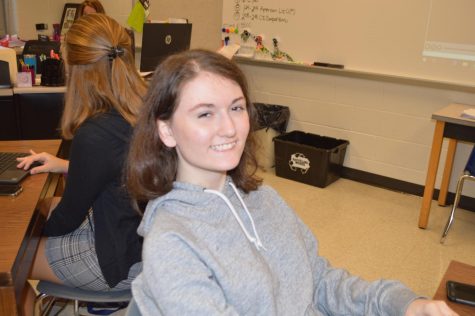 Jocelyn Lear, Editor-in-Chief
Jocelyn is a graduate of BASH. She served three years in the CUB and she previously wrote for the East Observer. She was in many clubs, such as SADD, Stage...