Winter Sports Wrap-up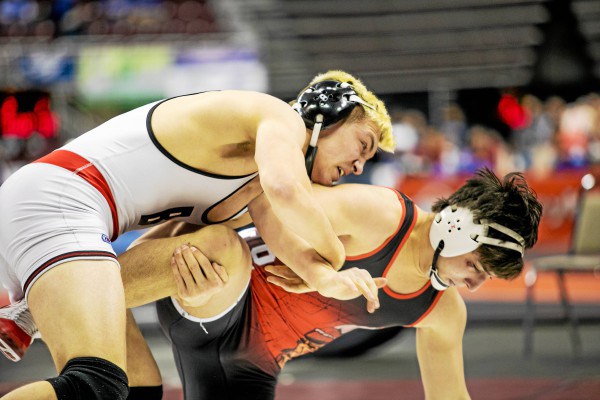 Wrestling, 14-7
The wrestling team came in third place overall in the PAC-10, which Coach David Jones said was great for their first year under a new coach.
"It was a learning curve for the whole team in our first year together," he said, "but I know that with another year we will continue to improve and grow in the sport."
The team finished 40th at the PIAA AAA Championships, with senior Elijah Jones finishing fourth overall.
Although they finished ahead of Owen J. Roberts, who placed 46th, OJR has been a tough opponent in the PAC-10 this year.
This year, the Bears struggled with two teams throughout the season: Owen J. Roberts and Spring-Ford.
"They are very talented teams and push us to wrestle our very best every match," Coach Jones said.
In the PAC-10, Boyertown placed third right behind Spring-Ford, who ranked first, and Owen J. Roberts, who ranked second.
OJR also was their nemesis in the District 1 AAA Central tournament, where the Bears came in second, earning 110.5 points to OJR's 121.
The Bears also took third place at the postseason PAC-10 Championships, right behind Spring-Ford (first place) and OJR (second place).
Coach Jones said standout wrestlers included Jay Maldonado, Brett Breidor, Evan Mortimer, Jake Miller, Elijah Jones, Zak Reck and Jacob Sonder.
"I have been very impressed with the progression of many of our wrestlers this season!"
Maldonado, a freshman, wrestled for varsity this year at the weights of 106 and 113. He had a record of 30-11 for this year. "This season went well," he said. "I enjoyed hanging out with the guys."
Overall, Coach Jones said he is very happy with how the season went.
"We are a very young team, and we have continued to get better each day."
-Rachel Kennedy
Boys Basketball, 8-14
The boys basketball team struggled throughout their season ending with a record of 8-14. Despite struggles, the team is dedicated to becoming better for next season. The program made a number of improvements, with an emphasis on teamwork and love of the game.
"The season didn't go as well as expected, but we all came together and grinded out a lot of tough games," junior Hunter Borgmann said.
Next season will be a dog fight, as the team will be losing three four-year starters in Jerry Kapp (one of the best basketball players in Boyertown history), Marcus Thomas and Sean Tamasitis.
"When we were successful as a team this season, it came from trusting one another on the court, and that's exactly what they will do next year," Kapp said. "I am sure the boys will do just fine next season."
-Holden O'Donnell
Girls Basketball, 11-15
The Lady Bears basketball team ended their season with a record of 11-15 and are attempting to rebuild their program. Last year's state championship and the loss of Miss PA Basketball Abby Kapp put a lot of pressure on the Lady Bears. Putting aside the losing record, the Lady Bears still came away with a playoff win.
"We worked hard for the entire season; things just didn't seem to click as easy as they did last season," sophomore Avery Sweisfort said.
The Lady Bears will be losing key contributors to their team as four seniors say farewell to their high school basketball careers.
"We may have not won a state championship, but I still had a lot of fun this season with the team, and I am looking forward to competing next season," Avery said.
As the Lady Bears look into next season, they are fortunate to have young talent that they can work with over the off-season and beyond.
"There are a lot of girls coming up from junior high, and we're really excited to see how they contribute to our success," Avery said.
-Holden O'Donnell
Girls Swimming, 8-1
The Lady Bears swimmers ended their season almost undefeated at PAC-10 with a record of 8-1, with just one loss to Owen J. Roberts, coming in second overall.
The girls team thinks that next season will be a strong one even though they are losing around 10 good senior swimmers, such as Madison Kennedy and Teresa Draves.
"Our season was pretty good," said freshman Gabby McKee, who swims in the 200 IM and 500 free events. "I qualified for districts in multiple events; we are very proud to get second place in the PAC-10."
-Emily Stankovics
Boys Swimming, 8-1
Boys swimming ended their season just short of undefeated, only losing to OJR. They also had a record of 8-1 and came in second place in the PAC-10. This season, they had some great accomplishments.
"A major highlight of this season is that we had the largest number of swimmers make it the PIAA AAA districts since 2016!" Captain Mason Kennedy said.
-Emily Stankovics
Boys Winter Track
The boys winter track team was able to find success at the State Meet at Penn State even after a midseason struggle. The 4*800, consisting of seniors Cy Evans, Dominic Derafelo, Kollin Miller and Justin Smyth finished in 12th place.
It was unknown if the team would be able to compete after senior runner Todd Barton tragically passed away this past January.
"Todd meant a lot to everyone," senior Kollin Miller said at a team meeting following Barton's passing. "He will always be a part of the track team."
Head coach and retired Boyertown chemistry teacher Don Hendricks motivated the team to continue for Barton.
-James Sahakian
Girls Winter Track 
The girls winter track season saw many accomplishments, including broken records.
The meet at the Armory in January saw the Lady Bears break the Short Medley Relay (SMR) school record from the team, consisting of junior Kristi Kada, freshman Lilian Mauger, sophomore Emma Elwell and senior Natalie Stabilito.
The Lady Bears will be saying goodbye to senior runners Stabilito, Amanda Murray and Danielle Elsier.
"Winter track has always been a time for growth and a chance to refocus," Elsier said. "This winter was tough but gave us all an opportunity to come together as a family. Overall, winter track has given me an opportunity that no other sport can offer." First-year head coach John Zellers said he was very proud of his runners and that it was a great season.
-James Sahakian
Leave a Comment