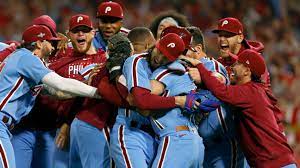 The Philadelphia Phillies are making yet another run in the MLB playoffs after they beat the Atlanta Braves 3-1 and was the fourth team to clinch a spot in the league championship series.
With the 3-1 victory the Phillies secure the NLDS after Nick Castellanos' two-home run and the Phillies knocked the NL East-rival Braves out of the playoffs for the second year in a row. Philadelphia are now in the NLCS and are facing off against the Arizona Diamondbacks.
The Braves third baseman Austin Riley lined a solo home run to left field in the top of the fourth inning. Nick Castellanos evened the score for the Phillies in the bottom half of the fourth inning with a home run to left field. Another Phillies star Trea Turner gave the Phillies their lead in the game at the bottom of the fifth when he also hit a homer to left field.
Castellanos launched a high fly ball to the back stands to put the Phillies 3-1 in the sixth inning. Johan Rojas, center fielder made a catch in the bottom of the seventh striking out Ronald Acuna Jr. at bat with the bases loaded threatening to overtake the Phillies lead. The Phillies held onto their 3-1 lead going into the eighth.
The Phillies held strong to the end to advance to the NLCS and knock the Braves out of the playoffs