Bears take down Norristown 52-44 on senior night
In the final home game of the regular season, the Bears celebrated the end of a chapter for their 4 senior varisty players in a contest with Norristown. They backed up the festivities, as the pregame celebration continued in the thrilling 52-44 victory on Thursday night.
Seniors Ryan Barnes, Kameron Metcalf, Mason Marinello, and Alex Obarow were honored in a pregame ceremony, as each player walked onto the court with their parents.
The Bears' starting included all 4 seniors, along with junior Tre Digugliemo. Norristown's starting 5 was John Paulino, Willie Anderson, Cristopher Dinolfi, Johnny Dinolfi, and David Johnson.
Boyertown got off to a slow start, with the defense needing to be tightened up as Norristown got out to a 15-8 lead after the 1st quarter of play. The limited offense was highlighted by a wide-open 2-handed dunk for Kameron Metcalf early in the 1st. This season, the 2nd quarter has always been Boyertown's highest scoring quarter, on average, and the trend continued against Norristown. Boyertown rallied in the 2nd to take the lead over Norristown, 22-21 after a contested layup by Aarick Salata with 3 seconds left in the first half. Despite not being in the starting lineup, Salata was Boyertown's leading scorer at the half with 6 points.
Boyertown finally started to pull away in the 3rd quarter, as the defense held Norristown to just 7 points, while the Bears scored 16 in the quarter. Norristown started the quarter with a new intensity and strong defensive pressure, with most of their 7 points coming on steals, but eventually broke down as Boyertown proved to be too much. Norristown put up a strong 4th quarter battle, making it a close game down the stretch, outscoring Boyertown 16-14 in the final frame, but it wasn't enough, as Boyertown managed to hold them off. A clutch and-1 play by Alex Obarow late in the 4th completely shifted the momentum to Boyertown's side for good, as the Bears held on to win it 52-44.
Tre Digugliemo led the Bears in scoring yet again, posting 12 points on the night. Both Aarick Salata and Mason Marinello followed close behind with 9 each, while Chris Keifer had 8, and Alex Obarow had 7.
The Bears improved to 17-5 on the season with the win, and now have one final regular season game to play on Saturday at Spring Ford, before PAC quarterfinals begin on Wednesday, February 5th.
Leave a Comment
About the Contributor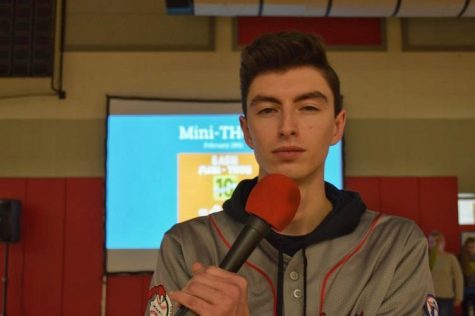 PJ Riddell, Sports Editor
PJ Riddell is a senior at BASH and a Sports Editor. He will be majoring in Broadcasting and Media Production at Messiah University beginning in fall 2020,...