Boyertown won 36-20 at Friday's game. This was the final game of the season, farewell senior. It was the last time seniors played high school level football. In light of this, posters of all the seniors were hanging up for everyone to see.
The game started off really well, with Boyertown ending the first and second quarters with a big jump ahead Upper Merrion. It wasn't until after half time that Upper Merrion was able to score better, but by that time it was too late and the Bears were already way ahead.
The half-time show was performed by the BASH marching band and color guard, concluding with an airport/flying theme. Giant cardboard posters with airport infographics were out as they performed.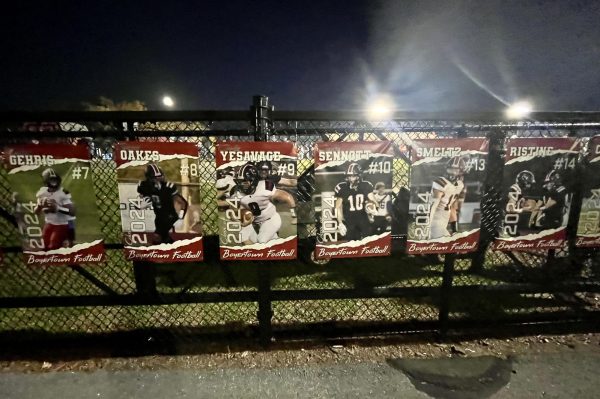 Despite it being the end of the season, the BASH student section was stronger then ever, with students being dressed in black to support the bears. Throughout the whole game, they stood up, cheered, and chanted to show their support for the Bears.
If you're upset about missing this game, don't worry! This Wednesday, November 1st, will be the Student Council hosted annual Powderpuff, where the girls play football and the boys are the cheerleaders. The game is at 7:00pm at the football stadium, tickets cost 5 dollars for students and adults. Tickets for the Powderpuff can be purchased here.