Boyertown won against Norristown 32-21 at Friday's home game. Bear support is stronger than ever, with the student section being dressed in Gold in light of Friday's Gold Out, to support childhood cancer.
The game had a thrilling start with Yesavage scoring the first touchdown with 9:56 left in the first quarter. The Bears long four-play drive got the ball across the field, and led to the beginning of their success. 
At the end of the second quarter, a touchdown pass from Gehris to Oaks put the Bears in the winning spot for the rest of the game.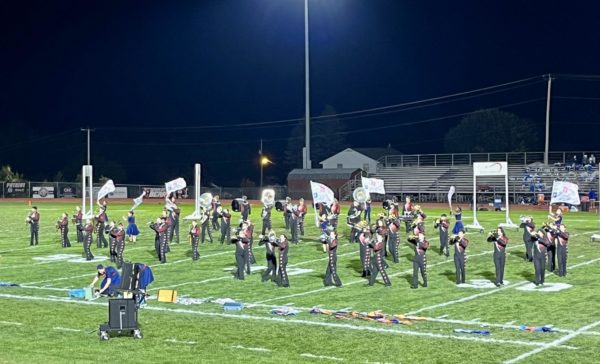 The halftime show was performed by the BASH marching unit and Cologuard.
After halftime, the Bears switched their defense, which kept pressure on Norristown. The Bears ended up winning the game, marking the end of their losing streak!
Coach Konnick said, "Anthony Famularo and Jason Oakes got more carries tonight, I tried to give the ball to everybody" "They were going to put a lot of guys in the box, as everybody does to stop Cole, it gave us a little more confidence in our passing game. I knew I could sling it with Ryder" he later said. 
Last Friday, BASH held a gold out during the school day to raise awareness for childhood cancer. During the football game, students and staff alike were all dressed in gold. 
In between the first and second quarter of the game, Student Council held a miracle minute, to raise money for childhood cancer. During the minute, students and families alike held their cash in the air waiting for a member or student council to collect it. At the end of the game, it was announced that they raised $541.53!
Next week is the Homecoming football game, October 6th. Boyertown will be playing Methacton. During halftime, the homecoming queen will be crowned. Tickets for next week's game can be purchased here.