OPINION: College Expectations Crush Clubs
Whatever happened to Rock and Roll Club?
The halls of BASH are rather empty after 2:48 – and that's because students are swifter to leave school than ever before.
It is no surprise that Boyertown's clubs are few and dying, or that Boyertown has less electives than ever before. Every year, the course selection card loses more and more electives. Longtime teachers will tell of the countless casualties in this crusade against school activity: Hip Hop Club, History Club, Rock and Roll Club… as the years go on, our students only grow more inert.
Are you in a club?
Sorry, there was an error loading this poll.
This is because students don't seek fun in school anymore but rather, they seek resume builders. The likes of FBLA, Link Crew, and TSA, their numbers increase because they provide a benefit to the students; easy leadership positions in their resumes.
If it were not for the FLEX between second and third periods, even more clubs would find themselves a remnant of school history. This short period allows for enrichment without necessarily "stealing" from a student's valuable after-school time.
So why are students seemingly growing more introverted? Numbers dwindle in clubs such as Insight, an after-school talk show between students, once seeing dozens of members only a year ago.
The sudden loss of many clubs correlates with the dramatic increase in school numbers, which seems paradoxical. The addition of ninth graders to the high school has swelled the population considerably. The class of 2020 is the last remnant of tenth grade migrators into the high school; and they make up the majority of club leadership roles and numbers. Given, they're the senior class.
As the former tenth grade migrators graduate, such as the class of 2018 and 2019, club numbers only diminish. Countless clubs may fall into obscurity with the graduation of the current senior class. While such activities as band, choir, and sports may remain unaffected, the death of hobby clubs is near.
Freshmen just don't want to have fun – they want to better their resumes.
Students are not the underlying cause of the death of clubs, but the push from colleges to be a natural leader is. Colleges seek leadership positions, but no college cares for the president of the Hip Hop Club. Students are only adapting to what colleges have imposed – be a part of the "productive" clubs or be in none at all. Resumes need to be filled, but not with just anything, you need to be an officer, a president, a treasurer… colleges aren't looking for those who had fun in high school.
Colleges need to pull from their push for leaders and officers, and need to inspire students to join clubs for fun – not merit. Students are joining for their futures, never holding onto the present. Colleges are erasing the joy from school, and nobody wants to waste their time discussing opinions in front of a camera when they could be building their resume with student council, or class officers.
Maybe one day Rock and Roll Club will rock again, but in the meantime; our competitive world grows more competitive, and our students are suffering because of it.
Leave a Comment
About the Contributor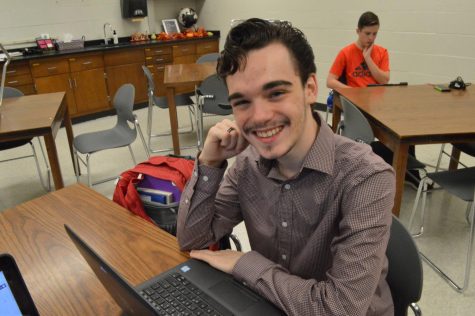 Blaze Myers, Opinions Editor
Blaze Myers is a graduate of BASH. His senior year was his first year in the CUB, previously only collaborating. He was in several leadership positions,...