Spunky Science Teacher Mrs. Wilkins Will Be Missed
Science Teacher Mrs. Wilkins is known as someone who really pushes her students. But she's as equally known for her quirky, fun-loving personality.
In recent years, she's dressed up as The Grinch for Wish Week and helped lead the school-wide lip sync for Mini-THON. Her relationship with students often goes beyond teaching them chemistry or biology.
"I love getting to see students' personalities when not in the classroom; it shows me a different light," Mrs.Wilkins said.
After teaching for 32 years, the 10th and 11th grade teacher is wrapping up her final months and getting ready to retire.
"I have thoroughly enjoyed teaching," she said. "I have many fond memories encouraging students to love the sciences. Teaching is a different experience everyday."
Throughout her time here, she has impacted many students, as evidenced by emails she gets from former students, which she said motivate her and make her work even harder.
"I love when a student emails me or talks to me about how I have influenced them," she said. "Even if I just taught them study habits I feel rewarded."
She moved to Boyertown from Vicksburg, Mississippi, when her husband had his job transferred. She taught briefly at another school before she began teaching at Boyertown in 1994. She took a break from teaching while her kids were young, but she had her own son in her Honors Biology class.
Her daughter, now Mrs. Brittany Troutman, also went to BASH while her mom taught here. She is now Special Education teacher here. Mrs. Troutman said it was not a big deal having her mom teach at the same school where she was a student.
"My mom and I have always had a very strong relationship," she said. "Even when I was a student at BASH I would go to her room to chat or ask for help on something."
She said working together has given them another bond.
"I am now able to understand the passion and commitment it takes to be a good teacher, from watching and learning from her," she said. "Being in the same profession and same school allows us to talk about the ups and downs of teaching and we know the other understands exactly what we mean, because we are experiencing all the ups and downs together."
Mrs. Wilkins has a reputation for setting high expectations.
"Mrs. Wilkins is such a great teacher, and pushes us to do good, even if she pushes hard," Sophomore Trevor Bellino said. "We always know she is just trying to get us to succeed because she believes in us."
Even though Mrs. Wilkins spends 15-20 hours a week outside of school preparing and grading papers, she somehow still gets time to spend with her two grandsons, Brecken and Finley, who she adores, she said.
She has maintained her energy, despite having had to overcome breast cancer  years ago.
"She has been such a personal support system and connects with me on a personal level," said Special Education Teacher Mrs. Sherry Hilgner. "When my husband was battling his own cancer, Mrs.Wilkins was always a helping hand, even when she struggled with it herself."
She said Mrs. Wilkins also "has taught me how to push students and believe in their capabilities to care."
Leave a Comment
About the Writer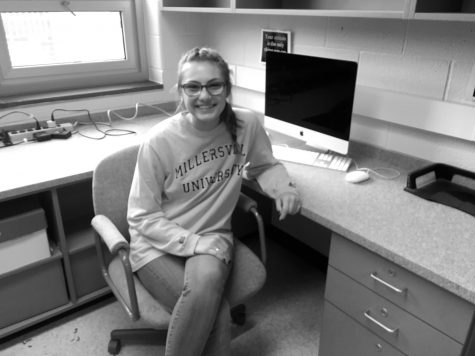 Mikayla DeStefano, Staff Writer
Mikayla DeStefano is a junior. She wants to be an English teacher and excel in her own writing. She dances, bakes, babysits, and spends her free time writing...