Bullet for My Valentine
The Welsh metal band Bullet for my Valentine is releasing a new single "Don't Need You" soon. The song is the heaviest one they have released in while, with heavy, fast rifts.
It's about the end of a bad relationship, and its angry tone makes it the perfect song to listen to for anyone doing just that. The band's song "Bittersweet Memories" could serve the same function.
The new song is the first release from a new album with a yet-to-be-announced release date.
Bullet for My Valentine started in 1998 under the name Jeff Killed John. They started out as a cover band covering Metallica and Nirvana.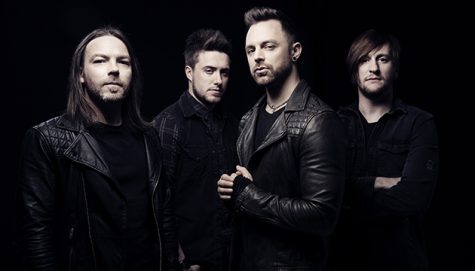 Current members are Matthew "Matt" Tuck (lead vocals, rhythm guitar), Michael "Padge" Paget (lead guitar,  backing vocals), Michael "Moose" Thomas (drums), and Jamie Mathis (bass, backing vocals).
The band was influenced by Metallica, Iron Maiden, and Slayer. Jeff Killed John was renamed to Bullet for my Valentine (B4MV) in 2003 and released their first album "The poison" on 3 October 2005 in the United Kingdom and 14 February 2006 in the US and reached 128 on the US Billboard 200, according to the band's Wiki page.
The band released another album called "Scream Aim Fire" on 29 January 2008 reaching number 4 on the Billboard 200. The third album "Fever" was released on 26 April 2010 reaching number 3 on the Billboard 200, the fourth album "Temper Temper" peaked number 13 on the Billboard as well. The band went from heavy and fast riffs to slower riffs on "Fever" and "Temper Temper".
The next album they released "Venom" showed that they were going back to their roots with the heavy fast riffs with the release of their song Raising hell having a cool and interesting intro thanks to Padge. Some songs of interest would be Tears don't fall on The Poison and P.O.W. on Temper Temper.
Leave a Comment