Fall Sports Wrap-Up 2018
Girls volleyball made history for their program by seeding second in PAC playoffs and qualifying for the District One playoffs as the seventh seed.
Despite the girl's season ending in the second round of districts to Pennsbury, which was sooner than they hoped, the season was still tremendously successful.
"We came into this season not knowing what was going to happen, but what we did know that we wanted to be better," junior captain Emily Wolfe said. "When we stepped onto the court we knew what we had to do and we did that.
She said, win or lose, the team had a fire in them that other teams did not have. "We took every match point by point and set by set."
The team's wins brought them close together, forming a bond.

"We became family to each other," she said. "Every one of us worked hard and we not only looked forward to games, but we looked forward to practice and getting better everyday."
The team won some thrilling matches against PAC power houses Perkiomen Valley (3-2, 3-0) and Spring Ford (3-2, 3-1), as well as the defending PAC champions Pope John Paul II (3-1).
"I believe the game against PJP was our best match because we were out there playing together and doing what we love," senior captain Taylor Jones said.
Junior Julia Smith also agrees this season was very successful.
"This season was so exciting because of the amount of heart and determination we had. It's what kept me going," she said.
She said everyone on the team was very encouraging.
"I can't wait for next season to grow and improve even more," she said. "It's always a grind."
Head Coach Mike Ludwig said his favorite part of the season was watching the girls enjoy all the big wins we had against teams in our division and how they grew together as a group.
He said the biggest challenge was overcoming the idea that they were supposed to win.
"It's one thing to want to win but it's a whole other thing to actually go out and do that," he said. "The girls did it by accepting their individual role and excelling at it."
-Shannon Ludwig
Boys Soccer: (12-6-3) 
The Boyertown Men's Soccer Team ended their season with a district playoff loss to Pennsbury.
"It was an up and down season for us," senior Gavin McCloskey said. "We were the better team in most games; we just needed better execution."
The team earned both playoff contention in the district and the PAC leagues, but lost in the first round of both. The Bears have an overall state rank of 96. The playoff losses hurt, but the Bears look to build from the experience and continue to grow as a team moving forward.
The Bears were above .500 having an overall record of 12-6-3 and a conference record of 8-5-2.
-Holden O'Donnell
Girls Soccer: (9-5-4)
The Boyertown Lady Bears Soccer Team ended their season with a 3-2 loss to Spring-Ford in their district playoff match. The Bears have been one of the elite programs in the PAC in recent history.
The story for the Lady Bears was their incredible season-saving six-game winning streak with a score ratio of 43 goals compared to their 13 goals allowed down the stretch. The winning streak put the Lady Bears in great playoff contention and was a huge reason why they were in districts.
"The streak we had really made us stand out in the PAC," senior Sierra Landes said. "We all came together and played as a team which put us in great playoff contention."
-Holden O'Donnell
Field Hockey (1-8-1)
The girls field hockey season was challenging but rewarding at the same time, Coach Karen Kooker said.
"We faced the perennial tough teams and unfortunately lost to each," she said. "We had a very young team with the same amount of freshman and seniors on the roster, and it took a while to gel."
But the rewarding aspect of the season was the unity of the team, she said. The players received and offered input, and remained positive.
"We also had wonderful leadership from our captains, including Lindsay Flack, Trin Smith, Ashley Dierolf and Amber Marburger," Coach Kooker said.
She is hopeful the team will improve next year.
"We plan to continue to gel as a team and take advantage of opportunities to play in the off season," she said.
Although their record was not what they hoped it would be, Flack, a senior, said she still enjoyed the season.
"My favorite part of the season was being able to play field hockey every single day for one last time with the greatest team in the PAC," she said.
-Shannon Ludwig
Boys and Girls Cross Country: (both 1-4)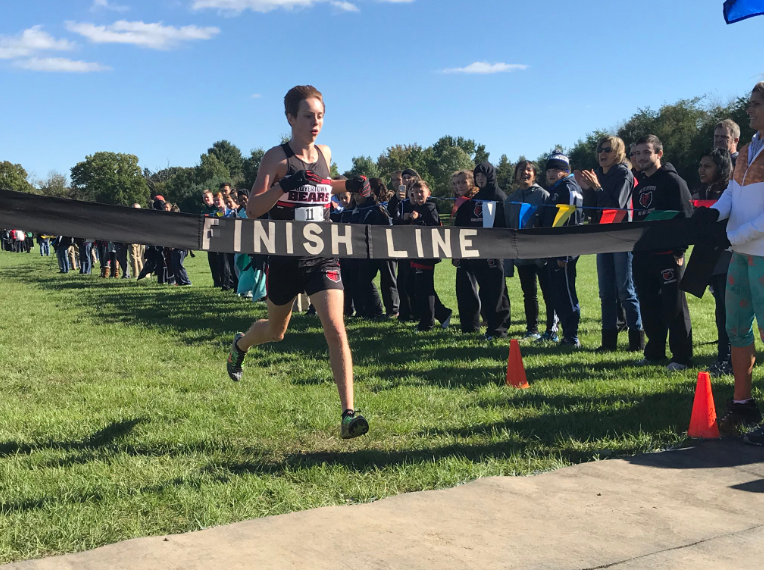 The record doesn't always tell the whole story, and the 2018 boys cross country season is no exception.  Senior Cross Country captain James Sahakian said varsity guys and girls all ran personal bests at the District meet, which was the biggest moment of the year.
"What contributed most to this year's success was the dedication from the team," he said.
Another major highlight of the season was the success for junior captain Christian McComb as he represented Boyertown by advancing all the way to states.
He said the team struggled with learning how to compete with the other team during the last mile of the race.
"We didn't realize how to do so until the end of the season."
With each practice and race, the cross country team had another motivator on their mind this season  — honoring the memory of former teammate Todd Barton, who died last January.
"He isn't with us anymore, but he still inspires the team to work hard everyday," James said.
-PJ Riddell
Football: (1-9)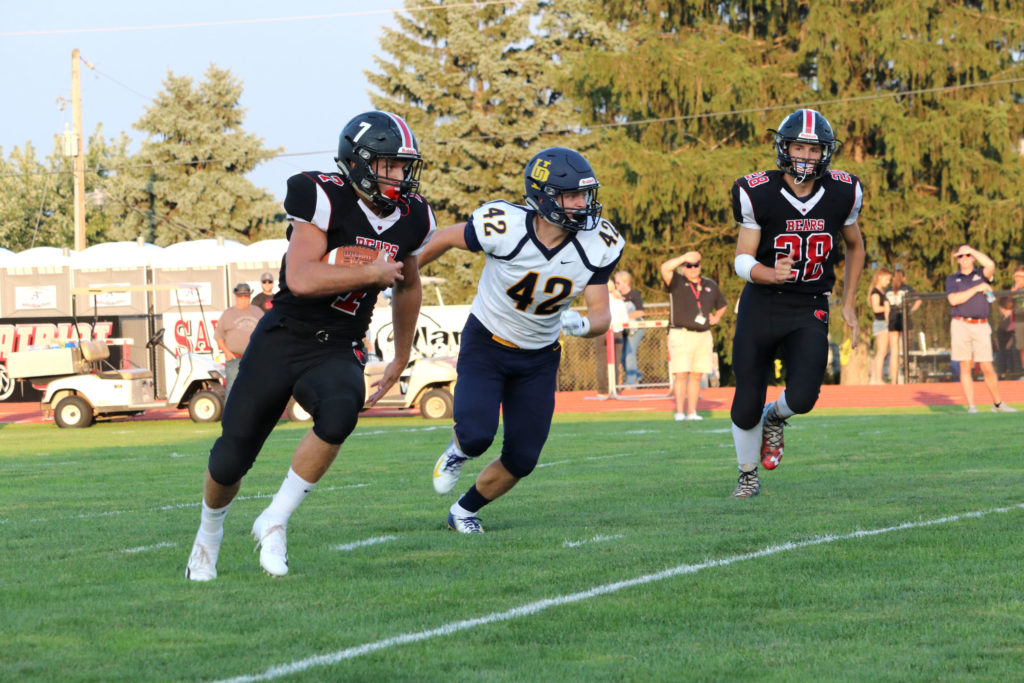 It's no secret that the this year's football season was a frustrating one, to say the least. After a strong 37-12 win over Upper Perk to open the season, not much else seemed to go right, as the Bears fell to a 1-9 record on the season. An anonymous player discussed the season.
"The defense absolutely has to get better. Several coaches related to defense were fired this season, we've got to be better," he said.
Senior Holden O'Donnell believes a lack of focus was to blame for the frustrating season.
"We never really focused on the little things," he said. "Coach Miller told us over and over again how important focus was throughout the week and before the game, and we never truly reached a maturity level, which led us to losing a lot of games this year."
Despite the rough 2018 season, Holden is optimistic for the 2019 team.
"The young guys really understood Coach Miller's style of coaching which allowed them to be successful on and off the field. Those guys are special and I can't wait to watch them ball out next year."
-PJ Riddell
Boys Golf: (1-6)
The season didn't go that well, but the team is trying to learn from it. Junior Alex Young said the golfers did have some good moments, but just were not consistent enough.
"We just needed more consistency, if we could get 5 scores to stay consistently low, we can beat any team in the PAC," he said.
Alex also cited friendly competition between John Engle and other teammates to make the team better.
"John's always getting the best scores on the team, and it's a team-wide goal to beat him, whether that's in practice or matches."
Alex recognized the frustrations of this season, but believes the 2018 season gave the team valuable experience to build on for a successful 2019 season.
"We have six returning players and a solid JV team," he said. "We won't have to make many adjustments from last year, plus we'll all be better than this year."
-PJ Riddell
Girls Golf : (0-8)
Despite the girls golf's losing record, the girls stayed positive and looked at it as a developmental year, Head Coach Thomas Koch said.
"We had a relatively young and inexperienced team, so our focus was improving on both an individual and team basis," he said.
He said he hopes that the current team members will put in some off-season work to get better, because they have little practice time together.
"We begin our matches immediately after three days of tryouts," he said. "I also hope that some girls that have not played before decide to come out for the team, learn the game, and learn to love the sport."
Even though the season was difficult, the girls were still able to have fun.
"My favorite part of the season was just being with me team and going out on the course," senior Sydney Brensinger said.
-Shannon Ludwig
Leave a Comment
About the Contributors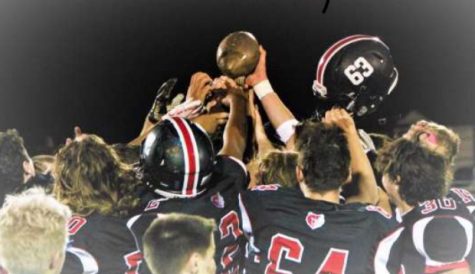 Holden O'Donnell, Sports Editor
Holden is a senior at BASH. In his free time, he likes to play football and travel. This is Holden's second year in CUB, and he enjoys covering sports.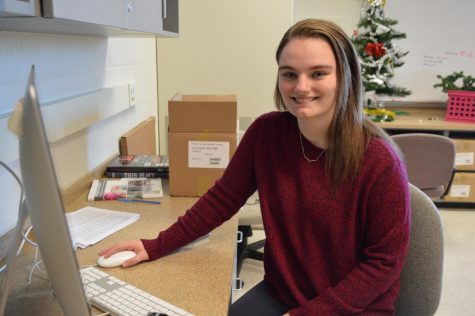 Shannon Ludwig, News Editor
Shannon is a senior who loves to write. This is her third year in CUB and she was a member of the East Observer. She also manages girls' volleyball, plays...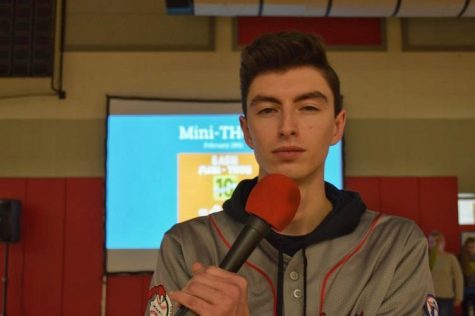 PJ Riddell, Sports Editor
PJ Riddell is a senior at BASH and a Sports Editor. He will be majoring in Broadcasting and Media Production at Messiah University beginning in fall 2020,...