New Instagram Account Celebrates Class of 2020
On Thursday, the Instagram Account "bashseniorclass2020" popped up with the goal of celebrating the senior class when the year has come to "an end way too early."
Created by senior Amelia Bernabucci, the account is accepting direct messages that include a picture of the senior as well as the college with the intended major and/or minor.
"We plan to use this page as a way to remember our memories at BASH and a way to recognize the seniors and their accomplishments," the first post read. "I am truly sorry for how senior year has turned out for us- but we can still remember and celebrate our time there together."
Amelia feels that seniors are missing out on a lot of key experiences, such as prom and graduation.
"A lot's been taken from us and we aren't going to get the proper recognition we deserve," she said. "I wanted to find a way to bring together and recognize our class and the loss we're feeling, and be able to have a space where seniors can remember high school."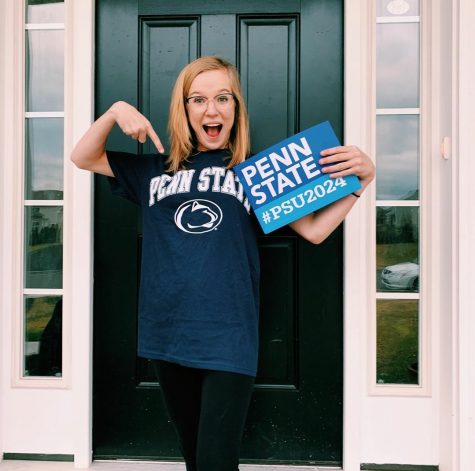 With PA schools shutting down for the rest of the year, many are assuming graduation, originally scheduled for June 4 at Santander Arena, is cancelled.
"It breaks my heart," Amelia said. "I feel that if they did a virtual graduation, it takes away the whole meaning and sentiment. If they moved it to sometime in the summer, it will be a happy way to say goodbye."
There is also a parade idea going around the senior class that Amelia thinks would be a "good way to send us off."
"There's an idea going around that the seniors get in their car and parade in town to BASH to get their diploma while their family stand on the route and wave and clap," she said. "I think that would be super nice for them to put together."
Prom is also an event the Class of 2020 is passionate about. Last week, the senior class officers announced that prom might be postponed to late July or early August, as the original May 1 date is impossible now.
"I think it's unfortunate it got cancelled, but I'm grateful for the fact that our officers are going above and beyond to push it to the summer for us," Amelia said. "I think it'll be a good little reunion after not seeing each other for a few months."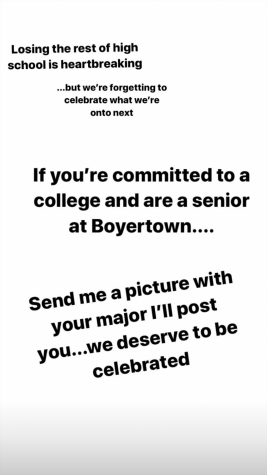 While there are many struggles with the end of this school year, seniors have been getting the brunt of it. After leaving for the senior class trip in early March, the class of 2020 came back to a school closure that just got extended and extended, as well as stay-at-home orders.
"I think the seniors are mostly experiencing a lack of 'fulfillment' they're feeling," Amelia said. "If you ask any of them, they say that if they knew it was the last time they were in BASH, they would have said their thank yous to teachers or appreciated their 'last day' more. We got taken out and told we aren't coming back and we didn't even have a chance to truly say goodbye."
In the account's Instagram story, she wrote, "Losing the rest of high school is heartbreaking… but we're forgetting to celebrate what we're onto next."
Amelia plans to extend the highlights to more subjects, posting a poll asking if seniors would like her to cover topics such as "favorite high school memory," "superlatives," and recognition of athletes.
Leave a Comment
About the Contributor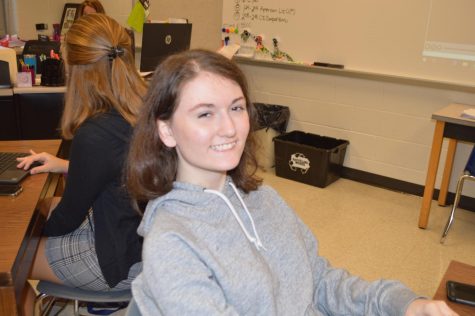 Jocelyn Lear, Editor-in-Chief
Jocelyn is a graduate of BASH. She served three years in the CUB and she previously wrote for the East Observer. She was in many clubs, such as SADD, Stage...