Boyertown Schools Closed Indefinitely
Gov. Wolf announced new guidelines Monday morning, extending school shutdowns as well as non-essential business closures indefinitely, with four more counties receiving stay-at-home orders until April 30. Wolf has also asked the President to declare a disaster in Pa. which would give additional federal funding and support.
The decision comes after President Trump announced social distancing guidelines until the end of April. Previously, Wolf had been making decisions for schools and businesses on a two-week basis, resulting in several previous end dates for the shutdown. Now, he's leaving the end date open.
"We will keep them closed as long as we need to keep them closed in order to keep Pennsylvania safe," Gov. Wolf said in the press conference.
Boyertown announced that virtual learning will begin on April 13 like previously decided, an email to parents said. It is unclear what new services students will be using for online classes, if any.
Many school events are up in the air and most likely to be cancelled if the shutdown doesn't end soon, such as prom and graduation for seniors. Some are very upset, with the Instagram account "bashprom2020" having over 130 students who already bought their dresses. Others are just hoping for graduation.
"I'm proud of all the seniors and I hope that we get to experience a graduation ceremony, because we have worked so hard for it," senior Morgan Janiuk said.
Many students are still working at grocery stores and restaurants that are open for essential services. This has brought some conflict with the stay-at-home orders.
"I guess there's a curfew at 8 o'clock now, but I work at a restaurant," senior Kristin Stauffer said. "I left work and went to Walmart to buy food for my family. On the way home I was pulled over, and the police officer asked me 'what are you doing out, you're not supposed to be out.' I had to explain I work at an essential business."
The counties now under stay-at-home orders until the end of April are as follows: Allegheny, Beaver, Berks, Bucks, Butler, Carbon, Centre, Chester, Cumberland, Dauphin, Delaware, Erie, Lackawanna, Lancaster, Lehigh, Luzerne, Monroe, Montgomery, Northampton, Philadelphia, Pike, Schuylkill, Washington, Wayne, Westmoreland and York.
Pennsylvania's totals are now past 4,100 cases with 50 deaths. Stay-at-home guidelines allow Pennsylvania citizens to leave home for grocery shopping, pharmacy, caring for family, going to the hospital, and short bouts of exercise outside. Social distancing guidelines must continue to be followed.
A full list of what residents can do during the stay-at-home order is available here.
Leave a Comment
About the Contributor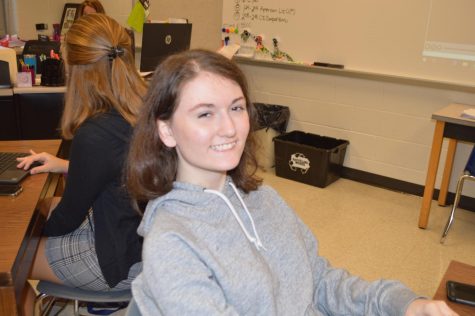 Jocelyn Lear, Editor-in-Chief
Jocelyn is a graduate of BASH. She served three years in the CUB and she previously wrote for the East Observer. She was in many clubs, such as SADD, Stage...