Gov. Wolf Announces Extended School Shutdowns
Under the state disaster declaration law, Pennsylvania Governor Tom Wolf has announced stay-at-home orders as well as extended school closures that will go on until at least April 6 due to COVID-19.
Counties affected by these measures are Bucks, Chester, Delaware, Montgomery, Monroe, and Allegheny. Philadelphia has already enacted its own stay-at-home order, which went into effect this morning. Gov. Wolf's new orders will go into effect 8 P.M. tonight.
"Protecting the health and safety of students, families, teachers, and all employees who work in our schools is paramount during this national health crisis – we must continue our efforts to mitigate the spread of #COVID19," the PA Department of Education wrote on Twitter.
The statewide total of cases has risen to 644, with at least six deaths confirmed by health officials. Of these, one death has occurred in Montgomery County.
These orders come after Gov. Wolf ordered all "non-essential" businesses to close on Thursday, with enforcement that began this morning. The order to close will be enforced by "state troopers, local officials, the state Health and Agriculture departments and the Liquor Control Board," ABC Action News reported.
Some businesses are being hit hard, with operations like GameStop arguing that they're "essential retail" in order to stay afloat while major new video game releases are selling fast. As a result, Gov. Wolf suspended GameStop's business license. GameStop claims they shuttered doors after this due to compliance with the law, not due to the license being lost.
Hundreds are being affected by business closings, with the Federal Reserve scrambling to provide credit to individuals and businesses. A $1.8 trillion stimulus package designed to give financial relief to Americans has stalled in Congress. Without income, some under-privileged citizens are worrying about bills, rent, and feeding their family.
"I feel very anxious. I don't know what's going to happen. I couldn't really sleep much last night for whatever hand we will be dealt, for everybody, for humanity," Joe Cangialosi, the operator of Naple's Pizza in Susquehanna Township, Steelton, and Palmyra, said to PennLive.
State-wide, colleges have begun cancelling in-person commencement ceremonies. Nationally, many schools are turning towards Zoom, a video-conference software, to start online classes. So far, Boyertown has had entirely voluntary review during the closure, with teachers posting materials on Google Classroom.
"While we all enjoy a good snow day, the recent days off have felt much different. We wanted to reach out to you to
continue to review your previously assigned academic materials and realize that our priority has always been the safety of our students and staff," Dr. Foley wrote in a March 20 BASH Week In Review.
During this period of time, Grab and Go meals are available for free from the high school, Monday through Friday from 11 A.M. to 1 P.M. This is an attempt to help under-privileged students who rely on school for their meals, a demographic that has been hit hard from the shutdowns.
It is unclear what school events or academics will be affected by the extended shutdown.
"All field trips and school activities are canceled until further notice or directive from the Superintendent. We are working on refunds where applicable," Dr. Foley wrote.
Collegeboard has announced that AP testing will look different this year, with at-home testing without multiple choice. Tests are said to be 45-minutes long and free-response focused. More details from Collegeboard are set to come April 3.
Many students are struggling with the shutdown and isolation from friends and community, but others urge students to stay safe.
"Please don't think of this virus as a joke. Make sure to wash your hands, keeping good hygiene is a must," BASH student Keiyana Mosley said.
The district plans to reopen April 13 for students and April 7-9 for staff, provided that state-wide school closures aren't extended due to COVID-19.
Stay safe and follow CDC guidelines.
Leave a Comment
About the Contributor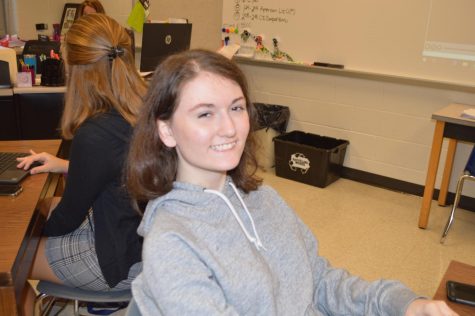 Jocelyn Lear, Editor-in-Chief
Jocelyn is a graduate of BASH. She served three years in the CUB and she previously wrote for the East Observer. She was in many clubs, such as SADD, Stage...