How to Pick the Perfect Prom Dress
Here's my life – by the numbers – over the last few months:
5 stores visited with
15 hours spent in dressing rooms over
24 days total;
47 dresses tried on because there are only
77 days until prom.
Finding the right prom dress can be very time consuming and stressful.  Here are some tips for finding the perfect dress for Prom 2017:
WHERE TO SHOP:
Formals XO in the new and improved King of Prussia Mall is probably the most popular store with the biggest selection. But a new store that's smaller but has great customer service is DressCode in Providence Towne Center in Collegeville. Some others are:
–Stephanie's Bridal and Formal Shop in Pennsburg
–Golden Asp in Lansdale
–All Things Prom also in Lansdale
Online shopping is another option. Many people order their dresses from Prom Girl, a website that has a wide range and variety of dresses.
WHAT NOT TO WEAR:
Before putting out $200 for the dress of your dreams, make sure your fancy frock is tasteful rather than tacky — and won't get you kicked out of the dance. The school handbook states: "All school rules, including those pertaining to behavior, dress …will be in effect." You're not likely to get kicked out for a strapless or backless dress (although that did happen at a Connecticut school a few years ago and Cosmo ran an article about other schools that cracked down on dresses), but spilling out of a dress or showing butt rather than back [ew!] is a problem. Also:
-Don't be too 'matchy-matchy' by wearing a pink dress, pink shoes, with pink jewelry, etc. Make sure you mix it up a little bit.
-On the other hand, don't be totally unmatched, because you don't want it to look like you threw yourself together in 5 minutes.
-Be careful to not be underdressed. Prom is fancier than Homecoming; short dresses are OK with the right fabric – avoid cotton, linen or jersey.
-Last but not least, if your dress is too big or too small in one area, take it to the tailor. A tailor can easily take in or take out sections of your dress to make sure that it fits you perfectly.
BUDGET:
Decide on a budget BEFORE you shop, so you know what to try on and won't be heartbroken when your perfect dress is one you can't afford. While some people have "wedding dress" budgets of $500-700, most people spend between $100 and $400 on their prom dresses, according to Promgirl.com.
If you're on a strict budget, try Rent the Runway or Prom Girl's "Under $100" section. The Boyertown Junior Woman's Club also gives away dresses at its "Once Upon a Prom" event March 4, 5, 11 and 12 from 12-4 p.m. at Miracles in Motion, 1145 East Philadelphia Ave, Gilbertsville.
BE UNIQUE:
Another thing to think about before buying a dress is "Will anyone else have it?". Some shops, such as DressCode, actually keep track of who buys each dress sold and what school the buyer is from. But also check on Instagram (@bashseniorprom), where people post pictures of the dress they've bought. A Facebook page was created for Boyertown students called "Post your prom dress 2017!!", which currently has almost 200 members.
PICK A STYLE:
Popular dress styles this year are: open back, mermaid, sleeveless, sparkly, as well as two-piece and simpl.
Although two-piece dresses are considered "in" this year, they are not always the most flattering dresses on everyone. Depending on your body shape, you should get what looks good on you, not just what you think is cute on the hanger.
Also, be careful about solely basing your decision for a prom dress off of others' opinions — whether it's a salesperson, your parents, siblings, friends, significant others. You pick your dress. I mean, it is YOUR prom. No matter what dress you end up with, make sure you're happy in what you get so you will be confident on prom day.
If you're still at a loss for what dress to get, go to:
http://www.seventeen.com/prom/prom-quizzes/a27486/prom-dress-quiz/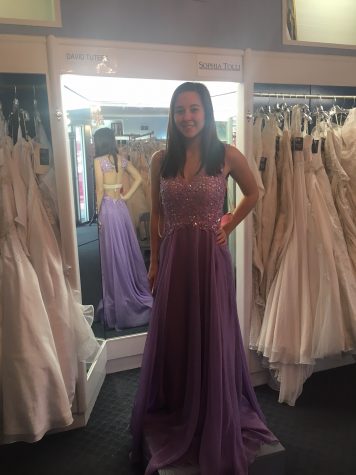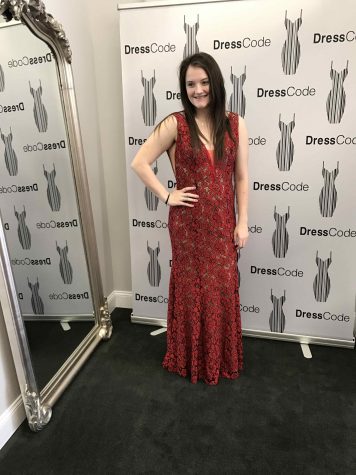 About the Contributor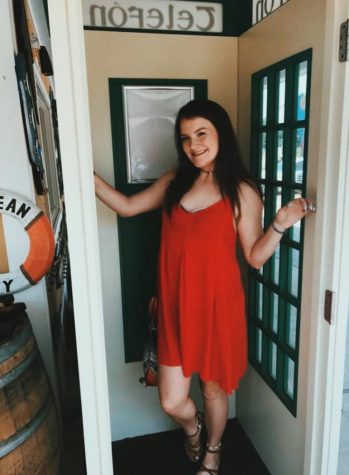 Logan Cwikla, Photographer/Web Editor
Logan Cwikla is a Senior. She is the photographer and web editor along with writing for the Cub for her third year. Logan is a cheerleader, dancer, and...