Winter Sports Wrap-Up
Ice Hockey: 10-9-1
The Bears kicked off the season looking to repeat last year's championship-winning success. Boyertown started red-hot, winning their first four conference match-ups, including an 11-3 defeat of the Great Valley Patriots. However, when the calendars turned to December and the Bears entered the meat of their schedule, they began to struggle. Boyertown posted a 2-2-1 conference record and an overall record of 2-5-1 in the months of December and January, including an 11-3 loss to the Spring-Ford Rams on January 27th. The Bears were able to turn it around down the stretch, as they won their last 3 conference games and shot to the top of the Pioneer standings by the end of the season.
The Bears began the conference playoffs as the #1 seed, and took on arch-rival and #4 seed Perkiomen Valley in the semifinal round. Following a 5-1 defeat of the Vikings, the Bears earned a bid to the championship game against the Spring-Ford Rams for the second year in a row. Despite being winners of four straight, the crown did not remain in Boyertown, as the Bears fell 4-3 to the Rams. Boyertown continued their season in the Flyers Cup AA as the 14th seed. The Bears lost in the first round in overtime to #19 seed Garnet Valley 7 to 6, eliminating them from the playoffs and officially ending their season.
"Our season as a whole had a lot of ups and downs," senior forward Casey Sottanella said. "With all the hard work came a lot of injuries which affected everyone. We may not have had the result we wanted in the end, but overall it was a good season."
Sottanella led the team in scoring, with 41 points and 27 goals. Along with Sottanella, the Bears sent two others to the ICSHL All-Star Game, senior forwards Chris Moccia and Sean McGinley. Overall, the Bears will lose 7 seniors to graduation, and will turn to a large group of experienced underclassmen next year.
Wrestling: 21-5
District 1-AAA West Champions
The Bears finished their season in Hershey, coming away with a top-ten team finish and three individual medalists. Seniors Matt Wilde and Jakob Campbell finished in 5th and 4th place respectively, while junior Elijah Jones also placed 5th. Wilde's final win of his high school earned him his 100th career victory. Seniors David Campbell, Chris Berry, and Hunter Vogels qualified for states but did not medal. This was the third straight season the team finished in the top 10 of the state individual tournament.
Boyertown ended with a 4-1 conference record, their only loss coming against Owen J. Roberts. The Bears were led in individual victories by Jones (47) and David Campbell (40).
Head coach Pete Ventresca and assistant coaches John Cooley and Tony Haley were inducted in the Southeastern Pennsylvania Wrestling Hall of Fame for their outstanding coaching careers. This year marked the final season for all three, as they are retiring after coaching together for eight seasons.The Bears will start fresh next year with a new head coach and new captains.
Swimming – Girls: 7-3  Boys: 9-1
The Bears went into their season confident after having a good season the previous year. They ended this season just shy of an undefeated record, with just one loss to Owen J. Roberts. The Bears made history this year posting their best record since 2010, winning the Perkiomen Valley Invitational for the first time in school history, and having the largest amount swimmers qualify for the state championships since 2010.
"Our team was able to improve this year to [an] 8-1 [conference record] from the 5-3 record we had last year, due to the large freshman class, and every swimmer matters," senior Patrick Lance stated.
The Lady Bears also improved their record from the previous season by finishing with a 7-3 record; with losses coming at the hands of Owen J. Roberts, Spring-Ford, and Phoenixville.
Boys Basketball: 5-17
Boys Basketball ended the year with a conference record of 2-11. However, the season had its highlights with juniors Jerry Kapp and Marcus Thomas leading the team in all categories. Kapp led the team and conference in 3-point field goals with 75, and averaged 22.5 points per game while racking up another team high of 496 total points. Thomas wasn't too far behind with 10.9 points per game and 239 total points.
Girls Basketball: 28-5
PAC and PIAA State Champions
Girls Basketball finalized a polarizing season with a record of 28-5, successfully bringing home the PIAA-6A State Championship title.
Senior and Bucknell commit Abby Kapp ended her high school career with 1,669 points (a school record) in 111 games. In addition she recorded 1080 rebounds, 201 assists, 243 steals and 124 blocks during her tenure with the Lady Bears. Senior and Albright commit Alli Marcus ended her Boyertown career with 532 points in 88 games played. She also tallied an additional 176 rebounds, 135 assists and 177 steals. Senior and Emmanuel commit Katie Armstrong ended her Boyertown career with 417 points in 87 games played. Her stat line also included 291 rebounds, 105 assists, and 139 steals.
For more, see Hershey's Heroes
Boys and Girls Winter Track
This year's team had about 20 runners. On the boys side, the 4 x 400m relay team broke the school record and then followed it up by breaking there own record two more times. The runners on the 4 x 400m team were seniors Michael Sesher and Max Miller and juniors Payton Stanziani and Josh Endy.
As for the Lady Bears, seniors Becca Hemingway and Gillian Kasitz represented Boyertown at the state championships. 
Leave a Comment
About the Contributor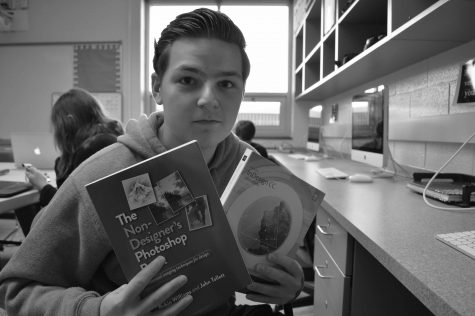 Colin Emery, Photographer & Website/Graphic Design
Colin Emery is a Photographer and website/graphic designer for the BASH Cub. This is his 2nd year in Cub and he is a Senior at Boyertown. Colin plans to...