TSA Students Win Awards at States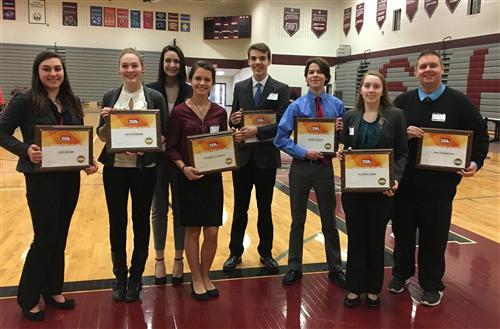 The Technology Student Association returned from the annual state conference with several awards.
BASH TSA Sophomore and chapter Vice President Abigail Reigner was named to the Pennsylvania TSA State executive board at the conference at Seven Springs Resort in Champion.
Abby will serve as the State Treasurer for the 2018-2019 school year, and will have the opportunity to serve as a voting delegate at the national conference, according to TSA Advisor Mr. Joshua Pennington.
Another award winner was Will Scheeler, who won the Clark Scholarship for $5,000
Here are all the results for BASH participants:
3D Animation: 2nd Place: Reid Goslin Nathan Barnes
Animatronics: 8th Place: Abigail Reigner, Josh Famous, Brody Cuthill
Biotechnology Design: 1st Place: Brody Cuthill, Josh Famous, Olivia Johannsen, Caitlin Goggin, Hannah Weller, Gavin McCloskey. 2nd Place: Trevor Bellino, Lucy Bellino, Talor Bianchini, Gabby Schatz, Alyssa Carlier
Chapter Team: 5th Place: Josie Benner, Josh Famous, Brody Cuthill,  Asher Hamrick, Luke Tomme, Chris Angus
Children's Stories: 3rd Place: Talor Bianchini, Alyssa Carlier, Autumn Doerr, Hallie Paules, Liz Furyk. 4th Place: Kaitlyn Berger, Hannah Gallagher, Emily Bradley, Kira Reigner
Coding: 2nd Place: Joel Seidel, Carson Umberger, Ethan Witherington
CADD 2D Arch:  6th place: Victoria Ulmer
CADD 3D Eng: 8th Place: Garrett Witherington
Digital Video Production: 3rd Place: Lucy Bellino, Gabby Schatz
Engineering Design: 3rd Place: Liz Clarkson, Emma Hauser, Tara O'Connor. Will Sheeler, Gavin McCloskey. 8th Place: Lane Adams, Chris Angus, Kreena Patel Brody Cuthill, Dan Martignetti
Essays on Technology: 3rd Place, Autumn Doerr
Fashion Design: 2nd Place: Talor Bianchini, Alyssa Carlier, Autumn Doerr, Hallie Paules
Future Tech Teacher: 8th Place:  Alyssa Carlier
Music Production: 8th Place: Grace DeMenno, Luke Tomme, Jon Xhoxhi, Jessica Hyland, Tyler Hagmann, Reid Goslin
Promotional Design: 10th Place: Eden Sakal
Leave a Comment