Transformation
Transgender Senior Aidan DeStefano, who received gender reassignment surgery, shares his search for identity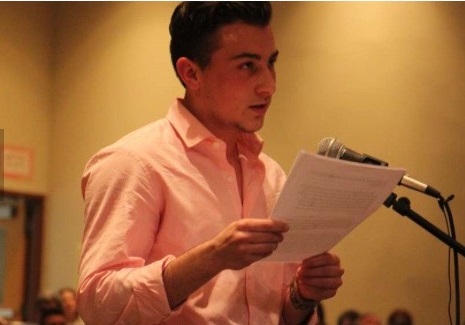 After returning home from a mission trip in the summer of 2015 with his church, BASH senior Aidan DeStefano was greeted by a knock on the door from his pastor– who told him that he was going to Hell.
Aidan, who at 16 was already beginning hormone treatments to transition to a male, had published a video while on his trip in response to a list of Bible verses that outlined why it was a crime to be transgender. The pastor saw the video and came to his home to try to convince Aidan that his lifestyle was not in accordance with the teachings of the Bible.
The pastor's comments did not deter Aidan. A year later he had gender reassignment surgery to complete his transition from female to male. The conflict with his pastor is just one of many Aiden has had to deal with over the last few years as he has become the person he says he was always meant to be.
"I've learned you have to accept yourself for who you are and love your body for what it is," he said.
Aidan, formerly Adriana, is just one of the growing number of transgender students at BASH who have changed their identity from female to male, or vice versa. Transgender, which is different from being gay, means that an individual's sense of gender identity is different than the one assigned at birth. Many trans students at the school have even changed their name officially with the school, and others are in the process of fully transitioning to the opposite sex.
Aiden is the only known student to have undergone hormone therapy and gender reassignment surgery. Since he was little, Aidan describes himself as never having the feminine touch. He often would dress in boy's clothing, long before he knew what being transgender even meant.
"
I've learned you have to accept yourself for who you are and love your body for what it is."
— Aidan DeStefano
"I knew that I was a little bit different by the time I was six, but I didn't know what transgender meant until junior high," Aidan said. "I officially came out the summer into sophomore year. I was going into high school as my true self, and not hiding my identity."
Aidan says once he made that decision, he took steps so he would feel more comfortable around his peers.
"When I came to BASH sophomore year, I went to the guidance counselors and told them I need to do certain things to feel comfortable. I wasn't the first transgender person to come in, but I was the first one that was actually transitioned — I had a strong influence on things that began to happen in the school," he said.
Aidan started taking male hormones, or testosterone, in 2015 after he decided that he was ready to make the physical transition to become a male. He mentioned that he experienced much more hair growth, as well as his voice deepening.
"You're practically going through male puberty, again," he said. "Everything that a guy goes through, I had to go through."
Although he was taking hormones and had the support of his family, Aidan still struggled to feel comfortable at school. Simple tasks like going to the bathroom or changing for gym class became complicated.
"Even if I were to go to the girls' bathroom in junior high, I would always get stares but didn't know why," he said. "But I didn't want to go into the boy's' bathroom, because I heard stories about guys beating up female-to-males and stuff like that. So I always went to the nurse's bathroom to get away from all that."
Now that he's fully transitioned, he uses the male bathroom. However, some transgender students still do not feel comfortable doing so.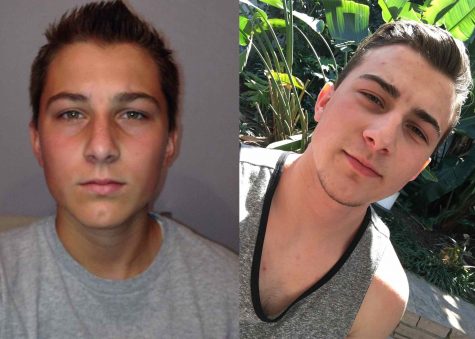 Jeremy Harrison, a junior who officially changed his name from Angel at the beginning of the school year, says he uses the women's room "because I don't know how others will react."
However, he says he feels comfortable overall at school.
"I think it's OK," he said about the environment. "I've never had a problem."
Currently, BASH allows students to use whichever bathroom they identify themselves with, following an executive order from former President Barack Obama last year that said students have the right to do so. However there is no official policy at BASH surrounding this.
"One of our goals is to make sure our students feel safe and comfortable in this environment, regardless of socioeconomic status, ethnic background, religious beliefs, or gender identification," BASH Principal Dr. Brett Cooper said in an interview a few months ago. "If a student's gender identification is opposite of their assignment at birth, then that is the bathroom they can use."
In a recent complaint filed against the Boyertown Area School District, a BASH family claimed their student was made uncomfortable by a male transgender student changing in the boy's locker room. At a recent school board meeting on Tuesday March 28, the district decided to reject by a vote of 6-3 the terms of a Demand Letter sent by the plaintiff asking that the school no longer allow students to use the bathroom or locker room of the sex they identify with.
Hundreds of people from the community, including many members of the local LGBTQ community and their allies, came to show their support at the 5 1/2 hour long meeting. Dozens of parents and students, including Aidan, made speeches urging the school to reject the Demand Letter.
"Overall, I feel safe. The support I get at BASH is hands down amazing," Aidan said in his speech. "There are a number of students who look up to me, both cisgender [identity matches sex assigned at birth] and the LGBTQ students, as an example of how they can too experience dignity and respect."
Pennsylvania Youth Congress
After a year of being on hormones, Aidan received top surgery in August of 2016. Though the scars from the procedure still show, he mentioned they are part of him now.
"Since the surgery, I've been fine with taking off my shirt and showing my scars because it's who I am and I wasn't going to hide it anymore. But for people who haven't taken hormones yet, it's going to be hard for them."
The PRIDE club at BASH has become a safe space over the past few years for members of the LGBTQ community within the school and their allies to feel comfortable and talk openly about problems they are dealing with. The group meets based off demand on most Wednesdays.
"We fluctuate between being educational and being part of a movement," said PRIDE club head advisor and guidance counselor Mrs. Beth Shive. "It's also a supportive environment for being who you want to be, because it is a place where people can feel comfortable. We have fun, and talk a lot. There are even times when we talk about grades and classes, just like any other club."
The club gets approximately twelve students per week, but advisor Ms. Joy Sirianni said labels put on the club make it hard to get better turnouts during meetings.
"I think sometimes we don't get people to come to our meetings who could really use the support, because they are afraid by attending it that they'll be labeled gay. It's hard," she said.
Aidan said he understands how scary it can be to come out as transgender or gay. It has taken a long time, but he finally feels he has become the man he was always meant to be.
"I've learned more about myself than I knew when I was six. Since surgery, I feel like I can stand out more as a guy."
About the Contributor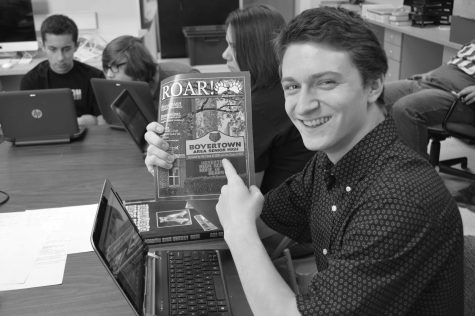 Harrison Otto, Editor in Chief
Harrison Otto is a senior, and is serving as the Cub Editor-in-Chief for the second year in a row. He is the Class of 2017 Treasurer, member of the YMCA...