Still Time to Snowboard at Big Boulder
Big Boulder Park has been prime since November — and it's one of the only ski parks still open! So, grab your board, boots, and jacket and head up to the Poconos for a weekend of perfect turns.
On the East Coast, finding a good mountain to ski and snowboard on is a challenge. Big Boulder Park fills this vacancy with its fluency and creativity in the Terrain Park. With well groomed trails for beginners, it appeals to all skill levels.
The Terrain Park at Big Boulder is its pride and joy, and attracts people from all over the East Coast who share the same passion. I've personally never had problems sticking to rails here, and everything seems to flow together very nicely, as if you were at a skatepark. Take-offs are always being raked and rebuilt, and all of the landings are filled with a solid pack of East Coast snow.
Something else I enjoy about Big Boulder Park is their advertising. Every time the Park Crew rebuilds some features, they post all of the additions on their Instagram story. This shows you exactly what you'll be working with, in case you decide to make the trip to the Poconos for the day.
I have been to this mountain five or six times, in various conditions. Being someone who solely rides Park, I thought I would be bored making my way to the longer and more gradual trails. To my surprise, I had a great time riding on the back trails at Big Boulders, and spent a few hours listening to music and enjoying the peaceful atmosphere of the Pocono Mountain range.
This Mountain has fantastic amenities for people of all skill ranges. Despite having a rough winter, Big Boulder plans on staying open until June 11th; they have had the longest season on the East Coast during 2017. If you have a chance to go to Boulder, don't hesitate!
Leave a Comment
About the Contributor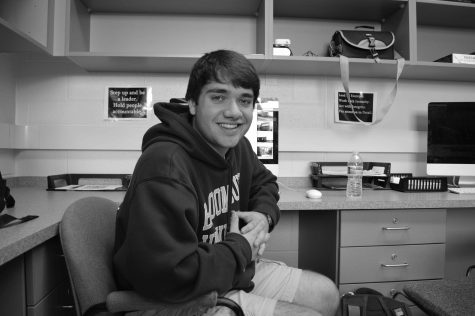 Mat Pritchard, Staff Writer
Mat Pritchard is a senior who enjoys snowboarding, lifting weights, hanging out with friends, and running track. He wants to be a marketing executive when...