BASH is Alive with the Sound of Music
This year's theatre production, The Sound of Music, is a show that really lives up to its title — filled with famous songs that many people know the words to.
Fittingly, this year's cast is made up of very strong singers.
"It has a wonderful score that the singers will sing well," Vocal Director and Stage Producer Mr. Jeffrey Brunner said.
Rehearsals are in full swing for the show, which runs April 6-10. The actors and stage crew are spending many hours after school preparing to present the story of the Von Trapp family, who find happiness and music again when Maria, a nun, comes into their lives. The play is set in Austria right before the start of World War II.
While many cast members have a lot of experience singing, acting is new to them and something they are working extra hard at.
Senior Robert Markofski, a member of show choir and chamber choir, plays the leading role of Captain Von Trapp, a retired captain of the Imperial Navy.
"I've been a singer all my life, but this is the first time I've ever had to act," he said.
He said getting into character was not easy.
"I have to step into someone else's shoes and really immerse myself in what his life is like."
He received a lot of coaching to help him understand his character.  
"I've had to create a backstory and work with multiple professionals to really understand who and what I am supposed to be."
He said he does try to follow the example of Christopher Plummer, who played Captain Von Trapp in the 1965 movie version, "but where I don't understand my motivations, I put my own twist onto my character."
Junior Mary Fetterman plays the role of Mother Abbess, the head nun of the abbey. Like Rob, she studied the way the movie actress (Peggy Wood) played her character, but she is also adding her "own twist to still show the important characteristics that are from the movie".
Also like Rob, Mary said singing is easier for her than acting. Mother Abbess' big, inspirational song does not intimidate her.
"I have a more classical, operatic tone to my voice, so 'Climb Every Mountain' came very easily," she said.  
The acting is more of a challenge, she said, especially because she is playing someone much older.
"In order to portray her well, I have to fully leave Mary mode and go into 'old woman' mode."
The abbess' personality is different from hers, too. Mary said she likes how powerful and wise the abbess is, but not how serious she is.
"That's where we are different from each other."
Senior Carol Simmons, who plays the leading role of Maria, the rebellious, musical nun who comes to work as the Von Trapp family's governess, also said it was challenging relating to a character who is different from her.
"Maria is very ADHD and stubborn and sassy,"  she said. "She reminds me a lot of my grandmother. I'm actually playing this role a lot like my grandmother!"
Doing so, she has learned how to get into character. "Once I step on stage in costume and everything, I let everything else go and I become Maria from Austria, who had a rough childhood and who is really scared," she said.
The singing has come much more naturally to her.
"The songs are great and perfect for my vocal range," she said. "My voice has been growing with this musical, so it's nice to being a role that is not taxing on the voice, but healthy for it."
Tricia Tadley, who plays the Baroness Elsa Schraeder, also finds acting more of a challenge than singing.
"I love the elegance of my character," she said. "I am trying to make the character my own, but also letting a little bit of the movie production into my character."
She tries to step into Else's shoes when doing a scene.
"I don't think like the way I would," she said, 'but in the way she would."
Stage crew member Carly Wilson said this year's production is less complicated for stage crew than Mary Poppins, last year's play.
The house is one piece and we don't have to move it, which is amazing for the floors."
She said the audience can expect "a few surprises … with some props that will appear."
Another stage crew member Jeffrey Hartung also commented on the set saying: "This is the first year the orchestra will not be in the pit, but on stage behind the set."
About the Contributor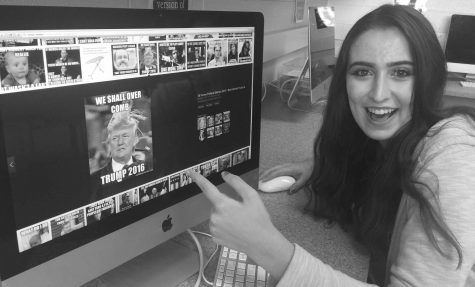 Rachel Hulswit, Staff Writer
Rachel Hulswit is a 12th grade student who joined journalism because she likes English-based classes, in addition to being around people and sharing her...