Hershey's Heroes
Lady Bears Win State Basketball Championship
The Lady Bears have had a long and hard-fought journey to the state championship, and they finished the race with a 46-35 win over North Allegheny.
Allegheny seemed dominant in the paint early on with their much taller starting roster, establishing a difficult 19-14 lead at the half.
Defense ruled the day as the Lady Bears held Allegheny to only two points in the third quarter compared to the bears 12.
Boyertown held off Allegheny's attempt at a fiery comeback and maintained a minimum lead of four points all through the final quarter.
The final minutes of clock winded down for what seemed like hours as the Bear Den (That consisted of over 700 fans) knew the championship trophy was ours.
If there is one thing everyone can be sure of this season, it's that Boyertown and its coaching staff do phenomenal from behind and were a strong second-half team.
Boyertown phenom and D1 Bucknell commit Abby Kapp led the team with 17 points, 13 rebounds, 3 assists, 3 blocks, and 3 steals establishing a dominant defensive presence.
Kapp ends her high school career with 1,669 points (School record) over 111 games that averages 15 points per game. Adding 1080 rebounds, 201 assists, 243 steals and 124 blocks.
Senior point guard and Albright commit Alli Marcus put up 5 points, 5 rebounds, an assist and a steal in her final high school game.
Her senior stat line was finalized with 7.7 points per game, over the 33 games played.
Marcus ended her Boyertown career with 532 points over 88 games played leading to an average 6 points per game. She also tallied an additional 176 rebounds, 135 assists and 177 steals.
Gritty senior shooting guard Katie Armstrong totaled 5 points in Hershey, adding 8 rebounds, 2 assists and 2 steals.
Her final stats for her senior year led her to 9 points per game over the entire season.
Armstrong ends her Boyertown career with 417 points over 87 games that led to an average points per game of 4.8. Including another stat line of 291 rebounds, 105 assists, and 139 steals.
The Boyertown Bears also had standout juniors in Kylie Webb and late-season bloomer Tori Boalton who both played pivotal parts in the state championship and all season long.
Webb tallied 9 points in possibly the most important game of her career adding, 2 assists and a steal.
Kylie wrapped up her impressive junior year with 191 points finalizing with 5.8 points per game. Including 80 rebounds, 102 assists and 74 steals with another season to go.
Tori Boalton must have met with Webb before the game and both decided to match their stat lines as she hit for 9 points, 2 additional assists and a steal as well.
Boalton ended her junior year with 178 points over all 33 games to end with 5.4 points per game. She managed to also add 106 rebounds, 29 assists and 35 steals.
The Lady Bears have been one big family for years under Coach Jason Bieber who has led Boyertown to its very first girls basketball state championship with the help of his talented roster.
"I said to them on the first day, 'What legacy do you want to leave as an individual? And what legacy do you want to leave for the program?' Coach Bieber said. "And this is what they did."
Now, with a heavy senior class moving on, it's up to the underclassmen to continue Boyertown's legacy and defend the state champion title next season.
Leave a Comment
About the Writer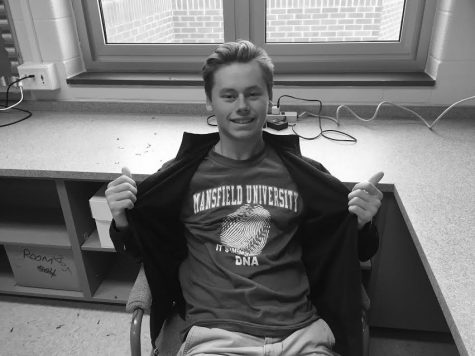 Charles Orfe, Sports Writer
Charles Orfe is a senior. He is interested in journalism because he wants to be a Public Relations or Sports Journalism major. His free time consists of...