Swimming in Success
Senior Pat Lance reaps the benefits of years of hard work by earning a college scholarship.
Spending 18 hours a week in the pool has finally paid off for senior Patrick Lance.
His achievements and commitment to swimming the butterfly and freestyle have led to him receiving a Division I scholarship from Cleveland State University.
CSU is lucky to get Pat, Boyertown Swimming Coach Bill Draves said, especially because of Pat's expertise in the fly and sprint free.
"Pat has the leadership qualities need to excel wherever [CSU] Coach [Paul] Graham needs him," Coach Draves said.
Pat was recruited by a lot of schools, including George Mason University, University of Tampa, University of Hawaii, and University of Minnesota. He said he chose CSU, a top-28 swim program, because of its rank and the fact that it gave him a scholarship. Also, the university has a major in education and minor in criminology, which is what he wants to pursue.
"The university made me feel like I was in my own personal, little city," Pat said.
Pat's road to recruitment and a scholarship has not been easy.
"I practice around 9-10 times a week and 17-18 hours a week in the pool," he said. "I also have dryland workouts at the gym and I have a personal trainer that I see about once a week."
Pat is captain of the Boyertown Swim Team, and his teammates see the hard work he puts in.
"Pat is the best swimmer on the team," senior teammate Ivan Escott said. "He is always determined and very intense. He is the more pump-you-up, really supportive, motivational, wants-you-to-swim-well, aggressive kind of captain."
Pat's high school accolades include:
-3-time MVP team recipient
-1st Team All-County swimmer
-Pottstown-Mercury's Swimmer of the Year
-6th Place at Nationals
Lance did not start out such a successful swimmer.
"Well, it all started when my friend Connor Reiss joined the team at age 11 and asked me if I would do it with him," Lance said. "I hated it at first because I was swimming with under-7-year- olds and I was overweight."
But Pat started liking swimming as he started to excel.
"The moment I knew that I fell in love with the sport was when I made districts for the first time," he said.
As he progressed in swimming, Pat said his teammates motivated him.
"My teammates who were older made me strive to beat them, which pushed me to be better."
Pat's good friend Nikki Nolte, an All-American high school swimmer, and his dad also pushed him to keep working hard and to achieve his dreams of being a Division I swimmer.
"My dad and Nikki are always straight up with me. They give me realistic expectations and wouldn't tell me lies," he explained.
Pat has one piece of advice from his dad that continues to motivate him.
"He always said to me, 'In order to be the best, you need to be willing to do what no one else is.' I have always kept that in my mind."
Leave a Comment
About the Writer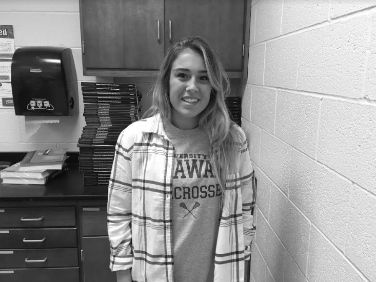 Hannah Wentzel, Staff Writer
Hannah Wentzel is a senior who enjoys sports and hanging out with her friends. She is not quite sure what she wants to do with her life yet, so she took...