Mr. Detterline Achieves Astronomical Goal Before Retirement
More than 500,000 people have visited the Boyertown Planetarium, which he runs.
A lot of teachers have a passion for their subject matter, but Astronomy Teacher Mr. Pete Detterline is in a whole different orbit.
In addition to teaching Astronomy at the high school and Environmental Issues at Junior High East, he also has been the director of the Boyertown Planetarium — housed in the back of Junior High East and open to the public — for 35 years.
His half millionth visitor — a 3-year-old boy named Aiden — came to the Planetarium on January 29th.
"I am really proud of the Boyertown School District for supporting the program all of these years," Mr. Detterline said recently. "It's very special."
However, Mr. Detterline will be retiring in June from teaching in Boyertown and running the planetarium.
"
The universe is beckoning me in some different astronomical directions.
— Mr. Peter Detterline
"It has been a real joy bringing you the stars of Boyertown over the last 35 years," he said on the planetarium's Facebook page. "However, the universe is beckoning me in some different astronomical directions."
Mr. Detterline will continue to teach at the college level, at Kutztown University.
"I will continue to teach … Intro to Astronomy, and I will continue to work and develop my own observatory," he said, referring to an observatory he built in his backyard, which enables him to spend most nights out watching the night sky.
"When it's cloudy out and I actually get sleep, it messes with my schedule," he said.
Many will miss the Starwatch program Mr. Detterline hosts at the planetarium once a month.
"Awh, some of my best childhood memories," Courtney Kokonos commented on Facebook in response to Mr. Detterline's retirement announcement.
During his shows, he educates people on the planets, shows them how to use a star map, and creates special shows on topics such as the Star of Bethlehem around Christmastime.
"We do star searches, and we do shows about the constellations or the planets," he said.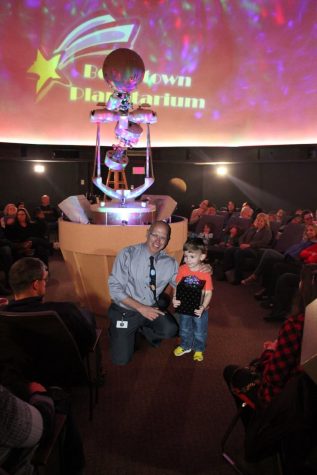 He also hosts Friday Night Laser Shows, and classes come to the planetarium from in and out of the school district for field trips.
"We have been doing shows for all subjects, social studies, math, arts, creative writing, science."
The shows are always changing, he said, as is the field of study. "We are now seeing that on Pluto, once thought to be lifeless, is showing incredible signs of activity."
Mr. Detterline has loved the stars since he was a child.
"My father used to take us camping during the summer nights," he said, "and I remember it was during a meteor shower when we went to look for meteors. I did see some, but I was more fascinated by the night sky."
He went on to earn a bachelor's degree in secondary education in Earth Science and Astronomy from Kutztown University and then a master's degree in Geology & Astronomy from West Chester University.
Several years after teaching in Erie for a year, Mr. Detterline became the Astronomy teacher here at Boyertown, which had built a planetarium several years earlier.
"I was just lucky to get the job at the right place and time," he said.
Mr. Detterline also writes about astronomy for a number of publications and is  Coordinator of Astronomy for the Musk Observatory with The Mars Society, where he led a crew to conduct maintenance and prepared procedures for the Mars Desert Research Station (MDRS) in southern Utah in 2013.
Most recently, Mr. Detterline was appointed as an ACEAP (Astronomy in Chile Educator Ambassadors Program) Ambassador to Chile. He was one of a group of nine educators, amateur astronomers and planetary personnel to travel to Chile as part of the ACEAP, where he toured and learned about the U.S.-funded astronomy facilities, gained experience with instruments, science and about the research being conducted in the world's astronomy observatories.
"I will be helping the Mars Society in building two observatories this summer."
Detterline toured the major observatories — the Atacama Large Millimeter-submillimeter Array (ALMA), Cerro Tololo Inter-American Observatory (CTIO), the Southern Astrophysical Observatory (SOAR) and Gemini South.
Detterline said he is excited to try even more new projects in retirement, but he appreciates his time teaching and running the planetarium here. "Boyertown has been wonderful for me."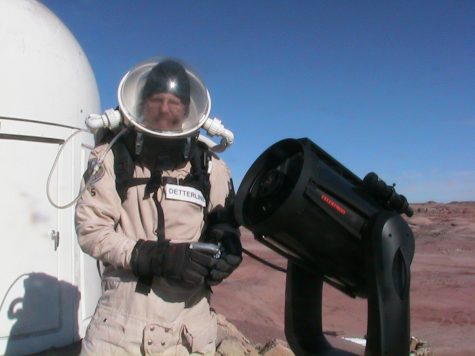 Leave a Comment
About the Contributor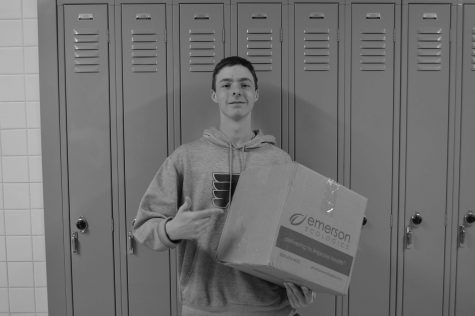 Joe Corcoran, Staff Writer
Joe Corcoran is from Gilbertsville, Pa. Joe is a Junior at BASH and this is his third year with BASH Cub. He plays on the school tennis team and outside...