The Road Less Traveled: Mrs. Clager's Journey to America and BASH
History teacher Mrs. Birgit Clager shares her story of traveling from Germany to America.
German and AP European History Teacher Mrs. Birgit Clager is known for her strict and rigorous teaching style.
Much of it stems from the years of hard work that it took for her to make her way to this country.
Mrs. Clager explains her top three rules in order to be successful in life, "One, does it matter in 10 years?  Two, can you look in the mirror and like what you see? If you don't, you have an issue and got to fix it. And three, live up to your greatest potential. Everybody has a purpose."
These three rules have been shaped throughout her upbringing.
Mrs. Clager grew up in Frankfurt, Germany, where she realized her opportunities were limited.
"You're kind of stuck. You're trapped in a sense," she said.
Her family was made up of white collar workers. Bother her father and grandfather worked for the same company. It was expected of her to follow in their footsteps.
When her grandfather passed away when she was 16, she started to learn the trade to work in her family's company 
"Then they didn't hire me, and they literally said it: We're not putting our money into you because you're a woman, you're going to get married and have children. We will lose our investment," Clager said. "That was in 1975."
So, she became a secretary in Frankfurt for a pharmaceutical company.
"I thought I was dead. Young women going to their secretarial position. Wilting like flowers. And that's how I felt, like I was wilting. I wasn't living. I had everything and I wasn't living."
Her favorite aunt had all of the money in the world, but they didn't go on vacation, nor did they have a car. Her husband ate in the living room while she ate in the kitchen.
"It's like the 'Great Depression' kind of mentality."
It wasn't until her aunt died when she realized she wanted to move to America.
"I stood at the funeral. I stood at the grave. I said, 'I sure will not die like that'," Mrs. Clager said. "It was homesick, just in reverse. I was sad. I wanted to go away, instead of wanting to go home. It was pulling. I had to go to America."
Mrs. Clager sold her car and rented her apartment out.
In order to get a visa, she had to buy a roundtrip ticket, but she didn't have the money. The girl she rented her apartment out to worked for a travel agency. Clager convinced the girl to give her a note from the travel agency stating she had bought a roundtrip ticket. The ticket had to be used within one year. Once she obtained that note, she had another girl write her a certificate saying she would attend language school for a year.
However, she said, "I can't lie. The guy looked right through me and told me I wasn't getting my visa," Mrs. Clager said. "I got a tourist visa and I went. I had $3,500 and an Army backpack, which I borrowed. I had ten pounds of shoe polish. Every color I had in there."
So, on July 11, 1981, Mrs. Clager made it to New York City.
"The first word I learned was humid, immediately. Hands on."
Because she had no place to stay, she did some house hopping. She quickly learned that she wasn't a fan of New York.
"New York City is not my thing. I think Central Park is a dust hold."

Clager and her high school friend, who is now a geologist, travelled the country together, back and forth between both coasts.
"We went through the Badlands in South Dakota and went right into the Pacific Ocean with all my clothes on. What kind of thing is that?"
Later, she went to San Diego, where she met her husband, who was a navy fighter pilot. From there, they got married and moved out to Florida. They traveled out to the Philippines for a year and a half before her daughter, Hannah, was born.
Once her husband got out of the navy, they moved to Key West, where he obtained his law degree and she finished her last thirty credits for her Bachelor's, and she also got her Master's, both in history.
"I've loved history, ever since I was little," she said. "It's people's stories. It's their lives, their breaths. It's awesome what they did. It always fascinates me!"
Her favorite things to study are the Middle Ages, and everything that goes along with it, like the plague. She also enjoys studying the Egyptian era.
She was on a PhD track at the University of Florida when she decided she wanted to teach high school students.
"I realized I didn't want to teach college students, because they already had made up their mind on what they wanted to," Mrs. Clager said.  "If I could teach high school students, I would still have an influence on them."
She taught at various high schools and community colleges in the south, then decided "I wanted to go up to north because I like the seasons."
After finding Boyertown, she met with Principal Dr. Brett Cooper for two interviews.
"I researched the school. It's a very good school," she said referring to BASH. She teaches both history and German classes here, including AP European History.
She wants her students to know that they are not limited to anything.
"My only limitation is that I can't become president of the United States because I am foreign born," Clager said. "There are no limitations on anybody. The only limitations you have are the ones you put on yourself."
Leave a Comment
About the Contributor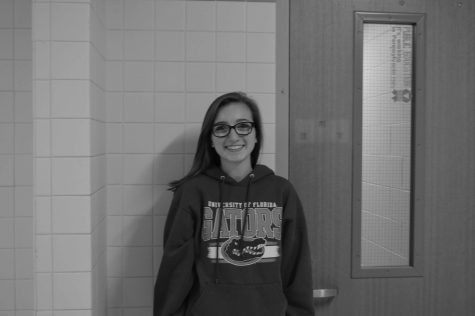 Guilianna McGinniss, Staff Writer
Senior Guilianna McGinniss is a blogger whose work often concerns the beauty and fashion industries, as well as fitness and life. She enjoys writing news...