Decorating your Room during the Holiday Season
The holidays are quickly approaching and the Christmas spirit is ever present within the halls of BASH. Many students here and everywhere are taking their holly jolly spirit and putting it to use decorating their bedrooms for the holiday.
High school students tend to spend a great deal of time in their bedrooms, so what better way to get into the holiday spirit than decorating them? As high school students, we desire the freedom to decorate however we would like, but this is not totally possible when we still live with our parents. Yet, a bedroom, our own personal little bubble, is an exception.
"It's fun to decorate my room for the holidays because it's like your own personal little way to decorate, not like having to decorate to your parents liking, and you get total control over everything," Owen J Roberts Junior Sophie Schmied said.
However, some people decorate for sentimental reasons and to remind themselves of the family aspect of Christmas.
"I decorate my room for the holidays because Christmas is my favorite time of the year," BASH Junior Mikayla DeStefano said. "It's a special time for my family and it means a lot to me since I don't have a lot of family that lives out here."
Others decorate with Christmas gifts they have received from their family to remind them of their loved ones during the holiday season.
"I have a mini Christmas tree in my room, which is really special to me due to it being from my grandmother when I was little," BASH Junior Owen Carroll said. "She bought little ornaments specific to things I liked as a toddler."
The most popular way people like to decorate their bedrooms are by putting up a Christmas tree, but there are also super easy and cheap ways you can be more creative in decorating.
Do it yourself (DIY) decorations are cheap, original, and fun to make. It's an easy way to save money, and adds a special touch to your room. Instead of having to buy Christmas countdowns to hang up in your room, unique wreaths, or snow globes, you can make your own and add your own personal touch to them. DIY Holiday decorations are very popular and there are many videos on Youtube with great ideas and tutorials. There are a few linked below.
With Christmas coming around the corner, now is the time to finish up last minute decorating, and hopefully new ideas are fresh in your mind.


"Always decorate your room and be holly jolly!" The wise words of Mikayla to follow this holiday season.

Leave a Comment
About the Contributor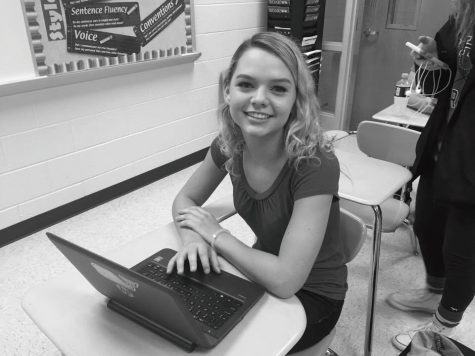 Marielle Bozzini, Staff Writer
Marielle Bozzini is an 11th grade student interested in broadcasting and communications. A skier, she enjoys spending time in the Poconos with her family...