Despite Tough Loss, Students Show Spirit Homecoming Weekend
Although Boyertown may have lost the Homecoming football game, students displayed school spirit at the pep rally and dance.
Seniors Michael Raineri, Brandon Karcewski, and Shawn Corcoran were the MC's of the pep rally, and they excited the crowd to get them pumped up for the coming game that night and dance the next day.
"My favorite part of the pep rally would probably be the competition between the juniors and the other grades," Junior Lauren Bingener said.
A fall sports montage created by Brandon Karcewski was shown, packed with clips from football games, soccer games, and more, and it really got the sports teams riled up.
"The sports teams really enjoyed seeing themselves and the highlights of the season," Junior Aiden Amore said.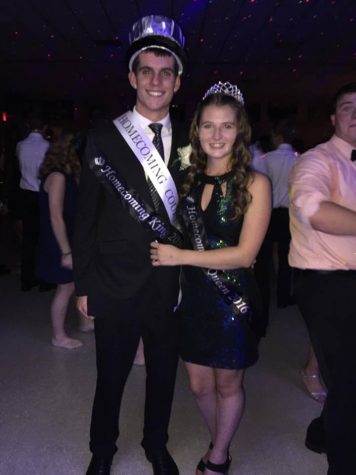 After the montage, the MCs selected students from each grade, and even a group of teachers, to participate in a game of "Chuck the Chicken", which consisted of slinging a rubber chicken, from a slingshot, and aiming for a bucket. The first to make it in the bucket was the winner. The overall winner was the junior class.
"I feel like most people hate pep rallies, but I think they're kind of fun and it's a good way to get everybody pumped for the game and the dance that weekend," Lauren said.
The dance Saturday was a night full of music, dancing, and celebration.
"I think it's a good time to connect with people who aren't in your grade, and make new friends and just not have a care in the world," Junior Mikayla Destefano said.
Senior Dan Yednock was announced as the Homecoming King, and his coronation was met with cheers and applause. His longtime girlfriend, Natalie Wynne was named Homecoming Queen at the football game.
"The dance was a ton of fun! It was sad to think about it being my last homecoming, but getting to spend it with my close friends made it really memorable!" Senior Rachel Neff said.