Oh Canada! World Cup of Hockey Returns
US bombs at the first World Cup of Hockey since 2004
The World Cup of Hockey concluded this past week in Toronto for the first time since 2004, with the Canadian squad defeating a makeshift Team Europe in the finals.
The results were the opposite of what was expected, with a scrabbled-together Team Europe ending up in the finals and Team USA, though favored to win, putting together a pitiful performance and not registering a single win.
Canada, United States, Czech Republic, Europe, Russia, Sweden, Finland, and North America all competed for the crown. North America was a U-23 team made up of Canadian and American youngsters.
Four teams played in two divisions, with the top two teams in each division advancing to the knockout stage. From there, two semifinals matches would be played, giving way to a best-of-three games final series.
In the opening matches, Sweden won their division, Finland came in last, and North America and Russia had an extremely close match where Russia squeezed by with a 4-3 win to advance to the semifinals. Canada swept the group with three wins, Europe in second, the Czechs managed a third place. 
With team USA leaving with their tails between their legs, the semifinal matches were underway. Canada faced off against a spirited Russia, hoping to create some of their own miracles on ice. The game was dead even at two a piece entering the third period, and then the Canadians took control in the third period for a 5-3 win to advance to the finals. Europe also managed a hard fought win over the Swedes 3-2 in overtime.
The championship series seemed to have possessed an odd set of yin-and-yang qualities. On one side of the ice stood Canada,  a team comprised of the top NHL and future Hall of Fame players, with a fiery offense ready to put a puck into the netting whenever given even the slightest chance, a team with one flag and one anthem to rally around, one nationality, a sense of pride in what the Red Maple Leaf has accomplished, and all the while playing in front of their home crowd with the entire stadium sporting their national colors.
And then there was Europe. A team made up of players from oddball hockey nations in Europe (excluding Sweden, Finland, Czech Republic, Russia and Post-Soviet Nations), players whose time has either passed or will not be coming, with no real firepower on offense, without one nation to rally behind, and playing in front of twenty thousand Canadian fans. They did not even have an anthem or a flag to play for during their games! This team was only made in order to avoid meaningless games between small hockey nations and large ones, which would inevitably draw only lopsided scores and low ratings. How could they ever possibly compete with the greatest hockey nation in the world?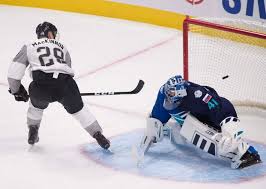 Yet somehow, whether it be divine inspiration or just dumb luck, Europe put up a fight — a strong fight, and gave its all in two of closest games of the entire tournament. In the first game, Canada came out strong with a 2-0 lead, Europe would fight back with a goal by Slovakia's Tomas Tatar before Canada closed it out 3-1.
In the second game, Europe took the lead thanks to a snipe by Zdeno Chara of Slovakia early in the first period. That goal would not be followed in either the first or the second period as Europe would manage to shut down Canada's explosive offense.
Europe's defense held until the end of the third period, when Anze Kopitar of Slovenia hooked Canada's Corey Perry in the final minutes. Patrice Bergeron would tie the game up with only three minutes left, then Europe found themselves on a powerplay. After ringing a shot off the post, Canada took possession and scored the game-winning goal with a wrist shot from Brad Marchand to seize control of the game, and later the championship.

Canada then celebrated winning the World Cup in front of their home crowd, but Europe's efforts will not be forgotten. Europe found a way to come together in a matter of weeks to put together an ultimate cinderella story that just barely came up short. Canada rightly won the tournament, but Europe put up a fight that no one expected.
View Comments (1)
About the Contributor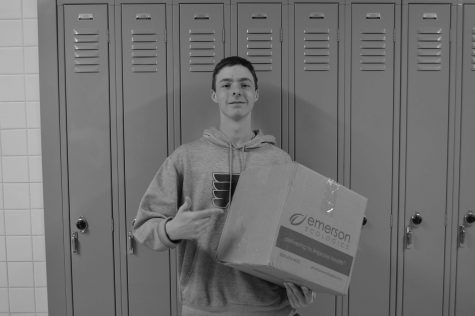 Joe Corcoran, Staff Writer
Joe Corcoran is from Gilbertsville, Pa. Joe is a Junior at BASH and this is his third year with BASH Cub. He plays on the school tennis team and outside...