MiniTHON Kicks Off, Sets Bold Fundraising Goal
This year's MiniTHON fundraiser kicked off with a spirited pep rally on Friday, January 23rd.
This year, MiniTHON organizers, student council, hope to raise $50,000 to fight pediatric cancer through the event, which will be held February 27-28.
Students raise money by asking people to sponsor them for dancing from 6 p.m. Friday to 6 a.m. Saturday. Students are required to stand for the full 12-hours. In addition to dancing at the event, students participate in activities such as a moonbounce, an hourly line dance, a volleyball tournament, a dodgeball tournament, and eating plenty of food that is provided.
Erica Mabry, Student Council's MiniTHON Committee Chairperson, spoke at the rally. She encouraged students to participate in the dance-a-thon by reminding them that children who have cancer "are tired and they are hurting just like we are after standing for 12 hours."
Four Diamonds Associate Director Kristen Masengarb also spoke. She shared some statistics with the crowd: "Childhood cancer is the number one disease killer for children," she said. "Everyday, almost two classrooms of children are diagnosed."
At one point, she had people stand who either have had cancer or knew someone who did. In a dramatic moment, almost every student in the gym was standing.
Mini-THON replicates the Penn State THON on a smaller scale. In the past year, 100 schools hosted events, raising more than $2 million for the Four Diamonds Fund, which assists children treated for cancer at Penn State Hershey Children's Hospital and their families. The fund also supports research.
BASH students and staff raised over $37,000 last year for the Four Diamonds Fund, which brought the accumulating total over the past four years to a total of $100,000, making BASH the highest earner in Berks County and one of the highest earners in the state.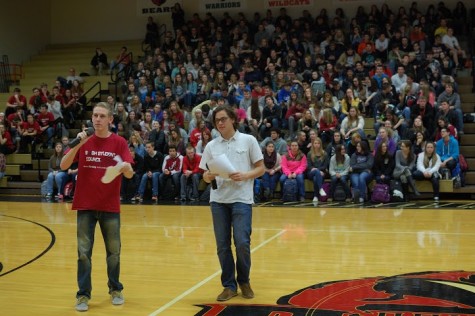 Leave a Comment