Political Activist Presses District for Records
The district denies Bucks County resident Right-to-Know request
Political activist Simon Campbell has created quite an uproar in the school district over the past few months by pressuring the administration to release teachers' home addresses.
Campbell is a strong supporter of the Right to Know Act — a Pennsylvania law that provides a process to access and obtain copies of public records held by government agencies. He claims he is simply asking for information to create a mailing list for his advocacy.
"I've been wanting teacher's home addresses since 2009 for political reasons to get in touch with like minded teachers that don't like dealing with unions," said Campbell. "I am a right-to-work advocate and anti- compulsory unionism in schools."
Who is Simon Campbell?
Campbell, originally from the United Kingdom, is a conservative political activist who lives in Bucks County — and over the past few years has become particularly interested in property taxes and teacher union reform.
He also served a four-year term on his local school board from 2009 to 2013, but was defeated when he ran for a second term.
Since then, he has spent his time managing his own political website and advocating for union reform and the transparency of local government across Pennsylvania.
Campbell said he first became interested in Boyertown after he received word from a friend who lived in the area and said the BASD might be of his interest due to controversy over Superintendent Dr. Richard Faidley's renewed contract in 2016.
He began to make videos concerning Dr. Faidley and other school board members. He even dedicated an entire page to Boyertown on his website.
What does he want?
In November of 2016, Campbell requested property tax records from the Boyertown Area School District, those of which contained many teachers' personal information — such as home addresses.
While many teachers did not want their addresses in the hands of Campbell, he said that he uses them only for political purposes — to add to his mailing list.
"Everyone gets campaign mail during election time. No teacher is thinking how a complete stranger got their home address," Campbell said. "From a legal perspective, a stranger went to the Board of Elections ad requested a voter list."
He also states that he believes that the teachers' information should be public information. However, Campbell later mentioned that most of the records he sought are already public information at a county level- but not the school district.
"Every employee in the district is a taxpayer funded public servant," Campbell said. "If you are working for the government, you're working for the public."
While Assistant Superintendent Mr. Robert Scoboria denied his request to obtain the records, Campbell then appealed to the Office of Open Records, which also upheld the district's decision to withhold the information.
Bashcub.com asked Dr. Faidley and Mr. Scoboria to comment on the situation. However, BASH Principal Dr. Brett Cooper said district administration cannot comment on Right-to-Know requests.
After being denied those records, Campbell began requesting to see emails that were being sent between Mr. Scoboria and teachers concerning his previous request. He was granted limited access to many of these emails.
About the Contributor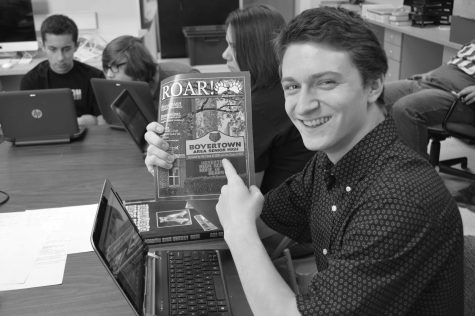 Harrison Otto, Editor in Chief
Harrison Otto is a senior, and is serving as the Cub Editor-in-Chief for the second year in a row. He is the Class of 2017 Treasurer, member of the YMCA...