Glory Days: 2019 fall sports wrap up
Girls Soccer: 26-2
The Lady Bears' soccer team ended their season in historic fashion, giving the program its first state title. 
"Our season alone was incredible," said senior Madison Monka. "Having a record of 9-8 last season to improving to 26-2 is insane. This was definitely the dream season to go out with."
Along with the state title victory, the girls' ended their season with an incredible record of 26-2, bringing home a PAC championship and advancing to the District One finals. 
Being a part of any championship winning team is special, but the 2019 season is one the girls' will remember forever.
"Being able to play with this team is something I'll never forget," said senior Madison Gallagher. "Everyone has worked so hard for this and it all paid off. I'm beyond proud of this team and the lifelong friends I got to experience this with."
Read more about the girls' season posted under STATE CHAMPS: Lady Bears' Soccer Brings Home the Gold
–Shannon Ludwig
Boys Soccer: 22-3-2
The 2019 season was a historic one for the boys soccer team, who not only dominated the regular season, but also embarked on a playoff run the school hasn't seen before. This year's team advanced all the way to the PIAA District Semi-Finals for the first time in school history.
Boyertown went 8-1-1 in division play to win the Liberty Division by a slim margin, with a 1 point lead over Spring Ford. They kicked off the season with back-to-back wins, before their first loss to Owen J. Roberts. Following the loss, Boyertown demonstrated their resilience with a brutal 6-0 shellacking of Upper Perkiomen in their next game, starting a dominant streak of 20 straight games without a loss. 
The team continued successfully into the postseason, claiming the PAC Championship to propel them into the State Playoffs. Before 2019, no boys' soccer team in Boyertown history had ever made it this far. 
"No PAC team has ever made it to the District Finals, that was amazing to be able to play in," senior Ryan Foskey said. "No Boyertown team has ever made it to states before this year. It's amazing, setting new records, just to be a part of this amazing team."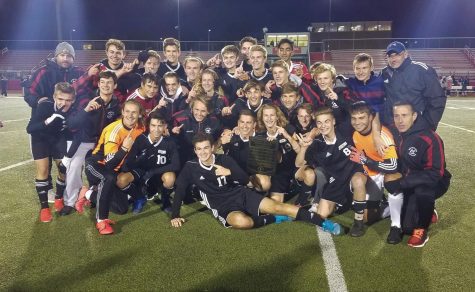 After the historic run into the State Playoffs, the team was eventually eliminated in the Semi-Finals, just one game shy of the State Championship. Boyertown's season ended on penalty kicks in a 2-1 loss to Central Bucks East. Regardless of falling just short, the season was memorable for every member of the team. 
"To be able to go as far as we have, it's more than anyone including myself would've thought we could do," Foskey said.
For the seniors, it's a bittersweet way to end their high school careers, as they ingrained themselves in the school's history, but fell just short. 
"It's amazing how close the seniors are, we've been playing together our whole lives," Foskey said. "Being in our senior year, it's just that much more meaningful, each game."
As for the underclassmen, they'll have shoes to fill in place of the departing seniors, and a goal of redemption after falling just short in 2019.
-PJ Riddell
Volleyball: 21-5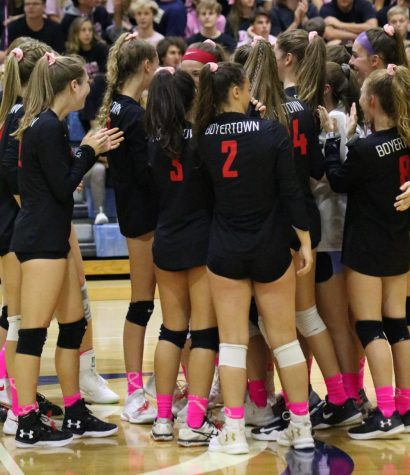 The girls' volleyball team once again made school history, topping their achievements from last year by advancing to the finals of the PAC playoffs and competing in the third round of the District One playoffs. 
"I'm so proud that everyone stepped up and took on a new role this season," said senior hitter Emily Wolfe. "Losing seniors is always hard but we handled it so well. We really came together as a unit and reached goals we set in the beginning of the season." 
The Lady Bears played a tough schedule including several state playoff contenders. Highlights of their season include defeating Upper Merion three times, sweeping undefeated Blue Mountain and handing 4 time Berks County champs Exeter its first loss in three years. According to senior defensive specialist, Savannah Derstine, this is accredited to the girls' team chemistry and the coaches. 
"Our biggest strength was how close we were as a team," said Derstine. "We got really close throughout the season, so we built strong trust with each other and fought for each other on and off the court. Our coaches taught us to want what is best for the team, not the individual."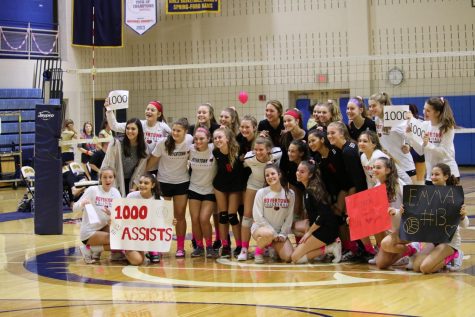 This years' graduating class was the start of the program, being the first freshmen to participate in the club volleyball program prior to the high school team being established. Senior libero, Julia Smith, was one of those freshmen who started her volleyball career in the club and will miss the program as she moves on.
"I will miss everything about Boyertown Volleyball," said Smith. "It was an incredible experience that holds a special place in my heart."
The third year Lady Bears Volleyball program had yet again another impressive year and is looking to continue the success in the following years.
– Shannon Ludwig
Football: 3-7
Despite a 2-game improvement from a frustrating 2018 season, the football team still had to work through adversity in the 2019 season. While they managed strong wins, such a 40-6 explosion over Methacton, games like the 50-22 loss in the homecoming game to Spring Ford left considerable frustration.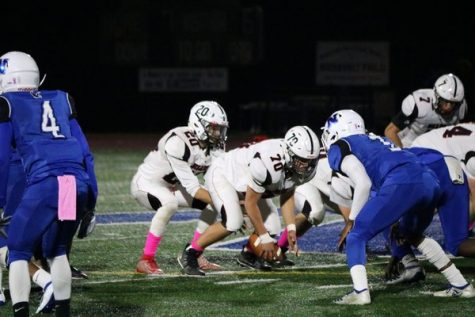 "I feel like we left some things out on the field, myself included, and we made some mistakes," senior kicker Declan Coyle said. "This year was an improvement from last year."
The tough results didn't dampen the team atmosphere.
"The team atmosphere was great. On the field, we worked our tails off. Off the field, we were always with each other," Declan Coyle said.
As the seniors walked off the field for the last time, the outlook for next year leaves questions for some. Hunter Pizzo knows they set the bar for future teams.
"We set the standard that you can put up a fight with anyone if you put your mind to it," Pizzo said. 
For Declan Coyle, he has confidence in next year's team.
"I'm sad to say that next year I won't be here, but with the guys coming up, combining with the talent still here, these guys will be successful," Coyle said.
"
"The atmosphere was electric before every game."
— senior Hunter Pizzo
-PJ Riddell
Field Hockey: 1-9
The girls field hockey season was challenging, but the girls fought all season long. 
"Our biggest strength was our tenacity," said senior Amber Marburger. "We'd always be the first to the ball and we were never out hustled despite what some outcomes were."
Despite trailing close with teams all season, the girls were able to remain positive. 
"After any loss or poor performance, we never hung our heads, instead we kept fighting and focusing on the next play or game," added senior Alyssa Vu. 
Although the season didn't turn out as expected, the girls enjoyed every part of the season. 
"My favorite part of the season was spending time with everyone, JV and varsity," said Vu. "This teams' bond was the strongest we've ever had. They made all the practice and bus rides so much fun."
–Shannon Ludwig
Boys XC: 1-4
The team record was déjà vu from 2018, as the cross-country team again finished 1-4. Once again, the record never tells the whole story. Sophomore Cameron Kratz saw the team atmosphere as a major factor.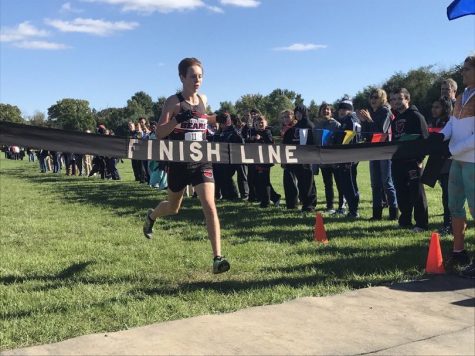 "The small team size contributed to the tight-knit atmosphere because it allowed us to connect and get to know each other better," Kratz said.
Despite the record, Boyertown was well-represented in the All-PAC team, as John Black, Christian McComb, and Eric Muthersbaugh were given the honor. The team was also represented in the PAC Championship by Christian McComb, for his 3rd year in a row.
Along with the successes of the team, unfortunately, came some frustrations, as the team battled through injuries in 2019.
"Numerous injuries often prevented us from performing to the best of our abilities, so staying healthy was one thing that our team could have improved on," Kratz said.
Despite 2019 being what Cameron Kratz called, "A rebuilding year," he has confidence in next season's team.
"I'm excited about what next season will bring," Kratz said. "Although we will lose Christian [McComb], our best runner, we have a strong group of returning upperclassmen who will build a promising varsity squad."
–PJ Riddell
Girls XC: 1-4
The girls' cross country team finished in the same standing as the boys at 1-4. While the record doesn't look great on paper, Boyertown saw strong individual performances from a unified team. 
"It doesn't matter how good or bad you run, the team will be supportive and be there to pick you up and push you forward," said senior Sabrina Bergey.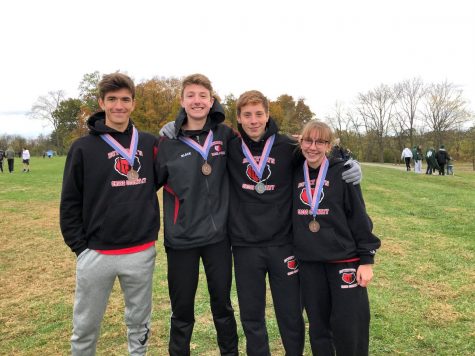 Despite the overall team record, the team was well represented with strong individuals competing in PACs and sending senior Morgan Janiuk to the PAC Championships. 
"The highlight of the season was definitely placing and medaling 21st at PAC Championships," Janiuk said. 
Unfortunately, the 2019 season was plagued with tough injuries.
" If we could have prevented the injuries that happened we would have had a better season," Sabrina Bergey said.
With the conclusion of the 2019 season, the team will look forward to 2020. Despite 2019 being Bergey and Janiuk's last season, they have high hopes for the team.
"They have potential to have a very good season next year," Bergey said. "There are fast runners on both sides that are hoping to improve."
"I'm going to miss my Boyertown cross-country family, but I know they are going to do so well next year," Janiuk said. "I plan to visit and come to their meets!"
-PJ Riddell
Boys Golf: 6-4
After going just 1-6 last season, the boys' golf team got back on the winning track in 2019. Senior Alex Young noticed a big difference in their 2019 turnaround.
"There was a different atmosphere of competitiveness that I hadn't seen in the past two years," Young said. "This season was our best since I started playing."
The difference in the team atmosphere translated into big differences on the course, as Alex Young noted in one particular match.
"
Next year is going to be another year where we could make the playoffs."
— Alex Young
"We shot 189 against [Pope John Paul], it was the lowest score we had in a long time," Young said. "It was a really good start to the season."
After a strong 2019 season, Alex Young believes in next year's team.
–PJ Riddell
Girls Golf: 1-9
While the record isn't what the girls' golf team was aiming for, the team continued to demonstrate that sports are often about much more than just the record.
The team earned the Sportsmanship Award as a result of their strong demonstration of a strong and positive team personality. Kylie Wood reflected on the season's results. 
"The consistency of our scores throughout the season could have gone better," Wood said.
Despite the results, the team in itself was one worth remembering.
"We had a lot of fun and we all get along very well as a team," Wood said. 
Next year, the girls will look to use the strong team bond to get back on the winning track.
"It's nice having our small group, but having more players next year would be even better," Wood said.
-PJ Riddell
Leave a Comment
About the Contributors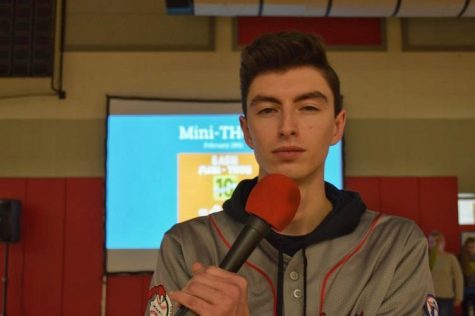 PJ Riddell, Sports Editor
PJ Riddell is a senior at BASH and a Sports Editor. He will be majoring in Broadcasting and Media Production at Messiah University beginning in fall 2020,...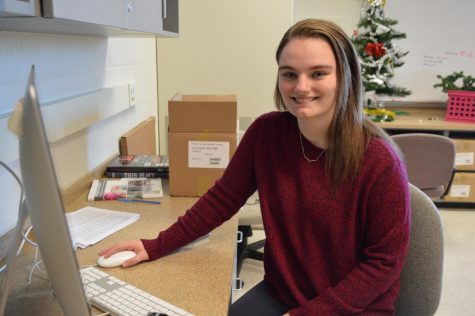 Shannon Ludwig, News Editor
Shannon is a senior who loves to write. This is her third year in CUB and she was a member of the East Observer. She also manages girls' volleyball, plays...