OPINION: Colin Kaepernick Has Not Sacrificed Anything
In a controversial move, the multinational corporation Nike announced former San Francisco 49ers quarterback Colin Kaepernick as the face of its 30th anniversary #JustDoIt campaign.
While this is bringing recognition to Kaepernick and the company, what, exactly, has Kaepernick done athletically to be awarded this honor? Absolutely nothing. The quarterback has not played a football game since 2016 after a decline in his performance and a shoulder injury that required surgery.
Kaepernick has only stayed in headlines because of the protest campaign he launched by not standing for the American flag during the national anthem, creating political debates, burning of football jerseys, and boycotts of football games.
The Nike campaign shows a closeup, black-and-white picture of Kaepernick's face with the slogan: "Believe In Something. Even it it means sacrificing everything."
While Nike is seeing an increase in merchandise sales, the decision to work with Kaepernick is absurd.
Kaepernick has not sacrificed anything. He began his protest after losing his starting job for the 49ers. He rejected a trade to the Denver Broncos because he would receive less money in his contract. Kaepernick has not been signed by a team since his release because he's a team distraction and his lack of proficient performance (in 2015 and 16, he had one of the worst QB ratings in the league).
While Kaepernick has not made a sacrifice, there are other athletes who have.
Roberto Clemente made the ultimate sacrifice who he died in a tragic plane crash that was en route to deliver aid to earthquake victims in Nicaragua on December 31, 1972. He was only 38 years old and had a wife and children. Clemente believed that if you have an opportunity to serve others and you do not take it, than you are wasting your time on this earth.
Muhammad Ali was the boxing world heavyweight champion when he was drafted to fight in the Vietnam War. Ali did not support American troops in the war and refused to answer his draft. As a result, he was stripped of his title and sentenced to a prison term of five years. While many did not support Ali's protest, he was willing to sacrifice his career for his beliefs.
This is not in Kaepernick's case, however, as he turned down an offer with Denver and now will earn millions of dollars as a social media warrior partnered with a multi-billion dollar company.
I'll give credit to Nike. They, as a business,  have free publicity and are based in a nation where the president will voice his opinion on social media, sparking fire for people who do not approve of him, generating support for Nike. What about backlash? Nike is prepared for it. Boycotts in today's society are understated and minor and that President Trump is widely unpopular for voicing his opinions on social media.
The backlash they are already getting — the movement of publically burning Nike apparel — is utterly ridiculous. These people should be embarrassed for their actions. Citizens have the right to voice their opinion just like Kaepernick is allowed to protest, but this act of burning clothes is not going to result in Nike parting ways with Kaepernick. In fact, it's giving the company more attention.
Nike should continue with their business plan of honoring athletes who make sacrifices, but they should not label Kaepernick as an athletic hero. They didn't create a campaign for Pat Tillman, an NFL player who fought and died in Afghanistan. Instead, they granted an honorable campaign to a man who refused to stand to the flag that Tillman died for.
Leave a Comment
About the Writer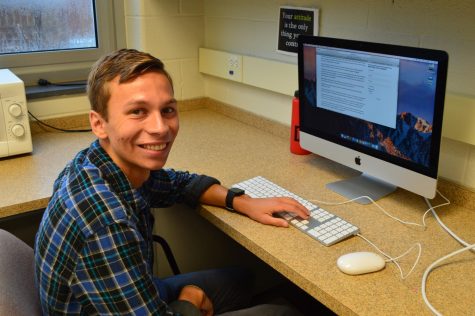 James Sahakian, Editor-in-Chief
James is a senior and Editor-in-Chief. This is his third year writing for the Cub. He is involved in journalism because he enjoys writing and reporting...