Football Pulls Out Homecoming Win
A queen was crowned at the homecoming game, but the Boyertown Bears football team stole the moment with a comeback win against Owen J. Roberts with a score of 24-21.
The win was solidified with a 24-yard field goal made by sophomore Declan Coyle with 3.5 seconds remaining. The Bears (2-1 PAC, 2-5 overall) celebrated as they stunned their opponent and hometown crowd.
"The victory has motivated the team," Head coach Thomas Miller said. "It is a big step forward as it proved we are capable of putting together four quarters."
The game was close as the final quarter began. After OJR's Hunter Scherfel gave his team the lead with a 42-yard run, it looked like the Bears would drop another game. But after they survived a fumble that seemed to close the book, QB Ayden Mathias found Jamie Moccia for a 52-yard touchdown to tie the game at 21 with just under 2 minutes to play.
The Bears defense did not let OJR get a first down, then the offense got the ball with enough time to march down the field. A pass interference call gave the Bears great field advantage with less than thirty seconds left in the game.
A personal foul on the defense allowed Coyle to be in field goal range.
"Of course I believed Coyle would make the field goal," junior Dylan Robertson said. "The team has a lot of confidence in him. We know he will always make it."
With the home crowd silent and OJR's marching band playing as loud as possible, Coyle sent the ball in between the uprights to give his team the lead. All of Boyertown jumped in joy and shock as OJR was quiet.
Marcus Thomas, and brothers Nick and Jamie Moccia contributed to the win. The Bears put up 383 yards on the night. Nick Moccia ran a 5-yard touchdown in the first quarter, with Jamie sprinting a 65-yard touchdown in the second quarter.
The Bears struggled with turnovers and defense. Colin Ratzlaff and Jake McMenamin believe this is the biggest issue the team needs to fix.
Robertson credits pulling out the win to the coaches.
"We were able to remain in the game because of hard coaching," Robertson said.
Coach Miller believes that there wasn't a special player that night, but that everyone contributed to the unexpecting victory.
"The team prepared for the game by watching OJR films," he said. "The team's practices were entirely based on playing against OJR. Everyone worked hard all week."
The post-season may not be in Boyertown's sights, but they have a cherished moment for the 2017 season.
Leave a Comment
About the Writer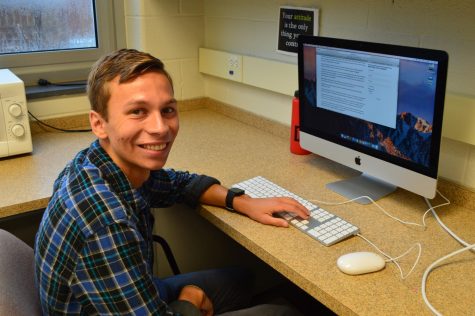 James Sahakian, Editor-in-Chief
James is a senior and Editor-in-Chief. This is his third year writing for the Cub. He is involved in journalism because he enjoys writing and reporting...