Opinion: YouTube Rewind Sells Out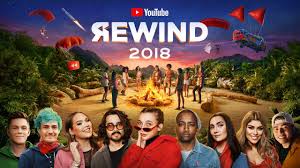 The most disliked video on YouTube's website is made by YouTube themselves.
YouTube Rewind 2018 — a compilation of the year's most popular videos — currently has more than 14 million dislikes, topping Justin Bieber's "Baby" and Rebecca Black's "Friday" three days after it came out on December 6. The problem is that rather than celebrating Youtube's most edgy, creative videos, it featured videos that would appeal to advertisers such as Fortnight and K-Pop videos — an example of political correctness going too far.
YouTube creators this and last year have been hit hard with something known as the "adpocolypse". Ever since last year, when some major advertisers left the site, YouTube has made drastic changes and tried to make the site more family friendly, even going as far as cutting off revenue for making an offensive joke or anything that is slightly rude or ironic. They've went as far as using botts to cut revenue for people who have put the words "kill" or "hate", even if it is for educational purposes like reporting news.
Most notedly, the Rewind does not include any videos from Pewdiepie, a.k.a. Felix Kjellberg, the No. 1 most subscribed channel on YouTube with 80 million subscribers. The Pewdiepie vs. T series, which has almost beat Pewdiepie himself in subscribers, was not featured either. Advertisers separated from Pewdiepie a while ago because of his "association" with the alt-right.
Also missing from the Rewind is a boxing match for charity that went on between two famous YouTubers — KSI and Logan Paul. It went on from the beginning to the year all the way to July, raising $100,000 for the American Cancer Society. YouTube probably did not show the match because it was not "Family Friendly" and because Paul has been controversial for doing things such as mocking a suicide victim and uploading videos of people eating Tide Pods.
YouTube also has made no mention of one of the biggest documentaries from a humbled YouTuber that was a part of many YouTube related events, Shane Dawson. This year he has been making a come back, gaining more subscribers and gaining more views in five years. He most likely was censored because the documentary was on Jake Paul, who is as controversial as his brother, Logan, for doing things such as setting fires in his neighborhood. The documentary dissects vlog culture and analyzes Paul's internal conflicts and the overall existential nature of who he perceives himself to be. This year at the YouTube Rewards, they awarded Dawson an award for the Best Series, but there was no mention of it in Youtube Rewind.
A YouTuber named Marques Brownlee, who creates technology videos, was in YouTube Rewind. He said he was humbled to be a part of this year's compilation but is concerned with how the platform is being handled in this "New era" of youtube: "YouTube tried to fit everything in without actually mentioning everything, they've cut out scenes and are appealing to advertisers. They are a business and want to keep the advertisers on their site as long as they can. They don't see YouTube Rewind as a reflection of the year; they see it as one big advertisement. So they have to keep it Family Friendly."
In a statement about the record-breaking number of dislikes published in a Dec. 13 Variety article, a YouTube rep said, "Honest feedback can suck, but we are listening and we appreciate how much people care. Trying to capture the magic of YouTube in one single video is like trying to capture lightning in a bottle. We also learned that creating content can be really hard and this underscores our respect and admiration for YouTube creators doing it every day. Keep the feedback coming and maybe we'll release a top 10 list of 'Rewind dislike' reaction videos."
Let's hope that next year YouTube goes back to making the Rewind a reflection of the year rather than an appeal to advertisers. Otherwise, they are not really capturing what makes YouTube special.