Mrs. Levan Helped Bring Library into the Digital Age
Mrs. Ruth Levan is not your stereotypical old-school librarian, scolding students to be quiet.
"I like that students aren't afraid to talk to their neighbors in the library," she says. "Libraries just aren't quiet anymore, we have teachers teaching in here, people working, and I like that change."
In her more than 30 years as a school librarian, Mrs. Levan has seen a lot of it.
Rather than fight it, she has adapted, especially when it comes to technology.
"Libraries aren't just searching through the bookshelves anymore," she said, "Now it's more laptops and new technology."
Just as Mrs. Levan has been adaptable, BASH will have to learn to accept change — as Mrs. Levan retired from her position as the school librarian at the end of this year.
"
Libraries aren't just searching through the bookshelves anymore. Now it's more laptops and new technology."
— Mrs. Ruth Levan
Mrs. Levan began her career in the Boyertown Area School District after graduating from what was then Kutztown State College, somewhat following in the footsteps of her mother, who was a teacher at Pine Forge Elementary.
However, Mrs. Levan knew she wanted to be a librarian rather than a teacher. "It was what I always wanted to do."
Early on, she substituted in the Boyertown and Oley School districts, and then became a librarian at Boyertown Elementary. There, she worked year round, during which the library would stay open through the summer in order to continue teaching young children who would come in with their parents.
Often, Mrs. Levan would find unique ways to get her students into reading:
"At Boyertown Elementary we had bathtubs, old bathtubs that we would put blankets and pillows in for the students to read," she said. "I also had a collection of reptiles, mostly lizards and some snakes, and we would do shows on the reptiles."
After seven years at Boyertown Elementary, Mrs. Levan left to raise a family, but returned eight years later. Then after several years, after several changes in the curriculum, Mrs. Levan made her way to the Senior High, continuing her work here as the school's librarian.
"It was really fun after the first couple of years, seeing a lot of the kids I had in the elementary, a little older, a little taller."
In retirement, Mrs. Levan has two grandchildren, and she plans on volunteering at their libraries.
She also wants to travel the country with her husband, who too recently retired from his position as a local truck driver.
"I want to drive to Alaska" she said. "My husband isn't so sure about it, but I want to do it."
Leave a Comment
About the Writer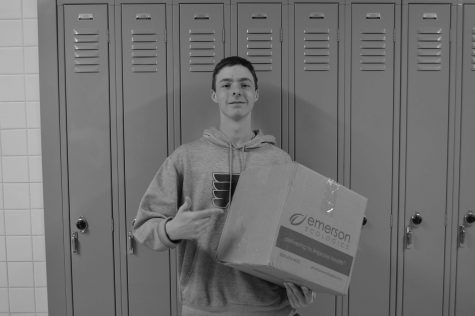 Joe Corcoran, Staff Writer
Joe Corcoran is from Gilbertsville, Pa. Joe is a Junior at BASH and this is his third year with BASH Cub. He plays on the school tennis team and outside...