Holocaust Survivor Hopes Students Learn from His Stories
In his 91 years, Holocaust Survivor Joseph Hirt has been a witness to some of the most infamous, horrible moments in history.
 As a teenager, he was held prisoner at Auschwitz and almost shot trying to escape.
He shared that story and more with BASH students during an assembly Tuesday, saying his purpose was to educate so that history won't repeat itself.
"With your help, you and I will be a witness," he said. "And as a witness, we won't let the horrible things of the Nazis happen again."
He spoke to sophomores, then to juniors and seniors in separate hour-long sessions in the auditorium. The speech was sponsored by the Diversity Club and No Place for Hate, and it had to be cut short both times.
Because Hirt had a lot more to say than time allotted, he made himself available in the library for anyone else who wanted to hear more. The library classroom was packed and many lined up to talk individually to him.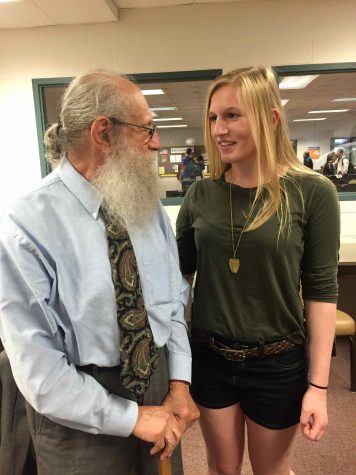 He told students how he grew up in Poland, and as Hitler's forces advanced, his parents, who had first relocated to Belgrade, Yugoslavia, booked passage for the family for April 7, 1941, on a boat to Portugal. From there, they would board a ship to New York.
But the Germans bombed Belgrade the day before their departure, forcing the family into hiding. After several months, Hirt was captured while searching for food. He was taken to Auschwitz. He escaped after eight months by crawling under an electric fence.
"I was a skeleton with skin," he said. "It was the 31st of March, my father's birthday."
In the middle of his escape, he felt the boot of a Nazi and a rifle on the back of his neck. The soldier then took him back to the "hole" where he was to be shot.
"I asked him how he would feel if he knew his son was being taken to be shot as I was," Hirt said. "He was surprised. It had never occurred to him. I was just a human being."
Minutes later, the soldier told Hirt that he needed to relieve himself behind a snow mound.
"If when I'm done you're still here, I'll shoot you," Hirt heard him say as he ran for his life.
Hirt fled for four months through six countries. After finding his mother and brother in Yugoslavia, he was able to bribe an official to get his father out of prison. Eventually, the Hirts took refuge in a cave in Italy, waiting for the Allied invasion.
The Germans arrived first and grabbed him as he was foraging for supplies. Hirt said he declined a blindfold as he was positioned in front of a firing squad.
But an Italian priest ran over, boxed him in the ear, and began loudly scolding his "nephew" as he whisked him away from danger. The priest then scooted Hirt off in one direction and darted the other way himself.
Eventually, Hirt and his family were able to make it to America, where he studied psychology.
Lauren Moyer, a junior who was touched by Hirt's stories, intends on getting in contact with him via mail.
"Joseph, I think, made it very clear that you can't take life for granted," she said. "When you're stripped of everything in your life, the things that matter become to the clearest to see and you become more appreciative of them."
Hirt is currently in the process of writing his own book. Many students can't wait to get their hands on it.
Junior Madison Spence-Moore said, "I think that it's important that more people hear his story and realize how significant it was."
View Comments (1)