Poppins' Actors Put Heart and Soul into Roles
Mary Poppins, which opens tonight to a sold-out crowd, was the culmination of months practice for the entire cast — and a total transformation for the lead roles.
"I did a lot of soul-searching for this character," said Senior Allyson Bennett, who plays Mary Poppins.
The magical nanny originally was created by British author P.L. Travers, then portrayed by Julie Andrews in a 1964 Disney version, and recreated by Ashley Brown for the 2008 Broadway production.
Allyson, who did a lot of research, said her Poppins is a mix between the book character, who is very strict, and the movie character, who is very sweet.
"She's a complex character," she said. "That's what I love about her."
The play is the study of an unhappy British family, the Bankses, in need of healing. They hire Mary Poppins as their nanny, who along with her cheerful chimney-sweep sidekick Bert take the children on many memorable adventures, and eventually bring the family back together.
Famous songs include "Spoonful of Sugar", "Supercalifragilisticexpialidocious" and "Step in Time", a big tap number led by Bert.
Bert is played by Senior Quinn Hair, who transformed himself both mentally and physically for the role.
A bulky football lineman and baseball player in addition to a singer, he said weight-lifting is a big part of his life.
However, to get ready for the play "I had to stop lifting because I was too muscular," he said. Instead of hitting the weight room, he spent months taking tap dance classes.
He also had to modify his personality to play Bert. "I have to be cheery and jolly all the time," he said. "The only time I get even slightly upset is when I don't get to see Mary."
Quinn has been staying in character outside play practice, which he said has had a positive effect on him.
"It benefits your everyday life playing this kind of character," he said. "I don't get angry so often; I encounter obstacles with a different approach."
It also helps his nerves, he said, when doing scenes such as one where he has to tap dance upside down. Yes, upside down!
Allyson has her share of stunts to perform, too. "I fly three times," she said.
Both Allyson and Quinn use British accents in the play, which they say have "filtered into everyday conversations."
Understandable, since the cast has spent so much time rehearsing. Rehearsals began in October and sometimes include weekends; for the last week and a half, students stayed after school rehearsing from 3:30 to 9:00 p.m. with little breaks in between; one session went from noon to 10:30 p.m.
Although the rehearsals are long, Lauren Flack, who is playing the part of Miss Lark, said her favorite part of the musical is "just spending time together."
Allyson and Quinn also both say putting in so much time has been worth it. "It's been a blast," Quinn said.
Allyson, who plans to pursue a career as an opera singer, said the best part of playing Mary Poppins is "inspiring the audience. I love telling the story…seeing the effect it has on them."
The play has a lot of hidden messages, she said. The song "Anything can happen" sung by Mary Poppins to Mrs. Banks after she cannot go into the bank because she's a woman sends the message "Don't let society tell you what you can and cannot do." Also, the song "Feed the Birds" is about doing random acts of kindness.
"It's mostly about family," Allyson said. "Family is important and should come first."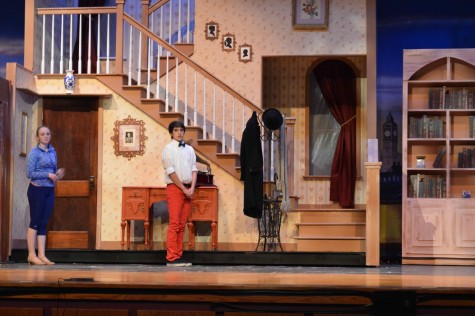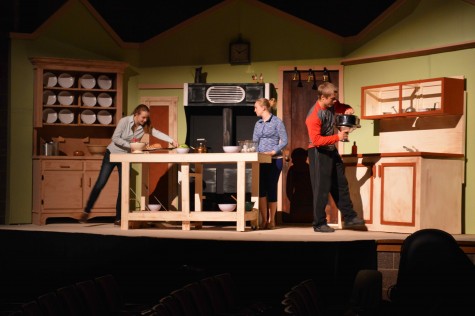 View Comments(1)