Congressman Speaks to Students
Students — who are witnessing a tumultuous political season, with turbulent rallies and exchanges on TV — had the chance to talk in person with a politician this past week.
U.S. Rep. Ryan Costello, who represents the 6th District of Pennsylvania, visited BASH last Tuesday to answer questions from students in history classes, after they had written him letters for a class project.
"I felt like one of the best ways that I could demonstrate that there are good people working in politics and to expose people to the political process is just to come out and be real with the students, and let them ask me literally anything they wanted to ask me," Costello said.
Social Studies teacher Mr. Steven Bleiler organized the project and the meeting with the congressman to give his students an opportunity to learn more when they had finished talking about government in class.
"The project started as a letter-writing activity," Mr. Bleiler said. "We finished up learning about government, and some of the problems of government, and how it works.
"Instead of just leaving it there, we decided to be proactive about it and everyone wrote a letter about a topic they cared about to Congress."
After receiving many of the letters, Rep. Costello's office contacted Bleiler and asked for the chance to come in and talk to the students.
Questions ranged from foreign policy, to presidential candidates, to global warming — and many of the students had done prior research on the topics.
Senior Stephanie Landino said she asked, "If he could change one thing about the government, what would it be?".
"He told me how different parts of the government use old equipment that should be updated to enhance efficiency," she said.
She was impressed with his speaking ability: "I enjoyed his visit because he answered questions we asked with ease, even if he didn't have the exact answer to it."
Rep. Costello thought the students' questions were meaningful and well thought out.
"It was a good group and there were a lot of very good questions," said Costello, "We probably could have spent another 30 minutes doing Q & A,  and I think they would have been fine doing that."
Overall, the congressman wanted to leave an impression that everyone plays a role in government, and that everyone should therefore be well informed about the political process.
"It's a good lesson for anyone that wants to vote in our democracy: to not only see what a candidate says on the internet or a in a letter, but also how they sound and present themselves in person, and how they respond to a host of different questions," Costello said.
Students said they appreciated the chance to interact with a  real politician and participate in the democratic process.
"At some point we are going to impact the government in some way shape or form," Landino said, "So why not start now?"
Senior Justin Wieand, who also attended the talk, agreed.  
"It is important to know what we are getting into once we are out of school," he said.
Mr. Bleiler hopes to do the same activity in future years and possibly invite the Congressman back to BASH.
"He mentioned that he would be willing to come back in," Mr. Bleiler said. "I would certainly be willing to have him back because I thought it was pretty meaningful."
Leave a Comment
About the Contributor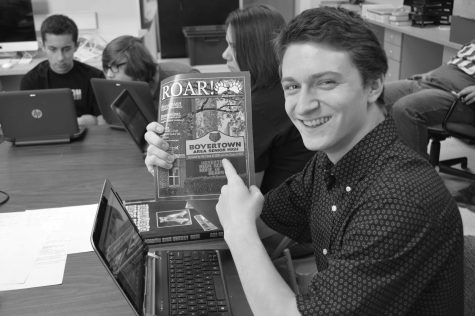 Harrison Otto, Editor in Chief
Harrison Otto is a senior, and is serving as the Cub Editor-in-Chief for the second year in a row. He is the Class of 2017 Treasurer, member of the YMCA...