Hockey Faces Rival on Senior Night
The Boyertown Varsity ice hockey team is looking to continue its successful season by beating its rival on Senior Night tonight.
The 15-3 team plays the Perkiomen Valley Vikings at Oaks Center Ice at 9 pm.
The club team has not won a championship in 20 years, but is in a better position than ever to do so this year.
"The team's goal every season is to qualify for the Flyers Cup playoffs," Boyertown Varsity Coach Bryan Roth said.
The Bears have a total of 119 goals and 135 assists on the season. The strengths of the team come from the forward lines and power play, said Captain Bransen Mackey.
The team is very goal driven, he said.
"We like to stride for a big goal which is to make it to states," he said, "and we take every game as if it means something."
The game tonight will be extra tough because the Bears and Vikings have a huge rivalry. There a history of bad blood between the two schools, both on and off the ice.
"This is because of their student section. They always bring a big student section that is tough to play in front of," Mackey said.
Bryan Roth, the hockey team's coach, said the team has a loose and fun personality.
"We are fortunate to have talent and depth at every position, which is new for a lot of the players and exciting for the program.
He said the players don't yet realize how much potential they have and enjoy playing for their classmates and each other.
"Once the team recognizes how good they are this team will be difficult to beat."
UPDATE:  The Bears tied the Vikings 5-5 Friday night. The game was officially ended after two periods due to fan behavior.  Boyertown will take on the Owen J. Roberts Wildcats tonight at 7:20 at Oaks Center Ice in the PAC-10 semifinal.
Leave a Comment
About the Contributor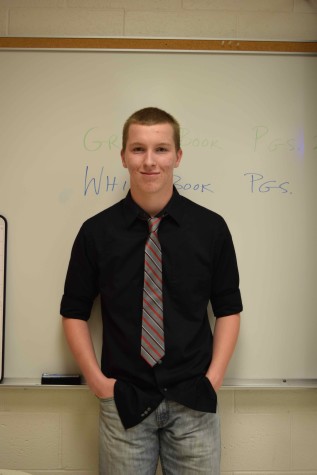 Garitt Pickford, Staff Writer/ Photographer
This is Garitt's first year in CUB. He is active in NJROTC. He is a big Flyers fan and is active in ice hockey. He is a sports writer and a photographer...