Spirited Pep Rally Kicks Off Mini-THON
This year's Mini-THON kickoff to raise money to fight childhood cancer was a little more spirited — and a little more personal — than usual.
The spirit came from the filming of an all-school "lip dub", set to air during Mini-THON, along with watching several male students and a vice principal get their legs waxed.
The personal came from speeches by Senior Adam Gilbert, and by Principal Dr. Brett Cooper, who years ago lost his brother to cancer.
At one point, Adam had people stand who either have had cancer or knew someone who did. In a dramatic moment, almost every student in the gym was standing.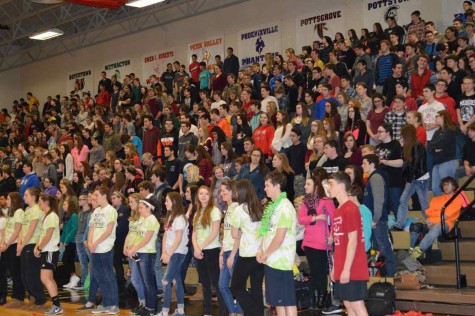 Dr. Cooper told an emotional story about "a family of six people, who had a son that was diagnosed with cancer".
After telling about the boy — who was able to go to Disney World with his entire family before he died, thanks to an organization similar to the one Mini-THON supports — he announced to the silent gym, "That family was mine."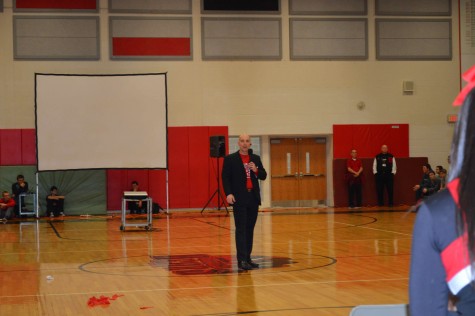 Not only was this year's pep rally different, but Mini-THON itself will be, too.
This year at the event, which will be held February 26-27, organizers hope to raise $40,000 for the Four Diamonds Fund, which assists children treated for cancer at Penn State Hershey Children's Hospital and their families. The fund also supports research.
Students raise money by asking people to sponsor them for dancing from 6 p.m. Friday to 6 a.m. Saturday. Students are required to stand for the full 12-hours.
In addition to dancing at the event, students participate in activities such as a moonbounce, an hourly line dance, a volleyball tournament, a dodgeball tournament, and eating plenty of food that is provided.
This year's theme is Monster's Inc., Mini-THON Head Chairman Cassandra Vu said.
"All decorations and t-shirts are Monster's," she said, "Our theme is opening the door for a cure."
New this year is a live lip-dub battle.
"Two people go against each other and lip synch battle," Vu said.
Mini-THON replicates the Penn State THON on a smaller scale. In the past year, 100 schools hosted events, raising more than $2 million for the Four Diamonds Fund. BASH students and staff raised over $37,000 last year for the Four Diamonds Fund, which brought the accumulating total over the past four years to a total of $100,000, making BASH the highest earner in Berks County and one of the highest earners in the state.
Fundraising for the event began early. The two weeks before the pep rally, three boys from each grade raised money for the Four Diamonds charity. Whoever raised the most money in each grade had to get their legs waxed in front of the whole school.
Senior Jake Irvin, Junior Mike Raineri, and Sophomore Nick Moccia all raised the most money in each of their grades and so had their legs waxed during the pep rally.
 Gilbert helped students remember the silly event was for a serious cause, saying the temporary pain of the hair removal symbolized the pain children with pediatric cancer have to endure every second of their lives.