Auto Show Features Cool Cars to Come
A bumblebee yellow $1 million Lamborghini.
A sleek black 2016 Camaro.
A shiny silver and blue classic 1967 Shelby Cobra.
And, of course, the Pope's no-fuss black Fiat.
All these and more were featured at this year's Philly Auto Show. The Who's Who of the auto world were there – Ford, Chevy, Alfa Romeo, Dodge, Chrysler, Volkswagen, Mitsubishi, Subaru and more – displaying a dream showroom for high school and adult drivers alike.
So, for all the motorheads out there, here's the rundown of what's to come:
Ford has a new line of cars coming out later this year including the new Fusion, Focus RS, and F-150 Raptor SuperCrew. Production on this 2017 line begins in September and should  be available at Fred Bean's Ford dealer by the end of the year.The Raptor, coming out of a two-year hiatus, is equipped with an automatic 10-speed transmission and start-stop technology.
"We are changing the brand and reinventing what we do everyday," said Ford Representative Sean Masson.
In an effort to become a lighter truck, the old roar of the 6.2 Liter V8 engine is now being replaced with a smaller, lighter 3.5 Liter V6 engine. The new Raptor is also expected to exceed its previous 411 horsepower and 434 ft./lbs of torque.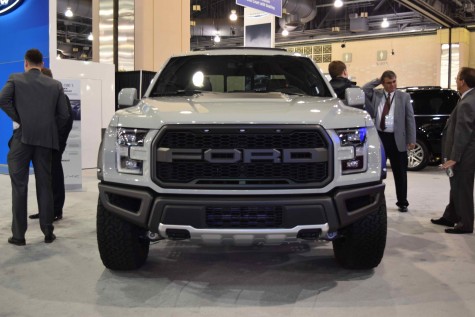 Mitsubishi, after experiencing 80 percent decline in sales in recent years, hopes to capitalize on the 2017 Mitsubishi Mirage. The new Mirage features improved performance and design, as well as the incorporation of Apple CarPlay. Last year, sales for Mitsubishi were up 23 percent, and they hope to surpass 100,000 units in 2016.
"It's quite a big accomplishment for us," said Mitsubishi Public Relations Manager Alex Fedorak. "We are becoming one of the fastest growing mass market brands."
However, in order to keep up with a changing industry, Mitsubishi also had to cut one of its top line vehicles. By the end of March the final Mitsubishi Lancer Evolution will no longer be in production in order to make room for more economically advanced vehicles.
Other lesser known brands made an appearance too, such as the luxury Italian company Alfa Romeo. These cars have been making their way into the American market since the 90s and received recognition for the 4C Coupe and the 4C Spyder during the late 2000's.
Their newest model is the 2017 Giulia Quadrifoglio: a new generation model with advanced technology, seductive Italian design, and race style performance.This car can go from 0 to 60 mph in only 3.8 seconds, and has a V6 engine with 505 horsepower. Alfa Romeo is expecting big sales because people remember the car from the 1990s.
"American brand awareness is very high," said Jiyan Cadiz, Alfa Romeo Product Communications Manager. "There is a romantic feeling about Alfa Romeo and there is a space for an Italian sports vehicle in the United States."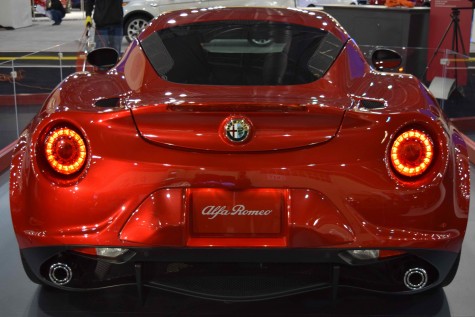 Dodge, who will soon be cutting their famed Viper from their lineup, showcased their new Dodge Dart and Charger. The Dart was easily one of the more economic cars displayed, with 41 mpg and Integrated Dual Exhaust, all for only $16,695. While the new Dodge Charger is hoping to surpass the Mustang and Camaro as the American muscle car.
Also featured at the Auto Show was the Papal Fiat, the car that Pope Francis rode in during his visit to Philadelphia, which was auctioned off for $85,000 to benefit multiple Archdiocesan ministries and schools.
In a short ceremony before the show was opened to the public, special needs children from Archdiocesan ministries sat around the Fiat and listened to a speech given by Bishop John J. McIntyre, Donna Farrell, executive director for the World Meeting of Families, and David Kelleher, Chairman of the Auto Show.
"I can't thank the Archdiocese and the World Meeting of Families enough for the trust they bestowed in us to take care of these cars and help them on this great mission," said Kelleher, "and hopefully we can generate an amazing amount of return on investment so Pope Francis's halo can continue to just keep on giving.
"I don't have any idea on what I'm gonna do to top this," said Kelleher. "Maybe the Pope's Wrangler will be available next year."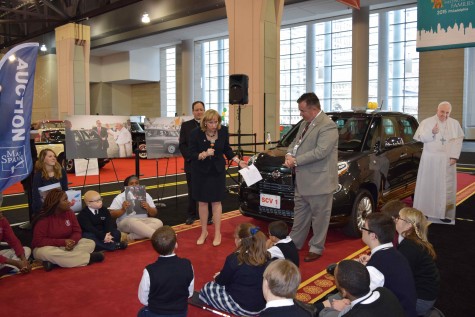 Leave a Comment