Mrs. Snyder Embraces Role as Substitute
Mrs. Sally Snyder is a well-known face around school.
As she roams the halls, she gets waves from students and can be heard responding with "Hi Sweetie", "Hi Hon", or even a hug.
She's not the typical anonymous substitute. Having substituted in the district for 14 years, her delightful attitude and experience have made her a choice candidate for teachers and a favorite among students.
"I had her in 7th grade Reading when she subbed for Mrs. Piccione," said Junior Oren Fanok, "She was really personable, she was kind, and it was just a nice class and really laid back. Everyone succeeded in that class, and she was a great substitute."
Mrs. Snyder is also a prime choice for teachers when they are going to be absent.
"She does what you ask her to do, but most importantly she's good with the students," said English teacher Mr. Joe Repko. "She's got a great personality and she's funny. Also, she gets the job done and has fun doing it."
With a background in English education and years spent teaching at Owen J. Roberts, Mrs. Snyder has experience in addition to personality to keep control of the classroom.
"I think we're an essential part of making this school run a little bit smoother," she said, "because once you don't have a sub, you realize how essential they are."
Mrs. Snyder is also no stranger to long-term subbing: replacing a teacher and doing their job for up to several months.
"I really enjoy being a long term sub. You get to know the kids, and you get to know the faculty a lot better. I enjoy teaching, so I like having that responsibility," she said, "Being a sub, it gave me a whole new perspective and appreciation of what a teacher is about in this district.
In addition to filling in for teachers, Mrs. Snyder sometimes fills in for the head librarian, Mrs. Ruth Levan.
"You don't believe how busy this library is, and it's changing all the time," said Snyder. "You never know who's going to come through the door, or what's going to happen next."
Mrs. Snyder is also well known for coaching cheerleading at Junior High West.
When not subbing, Mrs. Snyder enjoys relaxing at home with a good book; her favorite is the classic "Gone With the Wind."
"That was the first book I really understood. Read it. Some of it has the romance and that stuff, but a lot of it plays upon the South, the North, and the Civil War," she said.
Mrs. Snyder is also a world traveler. She has been to Europe multiple times, visiting France, Switzerland, Germany, and Belgium. In addition, she has studied ten years of French.
"I would like to return to Paris, I love Paris," she said, "but, I would also like to travel more of the United States and go out West. There's so much that I want to see."
At the age of 18, Mrs. Snyder was also part of a volunteer organization that helped the Appalachian people of Bloomington, Indiana. She was in charge of forming a community center for the youth, as well as planning all of its activities.
"It was very eye-opening to see how certain people lived in America even back then," she said, "They didn't really have much but they were very appreciative of what I was doing."
With all these years of experience and wisdom under her belt, Mrs. Snyder has learned a lot over her time teaching and subbing, and had some advice to give to BASH students: "It sounds simple, and sort of corny, but do your homework. Try your best, and don't hesitate to ask for help. And this will follow you all the way through the rest of your life."
Though the job of a substitute is clearly not always easy, overall Mrs. Snyder is in it for the kids, and always has been.
"As a day to day substitute, you have to go into a classroom and pick your battles, because you're not going to change anything," said Snyder, "I really love it when I get to see the kids I've had over the years, I just adore that."
Leave a Comment
About the Writer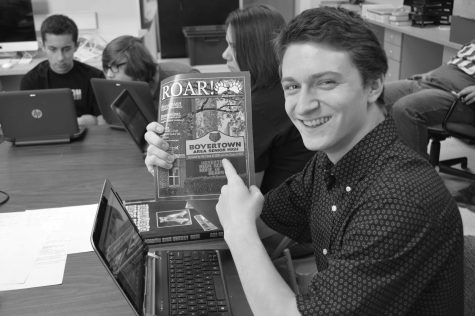 Harrison Otto, Editor in Chief
Harrison Otto is a senior, and is serving as the Cub Editor-in-Chief for the second year in a row. He is the Class of 2017 Treasurer, member of the YMCA...