No Place for Hate Speaker Tackles Tough Topics
A lot of times, students see assemblies as a chance to get out of class but like them for little more than that.
However, the No Place for Hate assembly held a few weeks ago had a profound effect on students and really seemed to resonate.
"I thought the speaker was a cool guy and I liked his message," Junior Ryan Zern said.
Speaker Bob Lenz spoke to grades 10, 11, and 12 about bullying, self-harm, suicide and substance abuse. Even though these were heavy topics, he was able to intertwine humor to effectively get across his message, which involved three main beliefs:
-Every person has value,
-Have courage to do what is right (because the little ones are watching you)
-Respect yourself and others
"We can live life to the fullest if we hold onto those three beliefs,"  Lenz said.
Another main point Lenz tried to get everyone to take with them is that they never lose their value.
Lenz explained this by taking a $5 bill from a student. Then he did all kinds of things to it like throw it, crumble it, and tear it. After that Lenz asked the students a question, "How much is this worth?". Everyone replied and said, "$5", showing that no matter what anyone goes through or what happens to them, they never lose their value.
"The speaker had good meaning behind his words," sophomore Camryn Heffentrager said.
The assembly was also entertaining. Lenz's friend Joshua Jordan, an illusionist, started off the assembly by making a Coke bottle disappear and doing other magic tricks.
Lenz, author and international speaker, and founder of Life Promotions, speaks to nearly half a million students each year.
"I felt like the students laughed hard and listened well," Lenz said when contacted after the assembly. "They were very respectful and had a lot of fun. The response from the kids after was great. It was really neat to see.".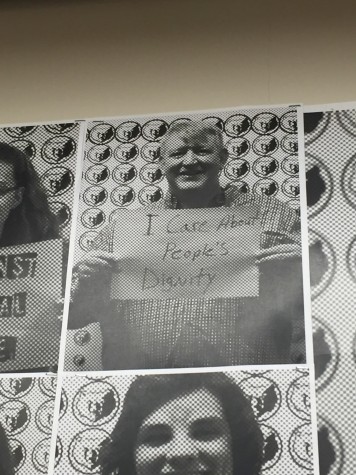 Lenz said he was especially touched that he was asked to be a part of the "I care about" project in the art department, which is where people take a picture saying what they care about. After the assembly Lenz came to the art department and took his photo. Lenz's sign said "I care about people's dignity."