'Drop and Give Me 20!': Push Up Contest Helps Vets
November 11th is a day of thanks, a day of thanks to all who have put their country before themselves. This Veteran's Day, the History Club decided to say thanks in a different way.
With Push Ups. Its pushup contest raised enough money to buy a service dog for a veteran.
"I hope the students will learn that the goal of this is to help someone who served, even if it is only a small contribution," History Club Adviser Mr. Steven Bleiler said.  "We were able to help a veteran."
In cooperation with the Keystone Iron Warriors, students and staff tried to do as many push ups as they could in order to raise money for the service dog.
Here's how it worked: Each person in the push up contest solicited sponsors who donated money per push up (if they sponsored a dime a push up, and the contestant did ten push ups, $1 would go to Keystone Iron Warriors).
Keystone Iron Warriors is a non-profit organization whose goal is to help US Military Veterans with emotional or physical trauma. They will do anything from helping pay with medical bills, or in this case help acquire a service dog. Iron Warriors provides assistance like this through donations made to their foundation. Which is where the History Club came into play.
On Veteran's Day, the pushup contest began in front of many students, staff, and the brave veterans who served the country. The contest was split into three groups: Girls, Boys, and Staff. Rachel Fisher won the girls contest with 45 Push Ups, Timothy Miller was the best of the boys with 100 Push Ups, and Mr. Lieb was the top staff member with 133 Push Ups!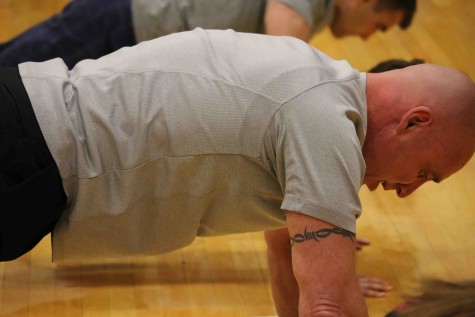 Over 1,845 pushups were counted in total between all three divisions, and a grand total of $ 2,566.91 were raised by all the contestants and their sponsors. That money was enough to buy a service dog for someone who risked their life for this nation.
Mr. Bleiler noted that none of it would have happened without the History Club, and he gave special thanks to Dr. Cooper, Mrs. Gilliman, and Mr. Lieb. He said the Push Up Contest will be returning again next Veteran's Day.